Are you decorating with gray and want more color inspiration? Here's a list of colors that go with gray.
In color theory, the color gray represents balance, neutrality, and wisdom. It invokes a sense of seriousness and boredom, too.
In decor, gray can go with any color on the color wheel not only because it is considered a neutral color but because it is an achromatic color.
This makes gray a versatile color that you can use with a wide range of colors (including your favorite ones) to achieve the right vibes in each room.
Wondering what colors go well with gray? Let's find out!
13 Colors That Go With Gray
Here are our favorite colors that go with gray.
1. White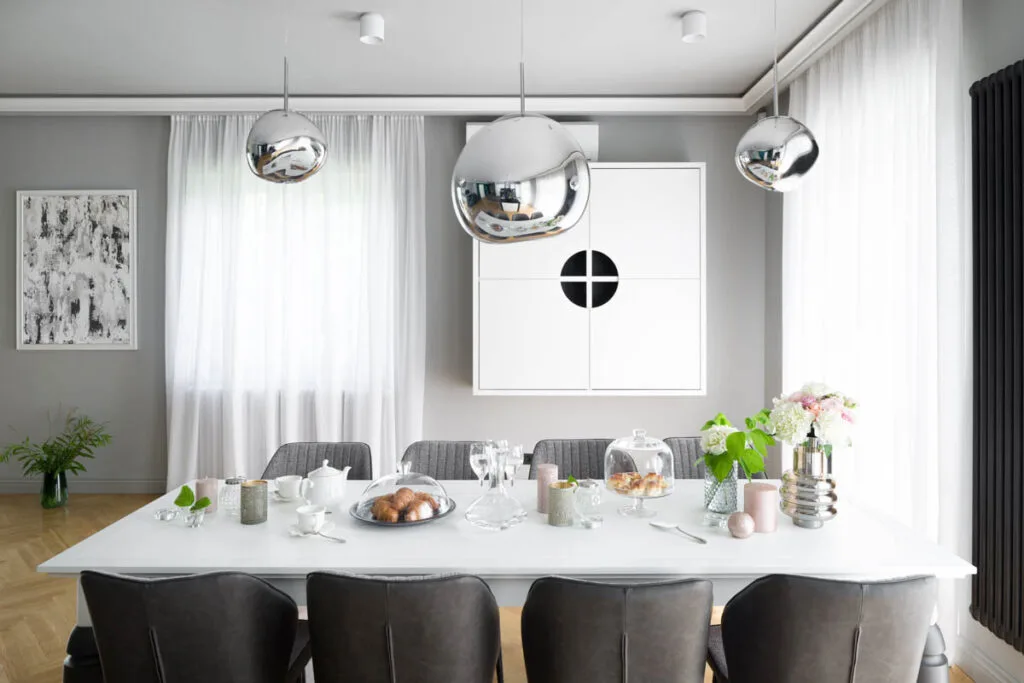 White and gray in a living room is a combination that will evoke a feeling of calmness and serenity.
You can add different white and gray shades to create a dreamy finish. Choose soft fabrics like natural sheepskin for a floor mat or a luxurious woolen throw over a light gray couch.
Add some white candles to the décor and some silver or pewter elements such as candlesticks or ornate framed mirrors.
White walls will look lovely as a base color for a couch in gray tones. Adding some gorgeous potted greenery to the mix will give a crisp touch to the overall effect.
2. Cherry Red
Red is for energy and passion, and pairing this bold color with the stillness and sensibility of gray is perfect for the main bedroom.
Painting the walls in a light shade of gray with an accent cherry red wall behind the bed will give the room a depth of color.
A beautiful dark gray headboard with soft grays and hints of cherry red for the bed linen will look great since red is such a vibrant color.
Add some silver and cherry red accent pillows to the gray hue for a bit of sparkle. Soften the look with a cozy silver mohair throw to create a romantic and beautiful bedroom.
3. Turquoise
Turquoise is a rich and luscious color that brings creativity, femininity, and good luck and will bring emotional balance to gray.
Use this lovely color combination in a living room or a kitchen. A kitchen with dove gray cabinets against white walls and adding accents of turquoise in splash tiles and drapes will look stunning.
You can add a turquoise runner to the dark gray floor. Hang some lovely turquoise-colored plates or a beautiful clock on a gray wall.
This look is traditional and will evoke a timeless appearance.
4. Green
If you have a statement green wall, you might consider placing gray furniture and accents to create a calm environment.
Alternatively, pairing lime green and warm gray is a wonderful color combination.
Lime green is closely associated with nature, confidence, and high energy, complementing the elegant but conservative gray. It brings a feeling of liveliness and freshness to a room.
You can lay a dark gray and green patterned rug on the floor to bring the colors together.
Add some white and gray floral or striped pillows to the couch. Some beautiful potted plants will add to the crispness of the room.
5. Navy Blue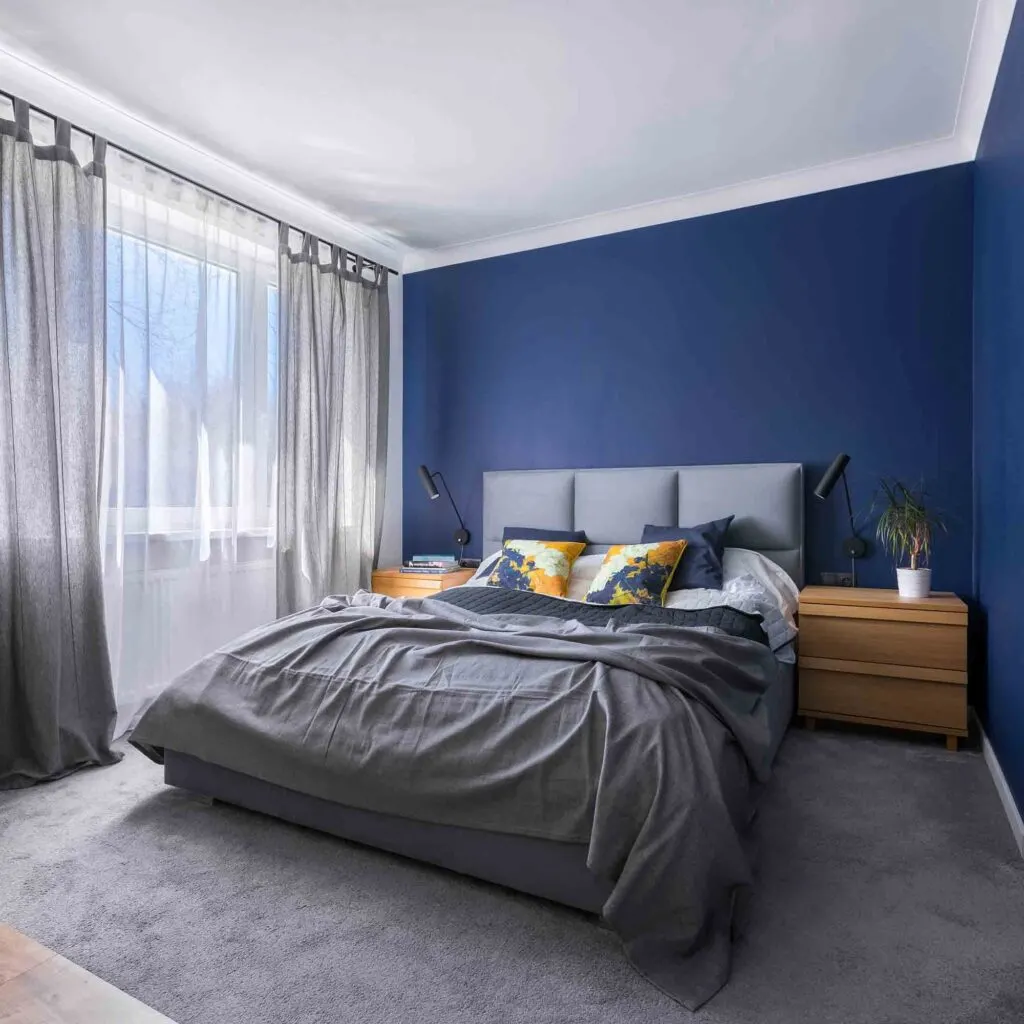 Navy blue is a color that assures importance, confidence, power, authority, and unity.
A powerful color to pair with placid gray and will look stunning in a bathroom.
Beautiful navy cabinets against gray walls, tiles, and bathroom fixtures will create a feeling of elegance and sophistication.
Add splashes of navy in towels, mats, and other accessories to complement the gray in the room.
Touches of silver on the faucets, a silver frame on the mirror, and some silver ornaments will add a luxurious dimension to the feel of the room.
6. Black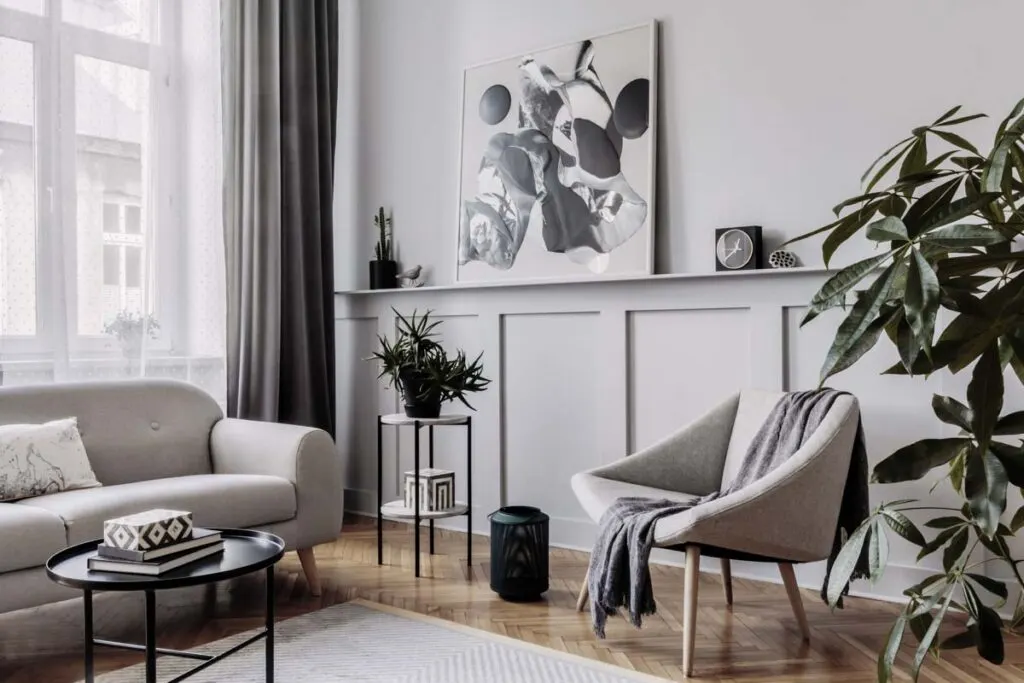 What could be more sophisticated, dramatic, and powerful than a splendid black and gray dining room? This combination sets a relaxed, sober, and calming effect.
Paint your walls a light gray and add a black dining room suite. Choose chair cushions in gray and white patterned fabric and add some black accents. These achromatic colors look fantastic together.
Add a large black framed mirror to an accent wall and place a rug in dark tones, like charcoal gray, on the floor.
You could choose a patterned carpet if your chair cushions are solid colors. For a stunning effect, hang a gorgeous chandelier above the dining table. The overall look will be exquisite.
7. Orange
Orange is a beautiful warm color that matches perfectly with the coolness of gray.
Besides, orange is such a bright color that offers a lovely ambiance to laid-back gray. This color pairing is ideal for creating a bright living area.
A dark gray couch against a burnt orange accent wall is a stunning feature in the living room.
Tone the color down by painting the other walls a soft gray. You can add some comfortable chairs in gray and orange patterned fabric.
Place some silver and white pillows with lighter shades of orange, like peach, to soften the look.
8. Pink
Pink is reminiscent of the sweetness of youth and love and compassion but in a gentle way.
Decorating in shades of pink brings a feminine and soft glow to a room.
Pairing pink and gray creates a warm and comforting feel and is perfect for a bedroom, especially if the gray has blue undertones.
This color combination can also be used in bathrooms or kitchens.
Lovely dove gray fixtures and tiles in the bathroom will bring a soothing look.
Add a splash of beautiful color by painting the cabinets pink and adding shades of pink towels and a bathmat, both lighter shades and darker shades.
9. Lilac
Lilac is a calming, comforting color that encourages rest and is ideal for bedrooms and bathrooms.
Pairing lilac with soft gray hues will bring an ambiance of peacefulness but in an exquisite way. Paint the walls a beautiful lilac color. Choose shades of gray in the headboard, bedding, and carpet.
Brighten the gray bedding with satin pillows in solid lilac. Add lilac and gray patterned fabric to more pillows and a lovely throw.
Choose a large silver framed mirror and hang a chandelier for a luxurious feel.
10. Yellow
Yellow, a bright and sunny shade, adds pops of color to unassuming gray.
Whether the shade of yellow is a light lemon yellow, a muted mustard, or a brighter shade, they all bring cheerfulness to a room.
Use the bolder yellows with deeper grays and pair the softer shades together.
Yellow is the perfect color to add to a gray living room. Use yellow as the accent color by choosing drapes and armchairs or pairing yellow and gray for the rug.
Be careful not to overpower the gray, so opt for only two or three yellow-colored items.
11. Beige
Beige is a neutral color that pairs exceptionally well with gray. Adding beige accents to a gray room will make the room feel warm and welcoming.
If you want a neutral color palette for your home, beige is the way to go.
This gray color scheme works well in a living room with dark wood floors and low natural light.
However, light gray and beige create a bright and inviting aesthetic to your room. They are an excellent color combination for literally any room in your home.
12. Purple
Purple is a color that goes with gray exceptionally well. Painting purple with gray can create an excellent complement in any room.
While purple tones lend some mysterious flair to gray, gray can also help prevent the purple from being overwhelming.
Bold purple walls look balanced with gray furniture. Likewise, gray walls balance purple accents.
13. Royal Blue
Royal blue, as a classic color, goes well with gray. The crisp, cool contrast between these two colors can lend to a modern look or a comfortable, coastal feeling.
For rooms to be light-filled and look more spacious, use gray furniture and curtains in lighter shades. Introduce royal blue with cushions, standing light shades, and patterned fabrics.
To compensate for the cooler gray and royal blue, you can use warmer neutral tones like off-white, cream, and ivory on the walls.
Final Thoughts On Colors That Go With Gray
Whether you have a gray room and want to add a pop of color or want to understand the emotions gray evokes with certain colors, this article has many excellent color suggestions to help you decorate your home.
Now, off to create your own gray color palette!
Did you enjoy reading about the colors that match gray? Then share this article on your social media!