Decorating with orange? Then you will want to check out this list of colors that go with orange.
In color psychology, orange is a warm color that represents creativity, enthusiasm, and optimism.
That's why the color orange will be a great addition to home offices, living rooms, and kitchens.
Wherever you decide to use this secondary color, orange will create a bold color scheme in your home. As you will see below, orange is a versatile color that goes with a wide range of hues.
What colors go well with orange? Let's find out!
13 Colors That Go With Orange
Here are our favorite colors that go with orange. They will help you create beautiful color combinations with orange.
1. Carolina Blue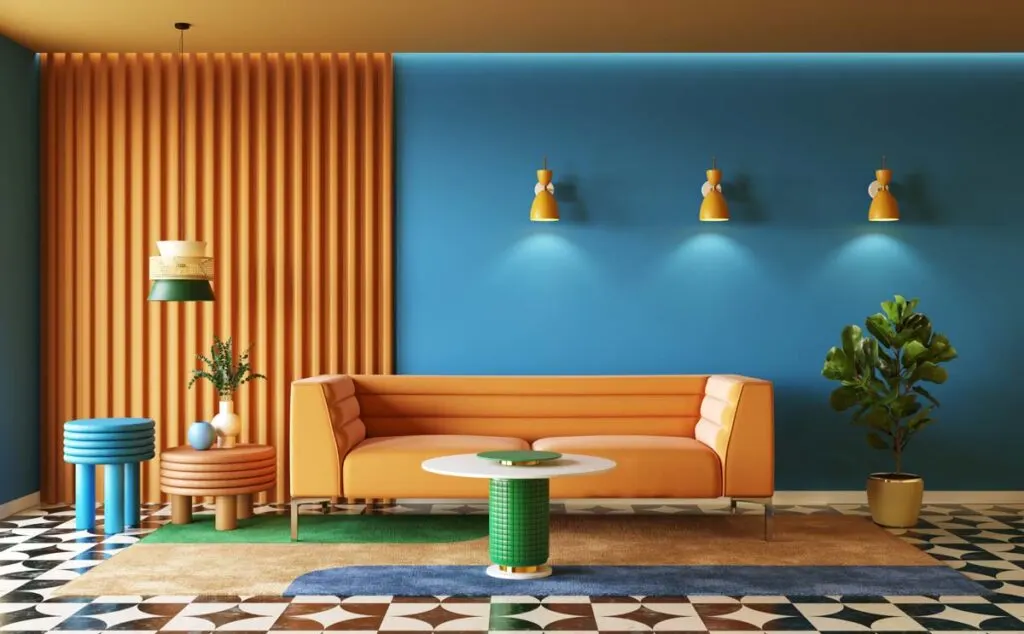 Many colors go well with blue, but orange adds contrast like no other.
Carolina blue and orange make for an exciting and bold aesthetic since they are on opposite sides of the color wheel (aka complementary colors). These colors make you feel happy and energized.
You can pair Carolina blue with a pale orange for an airy look. Or combine this shade of blue and light orange for a happy and summery aesthetic.
The blue and orange color combination is perfect for a bathroom, kitchen, or living room. Adding a blue and orange patterned rug or pillow to the room is a beautiful way to add a pop of color.
2. Red
Red and orange are analogous colors that remind you of fall and sunset. These natural and vibrant colors often make us happy and lively. Besides, they make a bold statement too.
Bright orange and red work well in a kitchen, living room, and even in a teen bedroom, while muted red and orange are brilliant colors to use in a living room or hallway. Burnt orange and burgundy add a neutral and earthy tone to a room.
Add white and neutral shades, too. These colors go well with red and help to balance the bold colors red and orange add to a room.
Experiment with different shades of orange and red to create a balanced aesthetic.
Alternatively, if you're a bit uncertain about using them together, after all, red is the boldest primary color, use red or orange only as your accent colors.
3. Green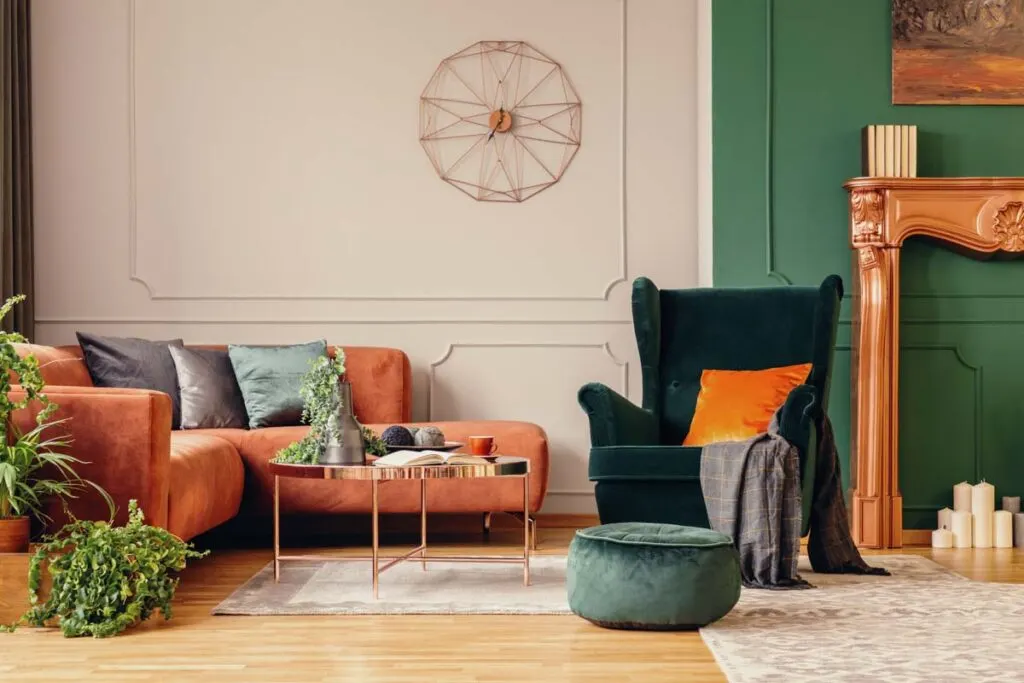 Green and orange also remind one of nature and provide a calming feeling when you enter a room with these colors.
Many rich shades of orange and other colors will pair well with green. For instance, burnt orange or pale orange is a great color to combine with dark green.
In addition, adding green foliage to a room with orange elements ties the nature imagery in the room.
Green and orange are excellent colors to use in a bathroom or living room.
Don't add too many bright orange or green elements to a room, as this will cause the room to feel "loud."
Instead, opt for a subtle green and more earthy orange to create a sophisticated and polished look.
4. Taupe
Taupe is a neutral color that falls somewhere between gray and brown. This color perfectly balances a bright orange sofa or complements a burnt orange wall.
Taupe and orange create an earthy appearance, making a room feel warm and balanced.
Adding candles, throw pillows, and statement pieces to a room with orange and taupe will tie the colors together.
Orange and taupe colors work well in a living room or bedroom, depending on the shade of orange.
5. Brown
Brown is another color that emphasizes the earthiness of orange. You can pair dark brown with a muted orange and light brown with a liter, pale or bright orange.
Orange and brown create a warm and happy atmosphere. These colors are ideal for a bathroom, study, or living room.
Choose browns to complement the shade and tone of the orange in a room. Brown furniture and décor help to create a complete look when paired with orange.
6. Black
Black is another great color to pair with orange. Adding black to an orange room creates a modern look, and the black color adds contrast to the orange, making it stand out more.
Orange and black ensure a warm yet defined atmosphere and are great colors to use in a living room, bathroom, or entryway.
Try adding black art pieces to a room with various orange accents and see how the orange pops. You can add gray and white notes to the black and orange for a well-rounded look.
7. Neutrals
Adding neutral colors, such as cream, tan, and beige, to orange helps to define the earthiness of the orange.
Burnt orange or faded orange works wonderfully with neutral colors. Place a woven beige rug under a brunt orange sofa and see how the room adopts a warm and wholesome atmosphere.
Orange and neutral colors can work in any room of your home. However, we recommend you opt for a faded orange in the bedroom, as a bright orange can feel too "loud."
8. Blush Pink
You might not consider mixing pink with orange. However, these colors work wonderfully together, and the blush pink helps to soften the orange to create a warmer, more feminine aesthetic.
Combining apricot orange or peach with blush pink notes creates a warm feeling.
Blush pink and orange tones work exceptionally well in a kitchen or living room with a lot of natural light. Other colors that complement blush pink and orange are white and neutrals.
9. White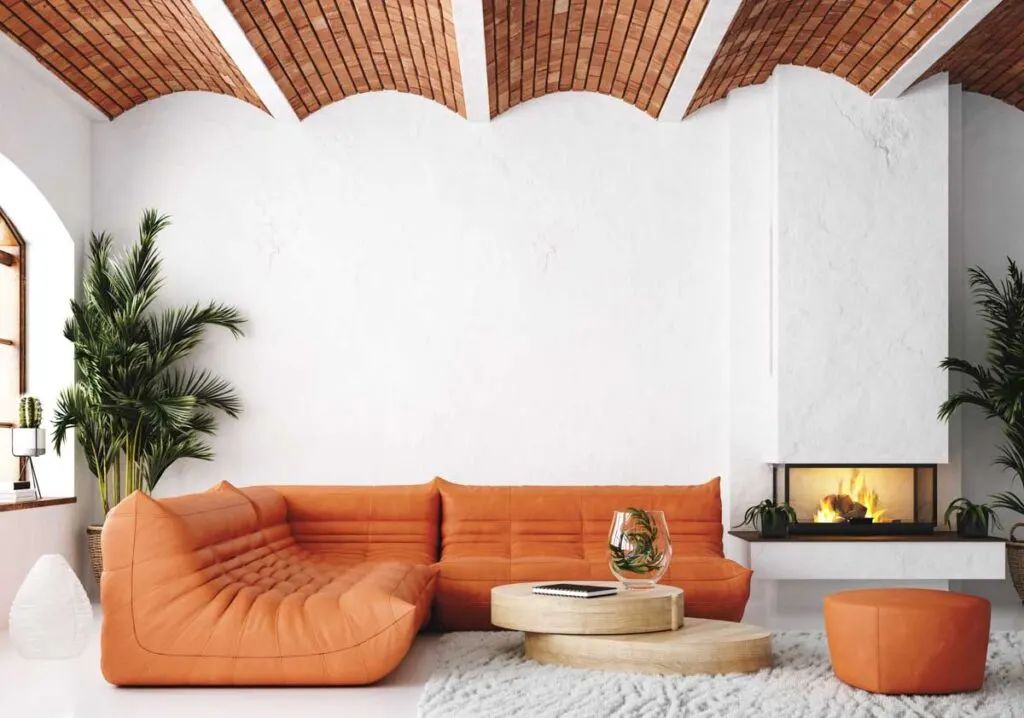 White also works well with any shade of orange. For example, white and apricot or pastel orange create a tranquil and warm feeling.
White can also serve as a base color, allowing a bright orange centerpiece to draw your attention. White and orange tones are perfect for a kitchen, breakfast nook, or bathroom.
You can add shades of white to a room with orange, like a white wall, and an orange couch with throw pillows in pastel colors, like peach. Also, play with textures and patterns to create a beautiful white and orange aesthetic.
10. Gray
Dark gray adds a cool tone to orange and forms a solid base that allows the orange to pop. On the contrary, light gray can soften orange and make it feel warm and subtle.
Any vibrant shade of orange works well with gray; these colors are perfect for a kitchen or living room. Orange accents are perfect for brightening a dull, gray space.
You can add other colors, such as white, black, and neutral, to a room with gray and orange elements. These colors work well to tie a room together and create a coherent aesthetic.
11. Purple
Many people struggle when choosing colors that go with purple, but orange is one of your best options.
To create a moody orange palette, rusty shades can be incorporated into any space with purple.
This can come in accents like rugs or other neutral, earthy textured elements. You can also use rust furniture against a purple wall.
On the other hand, you can create a happy and airy room by using orange and purple accents in a predominantly white room.
12. Yellow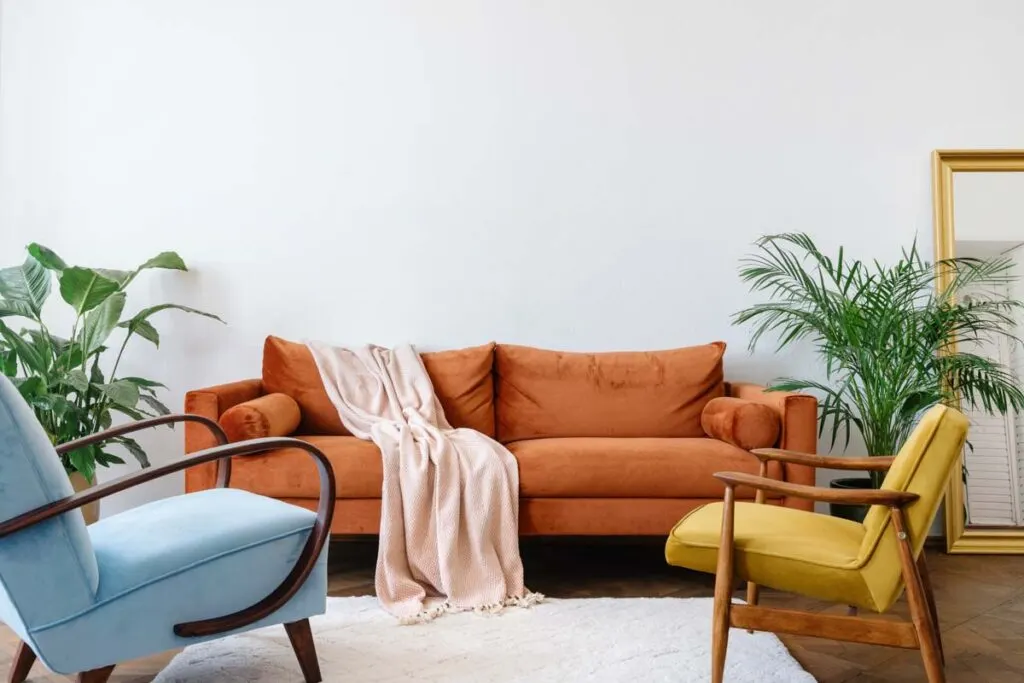 Yellow and orange may seem like too bold colors for the same space, but many beautiful colors can go with yellow without being overwhelming.
However, when done right, yellow and orange will remind you of the cool autumn months and add a warming feeling to a room. We recommend using a darker orange and mustard or faded yellow in a room.
Combine these colors with blue, gray, or white for a warm and welcoming aesthetic. Yellow and orange tones work well in a living room, kitchen, or dining room.
13. Navy Blue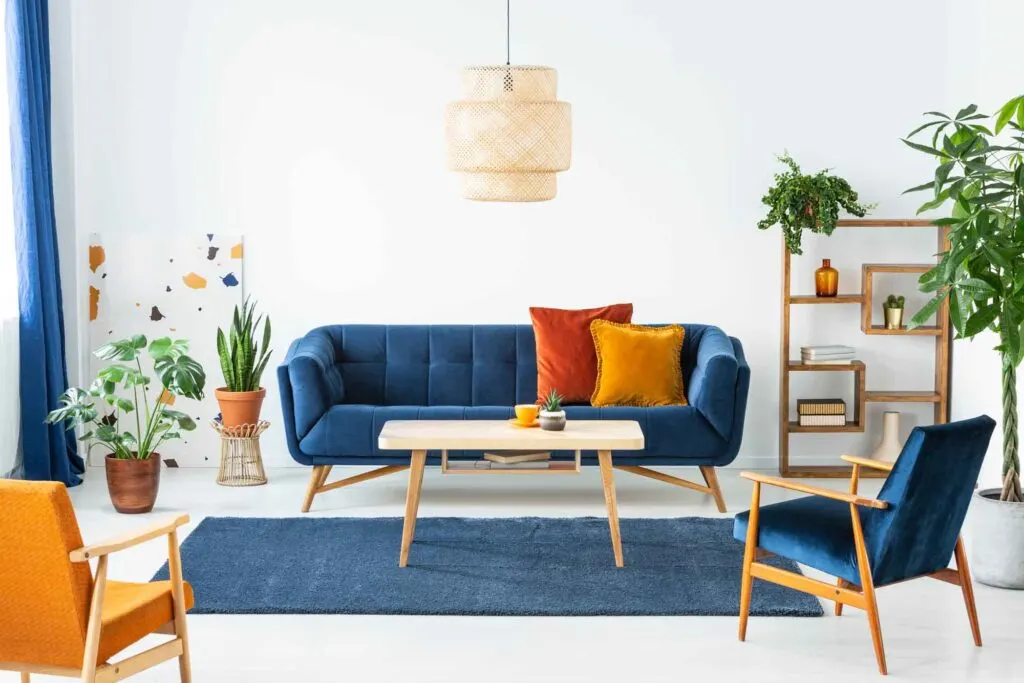 Navy blue is one of the colors that go with orange. Deep orange shades pair beautifully with navy blue (and other deep blues), especially in a predominantly white room.
As complementary colors, navy blue and orange are opposite in the color wheel, creating an eye-pleasing decor. Still, to balance out the dark, rich colors, incorporate lighter accents such as yellow and white.
Final Thoughts On Colors That Go With Orange
Whether you want to add a bit of color or transform a room with richer shades, orange is the perfect color to achieve your goals. Besides, it is such an uplifting shade, isn't it?
We hope this guide on colors that go with orange will inspire you and help you achieve the interior design that makes you happy!
Now, off to create your own orange color palette!
Did you enjoy reading about the colors that match orange? Share this article with your friends!