Here's a helpful list of colors that go with red.
There are many color combinations for red, despite the fact this is a warm color that makes a statement in any room.
This strong color feels luxurious and is often associated with being bold. Finding colors that go well with red might feel overwhelming because the chances of creating a garish decor are higher.
Undoubtedly, red will be at the center stage of your interior design, no matter the colors you pick to go alongside it.
Still, rooms decorated with red can be just as gorgeous as those decorated with other colors, and we're here today to help you choose the best colors that look good with red and your style.
13 Colors That Go With Red
1. Gray
Gray and bits of white are colors that go with red. Gray and bits of white pair with red to create a bold look that goes perfectly with home décor.
Gray is a softer color that stops the rich red color from being overbearing. After all, red is hands down one of the most dominant colors on the spectrum.
Consider putting a red chair in front of a gray wall and decorating it with white furniture. Gray and bits of white go together with red to create a bold yet not overwhelming color that your guest will love.
2. Pink
Unique colors that go with red are pink with bits of gray. They create a charming look that is great if you like a colorful, playful atmosphere.
These vibrant colors, which are close in the color spectrum, meaning the same color family, may be too overwhelming for some, but we love these rich, lively colors that pair with red.
Pink and gray are colors that complement red to create a playful look that is great for areas of entertainment, such as a living room with pink walls, red throw pillows, and gray decorations.
Alternatively, keep the bright colors to a minimum and use red and pink in the accents only.
3. Purple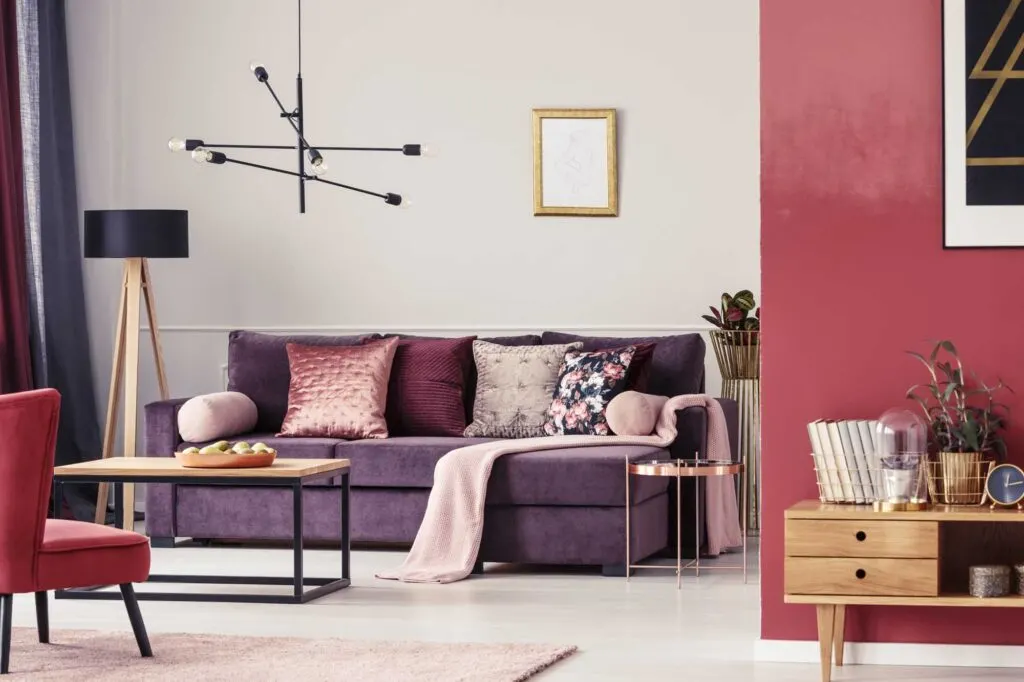 Purple is one of the most daring colors that go with red. As analogous colors, red and purple create bold but unique color combinations. These dramatic colors, when used throughout a cream room, scream glam.
The purple and red color combination might also look good in a masculine environment when using the right shades, of course.
Still, in general, red and purple have a sensual and feminine charm that is great for ladies' bedrooms or living rooms.
4. Black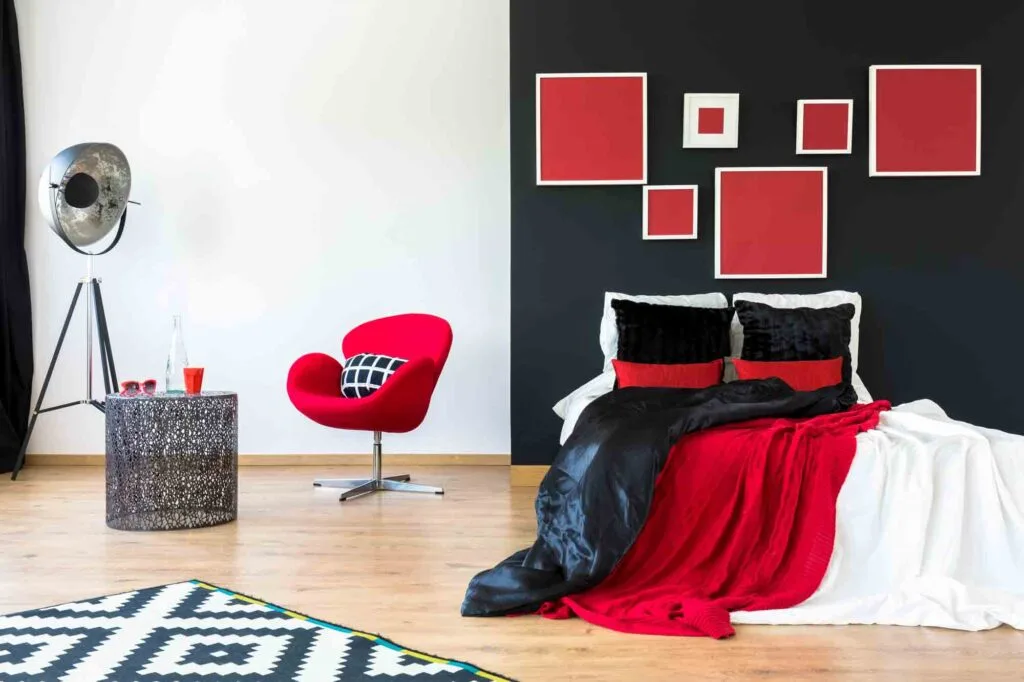 Shades of black are colors that go together with red to create a palpable and welcoming look.
Rooms of black shades colors complement red in the homes of those who like to be bold yet inviting in their home décor styles.
If you want contrasting color combinations in your home that make a statement yet welcome your guest, consider these colors for your dining hall.
A fancy long black table and chairs with red cushions go lovely with a red painted wall and roses on the table to create a bold and welcoming romantic dining hall.
Read next: Colors That Go With Black
5. Charcoal
Charcoal pairs with red to evoke a moody sophisticated look that will go excellent in your home.
Areas like your study will look great with the contrasting moody color of charcoal and red.
Think about painting the walls of your study charcoal and then decorating them with red furniture. With these colors, you will have a moody study that all your guests will swoon over.
6. Navy
Navy is a versatile color that goes with red to create a warm and welcoming color palette that is especially great for living rooms.
Although the mix of red and blue may seem overwhelming to some, as red is generally a vibrant color, it can be welcoming through its combination of navy, a classic shade.
The timeless red and navy is a classic combination with endless applications in interior decor.
Consider painting one of your walls navy (in a room with white walls) and donning your couch with red pillows to create this timeless color palette in your home. Blue walls create a serene backdrop for an energizing color.
7. Green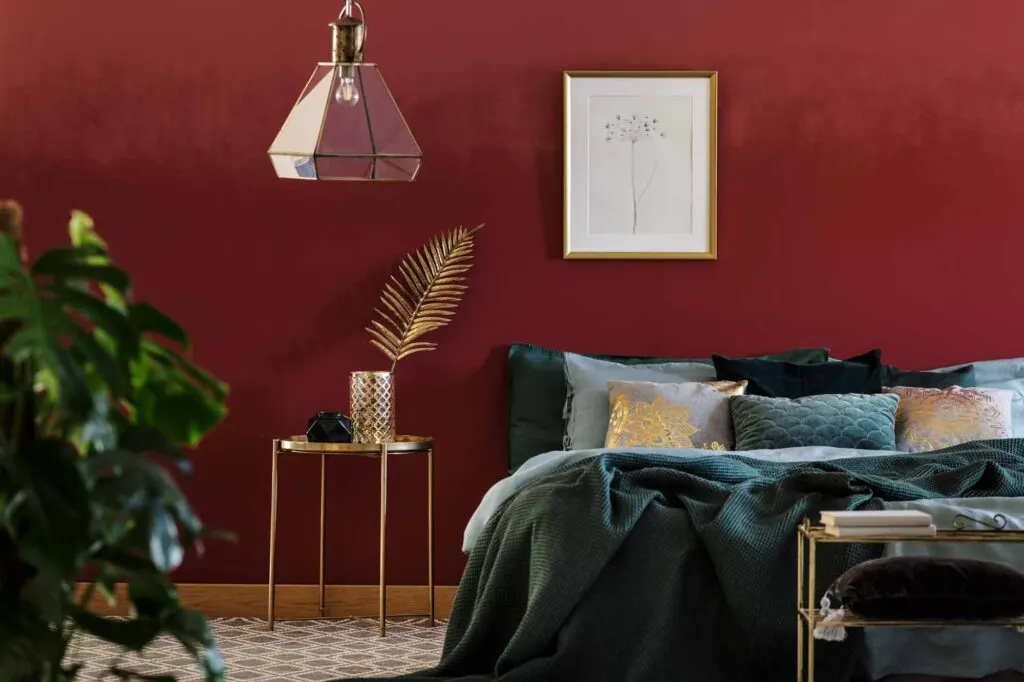 Make use of a complementary color scheme to balance out red. The colors moss green and red, specifically soft red, complement one another to create an elegant color palate.
Green and red are opposites on the color wheel, making them complementary colors.
Although dark green and red may evoke a Christmas color palette at first glance, they are also elegant colors that look especially beautiful in bedrooms.
In your bedroom, consider painting your bedroom a soft, warm red while investing in darker shades of green bedding and a lamp on a softer red bedroom drawer. By combing the colors moss green and red, you will have a grand-looking bedroom.
Another way to escape the Christmas color vibes is by making sure you pick muted shades of both colors.
8. Yellow
Although unexpected, yellow is one of the colors that go with red. The combo of yellow and red can create a beautiful color combination.
Both colors give off warmth and energy. Yellow is happy and uplifting, while red is daring and intense.
If you're not sure how to use both colors together, start off with accents in both colors in a white room.
9. Gold
Dark red and gold are incredibly elegant together. Both colors evoke a sense of style and good taste when used wisely.
An excellent way to apply these colors would be by painting a feature wall red and using gold furniture or decor items.
It's a great color combination for the living room and dining room.
10. White
White is one of the most sophisticated colors that go with red. It creates a vintage look that will brighten up any area of your house.
This color scheme has both a modern and a nostalgic feel–which one you will evoke in your home depends on the decor items you choose.
To create a modern aesthetic, try white walls and a white couch and sprinkle them with red accents, like modern art with bright shades of red, which are a nice pop of color.
Putting a chair in a deep shade of red in a white room creates a wonderful burst of color, too.
For a nostalgic look, get some red cabinets topped off with a black marble tabletop. This color palette will evoke a sense of fun in your child's playroom and give you a sense of nostalgia for your childhood days.
11. Cream
The color cream is a color that goes with red excellently. The color cream goes well with red to create a calming, romantic atmosphere in areas such as your living room since red is such a powerful color that makes bold statements.
If you want a calming space that evokes a sense of romance perfect for your date nights, think of combining the colors red and cream to create a unique romantic feel in your living room.
Red brings out the warm undertones in light browns with warm tones, giving them a chance to make a statement instead of being neutral.
Consider painting your walls cream or similar warm neutrals, complementing it with a brown couch similar to the cream color, and adding some soft red furniture for an extra bit of flair in your calming, romantic living room.
12. Turquoise
The color turquoise is a beautifully vibrant shade that creates a dynamic yet neutral color combo in any room of your home.
Red and turquoise are bold colors that bring a calming yet vibrant effect when put together.
Turquoise and red will work together in your living room to create a vibrant but relaxed atmosphere.
To make this look, consider adding chairs in cool tones of turquoise, a white couch, and red accent pieces like a throw pillow or red decor on the coffee table.
13. Brown
One of the most simple colors that go with red is brown. Red and brown have very similar shades to one another and go well together to evoke a calming atmosphere.
They work great as décor colors in areas of entertaining guests. Just by using brown and red, you can create a cozy and inviting room.
The colors red and brown work best in places where you receive and entertain visitors. Try decorating your living room with a red feature wall and wooden furniture, for example.
These two colors will create a cozy space where your visitors will feel relaxed.
Final Thoughts On What Colors Go With Red
Even though red is a dramatic color, it can create a range of vibes and many creative design inspirations.
This hue will create a unique design scheme, whether red on a feature wall or on accent pillows. Your friends won't forget your home!
Did you enjoy reading about the colors that match red? Then share this article with your dear friends!