Ready to decorate your home using yellow? Here's a list of colors that go with yellow.
Yellow is a notoriously cheerful color, and using it as a paint color can make the room feel energetic.
In color psychology, yellow represents happiness and optimism but also impatience and cheapness.
Many colors that go with yellow are essential for a sense of balance and to maintain the mood of this vibrant color.
It is essential to pair colors suitably; for example, yellow looks most smashing next to its complementary color, purple, but this can sometimes be inappropriate in the space if not implemented correctly.
The beautiful primary color yellow is surprisingly versatile and can go well with several other colors.
Whatever you are working with, throwing in some yellow could add a visual appeal to a bland space.
Whether your favorite color is yellow or you're trying to decorate your home, here are the best colors that go with yellow. Enjoy!
Colors That Go With Yellow
1. Dark Blue
Many colors pair well with blue, but it's safe to say that almost all shades of blue pair majestically with yellow to create a balanced and relaxing environment.
The spaces appropriate for this pairing of yellow and dark blues are lavishly comfortable places, like a bedroom or living area.
Because of the flexibility of the beautiful color blue, it seems to play tremendously with yellow while creating stunning outcomes.
When you can confidently pair yellow and blue together, you will always be satisfied and content with your decision.
You could combine a golden yellow couch with a dark blue wall or a mustard yellow wall with a royal blue couch.
2. Gray
Gray is another beautiful set of colors that go with yellow, as you can play around with the tones of gray.
You will be surprised with the outcome of committing to a bold yellow for either your foundation or your accents and pairing it tastefully with gray.
When you have an outstanding balance and understanding of the role of each color in the design, you will appreciate where modern meets relaxation.
You can do a lot with this bright color and gray in creating the dream space that feels clean and organized.
3. Purple
When you pair yellow and purple in your space, you may wish to include some white or green elements to tie the color palette together well.
Maybe purple won't be the easiest color to incorporate well with yellow into your living space.
However, purple is the complementary color of yellow, meaning they are on opposite sides of the color wheel, and, as such, purple is hands-down one of the colors that go with yellow.
When placed thoughtfully, this combination could make quite a statement and leave a lasting impression.
4. Pink
When using yellow and pink, it is safe to say it is a reasonably feminine pairing. However, that does not mean it should only be used in girls' rooms; you can incorporate this playful and exciting combination in your bedroom, study, or even the living room if you dare.
You can use pale pink to create a more subtle atmosphere; this may be better for a more private space you want to decorate personally.
However, you could create a whimsical sort of area, like a place to eat, an office, or perhaps an odd space like a staircase.
Or you could pair yellow with hot pink to make the space pop and feel eclectic and edgy. This look could be great fun to hang out in a living room or personalize your bedroom.
5. Beige
Beige is one of the best neutral colors that go with yellow. When you pair beige with yellow, the effect is one of versatility while speaking to sophistication.
This popular color combination is light and airy, especially under natural light, and could work very well in cozier spaces.
Pairing bold or bright yellow accents with neutral shades in foundations will turn any space into a joyful, light, and well-thought-out room.
6. Brown
Yellow and brown are warm colors that pair well because they can almost blend into one another.
There are many shades of brown, which could lead quite easily to beige and help the room achieve a feel and sense of balance and thoughtfulness.
Besides, brown is an incredibly welcoming color.
When we change our tones of brown, we can find coppers that also go well with yellow.
While designing a space with a palette of yellow and brown tones and shades, be sure it will produce a casual, comfortable and unassuming space. Still, you will want to find a balance between sunny shades and grounding colors.
So yes: brown is one of the prettiest colors that go with yellow.
7. Orange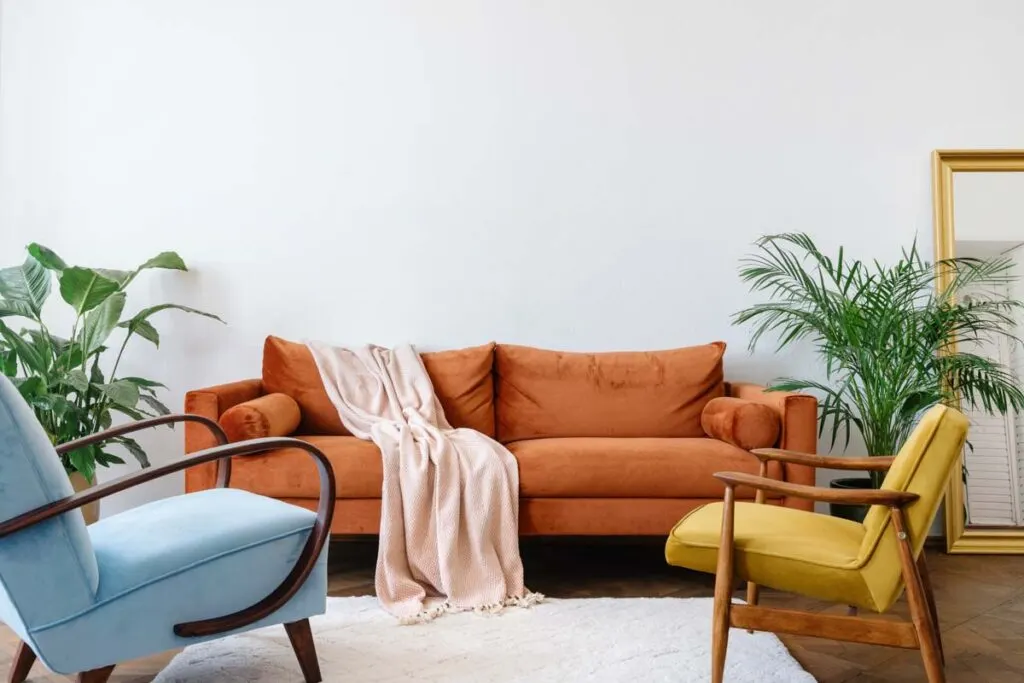 Orange and yellow are a lovely warm combination that can make any area seem brighter.
You may wish to use these colors together in a space that already gets good sunlight and is meant for fun times and laughter, like an eating nook or an entertaining living space.
You will have that lovely pops of color and energy in a room where you are beautifully showcasing a yellow and orange palette.
8. Black
The bold color combination of yellow and black reminds us of the bumblebee, strong and specific, and it can be exquisite if done correctly.
When working with a bright shade of yellow and black together, you can expect ease of the intimidating brightness of yellow and the consuming nature of black.
Black is one of the best colors that go with yellow. For instance, you could place neon yellow accessories in a black and white living room. This yellow color scheme makes a statement and creates a moody space.
9. White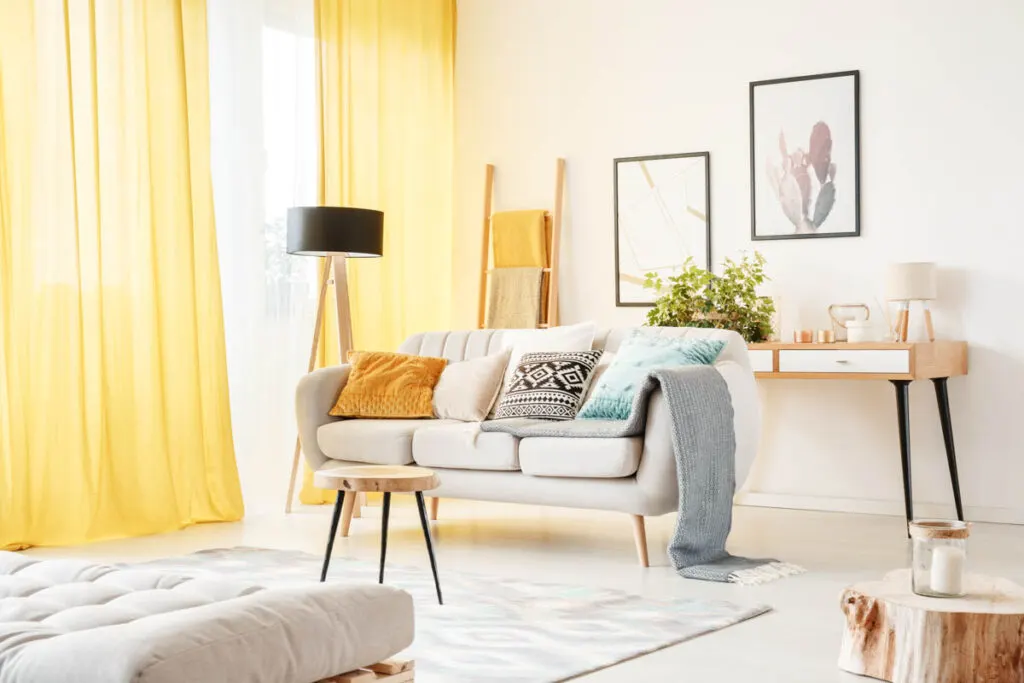 White is a great color that goes with yellow; in a space like a kitchen, it will give you feelings of cleanliness and lots of fun.
This classic color combination will create an uplifting space, but if you want the cheerfulness of yellow without giving up the soothingness of white, go for muted tones of yellow, which can act as neutrals.
Depending on your desired effect, you could play with this combination of yellow and white throughout your home.
Start off by hanging yellow curtains in a white room, for example. Softer yellows might work better if you're hesitant.
10. Green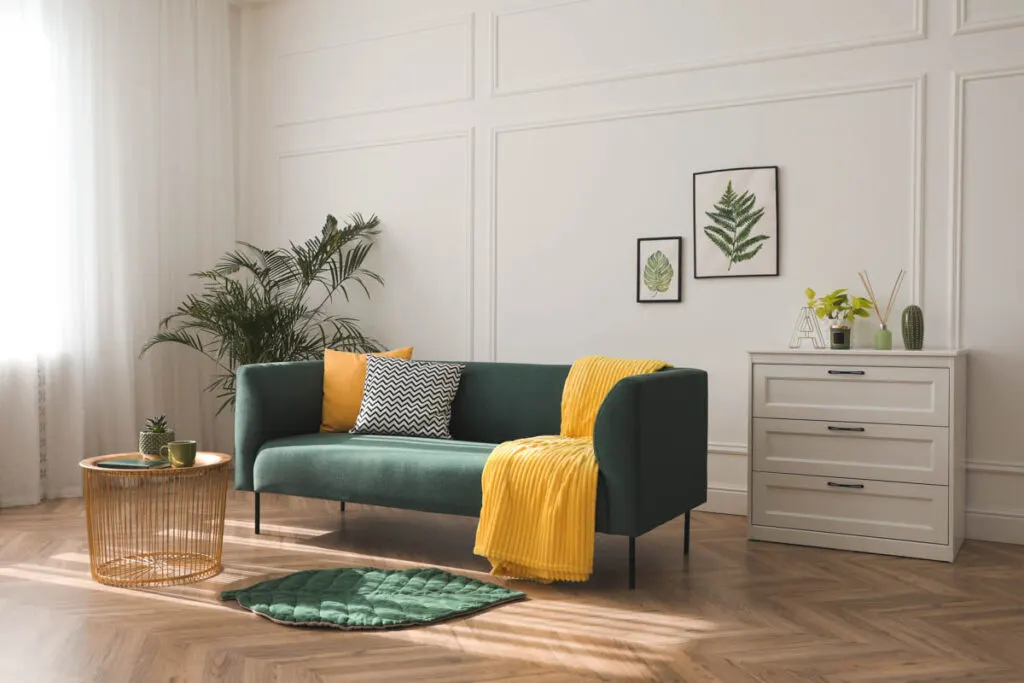 While yellow is often paired with warm tones, you could pair it with a few cool tones to achieve an equally impressive look.
Obviously, there are many colors that go with green, but green works particularly well with many shades of yellow to create a warm and inviting feeling.
Dark green and mustard yellow create a moody look, while light green and pastel shades of yellow transform the room into a soothing space.
Choose your yellow shade wisely to ensure it doesn't take away from the green notes in the room.
As analogous colors in the color wheel, green and yellow make a fresh color combination that works well in a living room, bathroom, or kitchen. It creates a happy atmosphere and reminds you of spring and summer.
11. Teal
Teal is by far one of the prettiest colors that go with yellow.
As a timeless color, teal has elegance and cleanliness that balances perfectly with the lively vibes of yellow.
When used together, these colors create an energizing and invigorating space. It is a timeless color palette that would be perfect for a modern and creative office.
Besides, teal is a cool color, while yellow is a warm color, so using them in the same space is sure to evoke harmonic vibes.
12. Red
Although unexpected, red is one of the colors that go with yellow. The color combo of yellow and red can create a striking color combination. Both colors give off warmth and energy.
Yellow is happy and uplifting, while red is daring and intense.
If you're unsure how to use both colors together, start with light yellow tones. Also, yellow and red work great as accent colors in a white room.
Read next: Pretty Colors That Go With Red
Final Thoughts On What Colors Go With Yellow
Whether you go for dark or light shades of yellow in accent walls or the whole room, remember that yellow is an energizing color that can be irritating when used in excess. Balance is key.
We hope this guide on colors that go with yellow will inspire you and help you achieve the interior design that makes your family happy!
Did you have fun learning about the colors that match yellow? Then share this post on your social media!