What are some colors that go with royal blue? Here's the answer!
Decorating with royal blue isn't so challenging because this is a versatile color that can be used in all rooms of your home.
The color royal blue evokes a feeling of sophistication and trustworthiness, which explains why this is one of the most popular choices in interior design and fashion.
Wondering what colors go well with royal blue? Read on!
14 Colors That Go With Royal Blue
Here are the best colors that go with royal blue. These suggestions below create wonderful color combinations with royal blue. Enjoy!
1. Yellow
Yellow is a bright color that goes well with royal blue and provides vibrant and cheerful color contrast.
Since blue and yellow are vibrant primary colors, you should use the 60-30-10 rule to ensure your décor is not overwhelming.
Sixty percent of the color scheme is neutral (your base color), thirty percent royal blue, and the last ten percent adds the zing of yellow—a nice pop of color.
A predominantly white kitchen with royal blue splash backs and yellow appliances, hanging lights, or a bowl of yellow fruit is a cheerful example of this combination.
Read next: Colors That Go With Yellow
2. White, Off-White, Cream, And Ivory
White, as a neutral color, goes well with royal blue. The crisp, cool contrast between these two colors can lend to a modern look or a comfortable, coastal feeling.
For rooms to be light-filled and look more spacious, use white furniture and curtains in lighter shades. Introduce royal blue with cushions, standing light shades, and patterned fabrics.
To compensate for the cooler white and royal blue, you can use warmer neutrals like off-white, cream, and ivory on the walls.
3. Orange Or Terracotta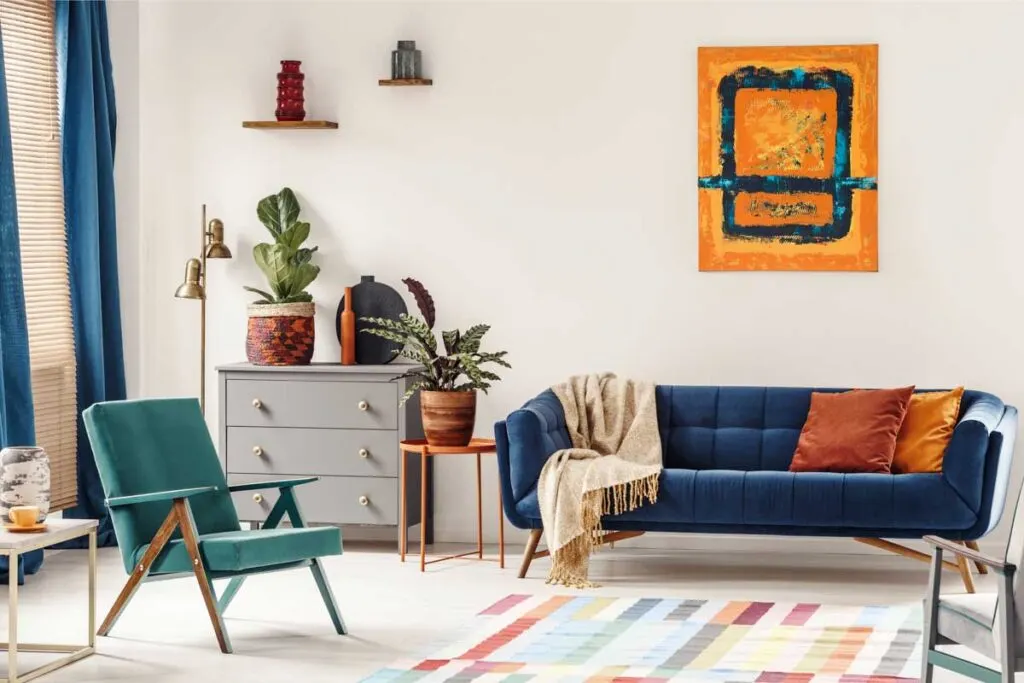 On the color wheel, blue and orange are complementary colors. Royal blue goes well with bright orange; they make each other pop out.
Using warm colors like terracotta, a shade of orange, with royal blue, lends itself to a Mediterranean or Moroccan feel.
Terracotta and royal blue tiles around a fireplace make a beautiful feature, while zingy velvet orange on a royal blue chair lends an upbeat feel to a room.
Without a doubt, terracotta is a vibrant color that goes well with royal blue!
Read next: Colors That Go With Orange
4. Dark Green
Blue and green are alongside each other on the color chart, allowing the opportunity to combine these analogous colors in décor and create a harmonious color combination.
You can use either olive green, sage green, or even forest green for main pieces of furniture or on the walls and then accessorize with elements of royal blue.
The soothing combination of these colors lends itself to being used in a bathroom or bedroom with wooden furniture.
Read next: Colors That Go With Green
5. Tan Or Taupe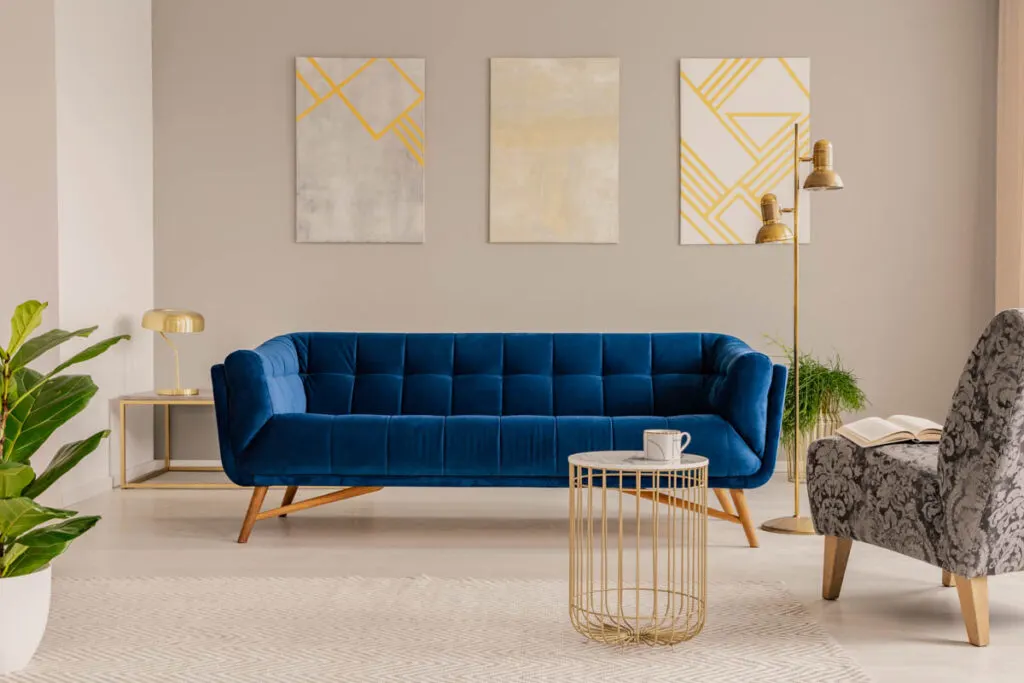 If you are looking for a neutral and cool scheme that includes royal blue, you can try tan or sandy taupe.
By using neutral colors on the walls and light wooden furniture, then adding some royal blue furniture, you can create a serene living space.
You can introduce texture and patterns with natural fibers in lamp shades or on patterned cushions and throws.
Royal blue furniture can include painted wooden chairs or a couch upholstered in velvet.
6. Red
Red is a bold color that, when used in conjunction with royal blue, can make one feel quite patriotic (depending on where you come from, of course) or lend itself to a nautical theme.
Since both colors can be overwhelming together if used too much, you can balance out your décor by introducing neutral tones like white or tan.
You can use throws and cushions to bring in the red and royal blue color combination, or you can have a big piece of furniture in royal blue or red and introduce the other color with accessories.
Read next: Colors That Go With Red
7. Neon Colors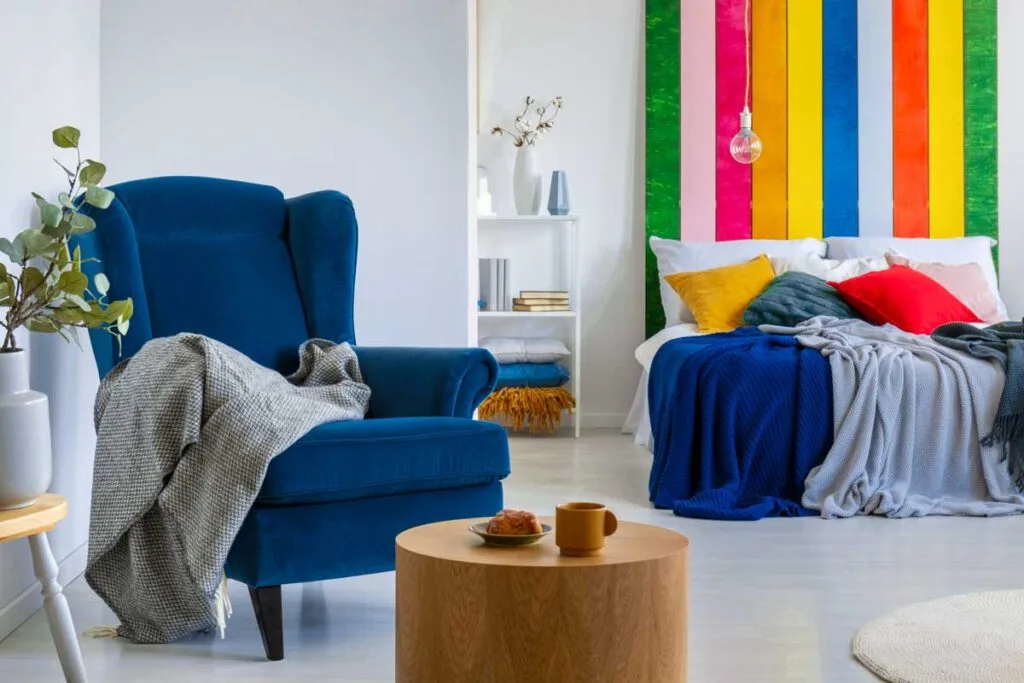 If you want to create a fun and bold living space, neon colors pair well with royal blue. When combined with neon colors, royal blue serves as a neutral color.
A great room to combine neon colors and royal blue would be a playroom or a fun entertainment area.
With neutral white walls and comfortable royal blue furniture like bar stools or a comfy couch, you can go wild by accessorizing with neon-colored elements around the room.
8. Lime Green
Lime green, in moderation, pairs well with royal blue to create a dramatic effect. Consider a wooden cabinet painted royal blue, but the trim is lime green.
Put that into a dining room with white walls and lime green chairs around a wooden table, and you have a fresh and vibrant dining area.
9. Hot Pink Or Light Pink
Since pinks and royal blue have a red undertone, they go well together and create a bold, warm feeling.
Accessorize royal blue furniture with hot pink elements, such as cushions made from interestingly-textured fabrics for a vibrant combination.
Instead of painting the walls a neutral white, you can paint the walls blush pink to keep the warm feeling in the room.
Read next: Colors That Go With Pink
10. Brown
Most shades of brown go well with royal blue. The different colors of wooden or leather furniture change the appearance and feel of royal blue, so you need to know what look you're going for.
For instance, honey brown wood makes royal blue stand out better.
You can make dark brown furniture look less oppressive by painting the walls royal blue and using white linen and curtains.
11. Gold Or Champagne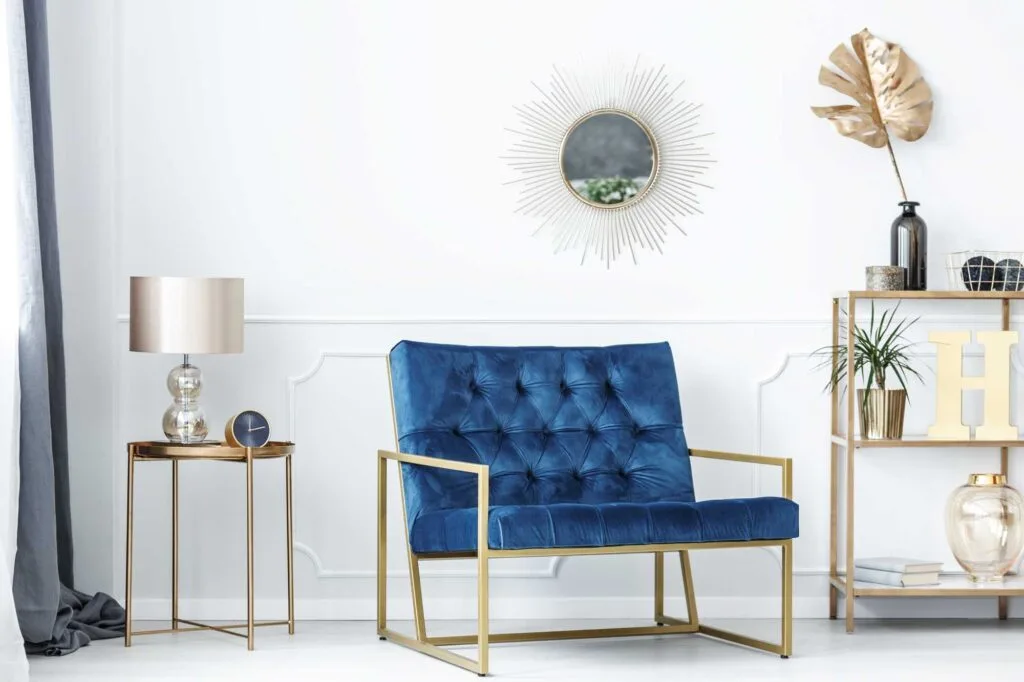 For sophisticated colors that pair well with royal blue, gold and champagne are what you need.
Paint a royal blue wall, add sheer champagne curtains and white furniture, then adorn it with gold accents to get a royal feeling.
You can swap the royal blue and white around by having white walls with bold, luxurious royal blue furniture items, but keep champagne and gold as your accent colors.
12. Purple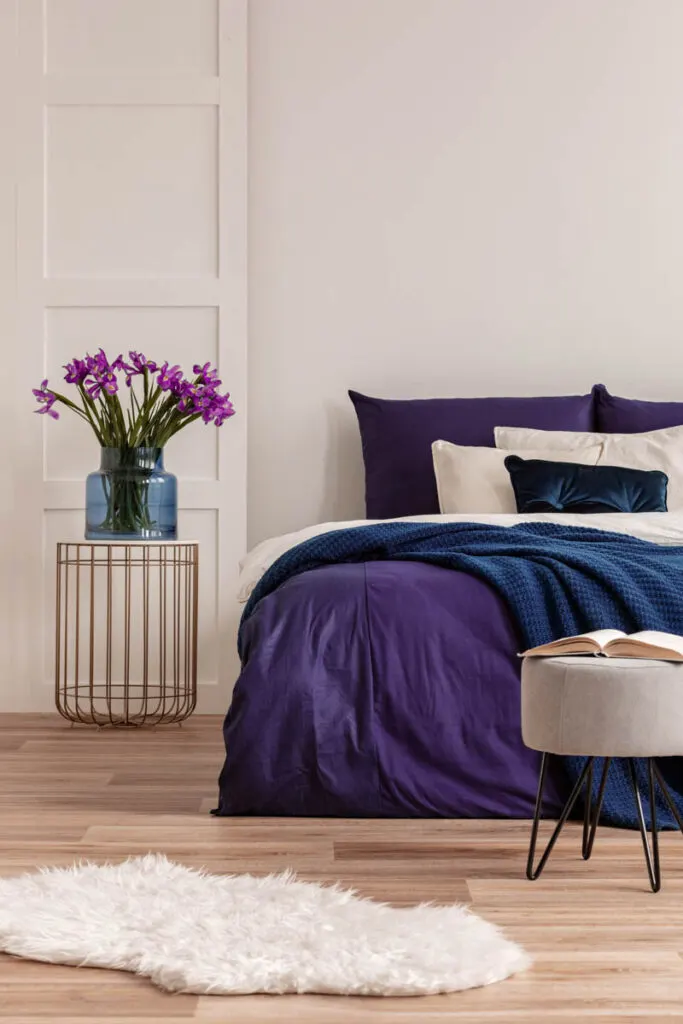 Purple is another regal color, and yes, it goes well with royal blue. Purple and blue are analogous colors, meaning they are next to each other on the color wheel.
These two colors go well together if they are in an open and otherwise neutral room.
Consider luxuriously textured, upholstered royal blue furniture around an equally luxurious deep purple rug on a smoothly surfaced floor.
Side tables and the coffee table can be smoothly textured in light wood.
Read next: Colors That Go With Purple
13. Other Blues
Royal blue can pair well with other shades of blue, such as navy blue, powder blue, cerulean, and teal.
Too much blue can be overwhelming; you can balance it with at least sixty percent neutral colors. The remaining forty percent is a combination of royal blue and another blue.
Also, remember that too much of the color blue can act as an appetite suppressant, so walls in kitchens and dining rooms should not be overwhelmingly blue.
Read next: Colors That Go With Blue
14. Black
Black, a neutral color, combines well with royal blue for an elegant and timeless look. Darker shades usually evoke a sense of sophistication, and black does that very well.
To make the room lighter, you can add various textures and lighter neutrals to this color palette.
You can modernize a room by painting the walls white, incorporating black accessories and patterned rugs, and then introducing royal blue through textured pictures, furniture, or scatter cushions.
Final Thoughts On Colors That Go With Royal Blue
Royal blue is a classic color in interior design and is bound to make memorable color schemes for your home.
We hope this guide on colors that go with royal blue will inspire you and help you achieve the interior decor that makes your house feel like home!
Did you enjoy reading about the colors that match royal blue? Share this post with your friends!