Here's a helpful list of colors that go with green.
The color green has become not only an incredibly popular color in interior design but also a verb—green is the definition of future.
Whether you want to feel closer to nature or green is your favorite color, we have a handy list of colors that go with green and what feelings they evoke in a green color palette.
Wondering what colors go well with green? Read on!
13 Colors That Go With Green
Here are our favorite colors that go with green. These hues create incredible color combinations with green. Be creative!
1. Yellow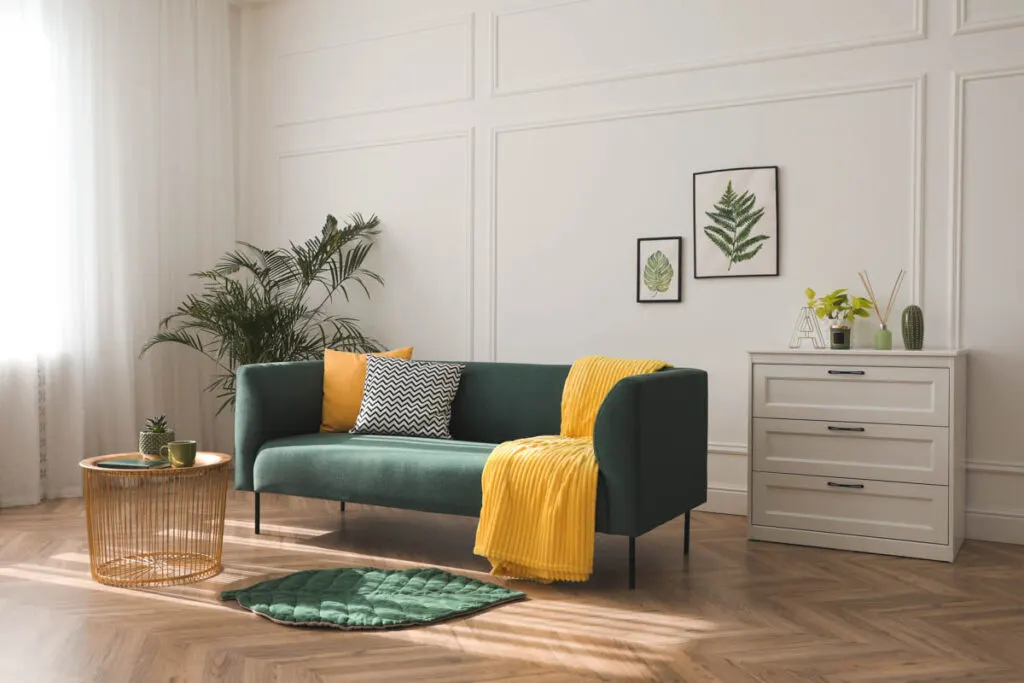 Yellow works well with many shades of green to create a warm and inviting feeling. Light green and yellow create a vibrant look, while dark green tones and saturated colors, like mustard yellow, create a moody and warming atmosphere.
Choose your yellow shade wisely to ensure it doesn't take away from the green notes in the room.
For example, use yellow as the accent color and one or two shades of green more prominently in the room.
As analogous colors in the color wheel, green and yellow make a fresh color combination that works well in a living room, bathroom, or kitchen. It creates a happy atmosphere and reminds you of spring and summer.
2. Brown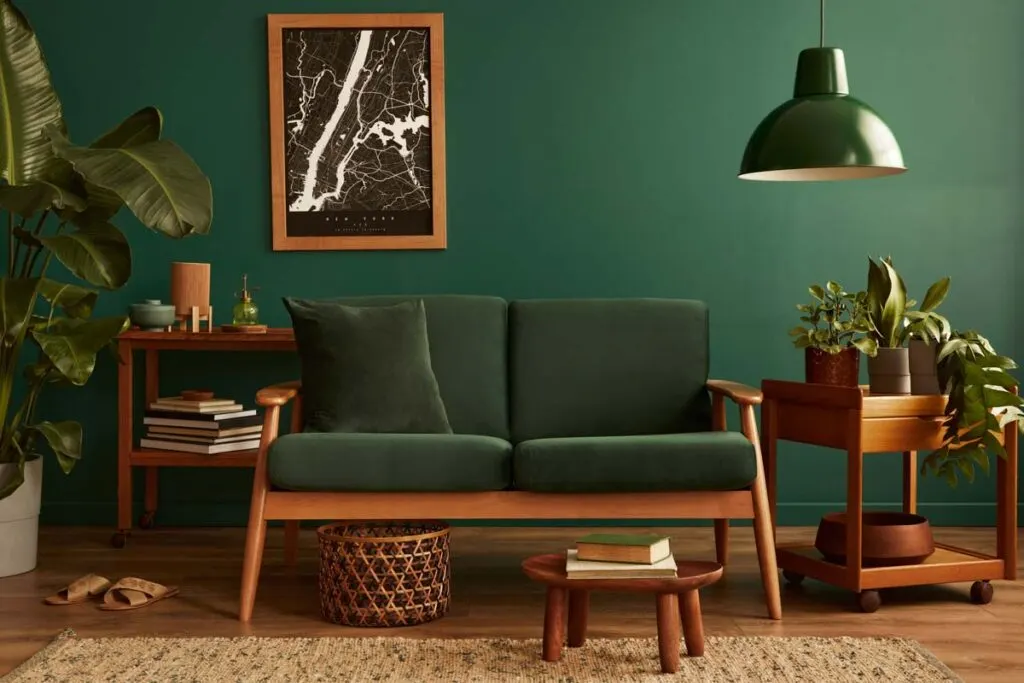 Brown is one of the colors that go with green. After all, green and brown evoke images of nature since they are common colors in our world.
So if you go for a brown and green color scheme, you will create a peaceful atmosphere and channel earthy vibes with this color combo.
Wood tones are hands down our favorite colors for a biophilic design.
Deep shades of green accents and fabrics or walls go well with dark earthy brown furniture, while beige and light brown notes are the perfect addition to a space with sage green or pastel green. These earthy tones pair so well together!
Adding live green plants to a room gives it new life and helps you feel calm and balanced. Green and brown shades work well in a bedroom, living room, or study.
3. Orange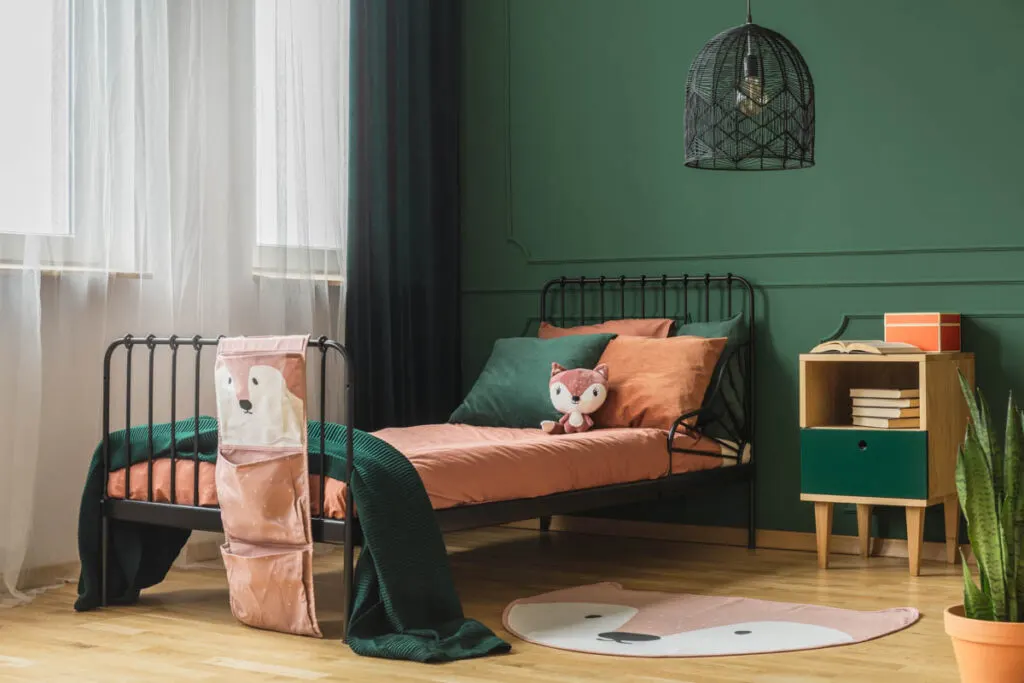 Orange is hands-down one of the colors that go with green. These two colors together remind you of spring and create a happy environment. Faded green and burnt orange can create a retro or Moroccan look.
When using orange with green, feel free to play around with patterns and textures.
The warm undertones of orange balance perfectly with the cool undertones of green.
Don't add too many bright orange elements, or they may distract you from the overall aesthetic. Green and orange tones work well in a dining space, kitchen, or bathroom.
4. Blush Pink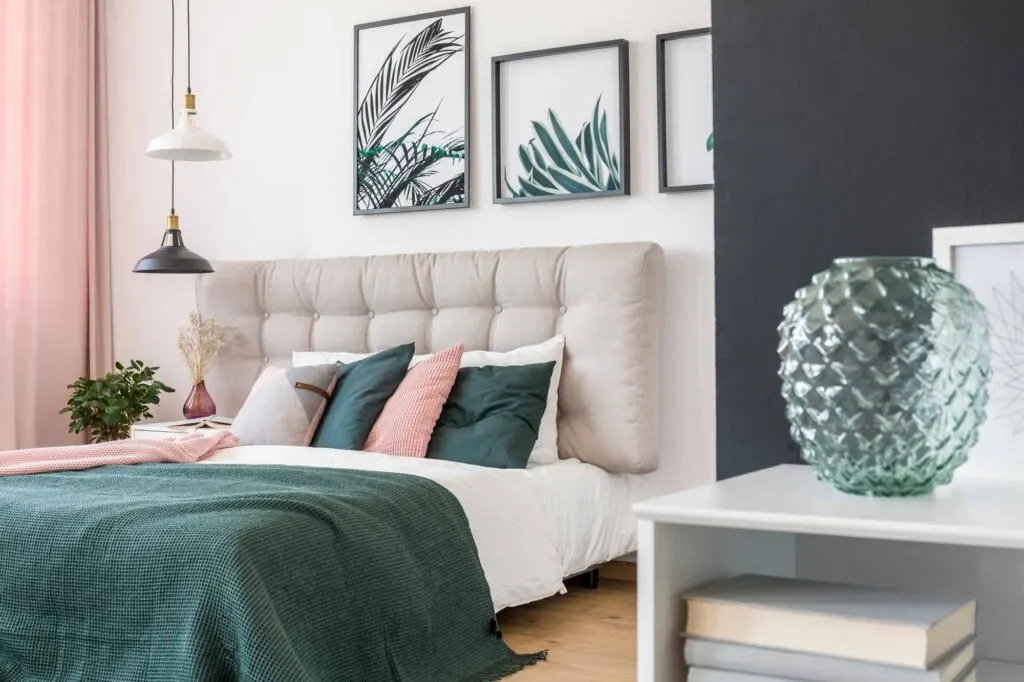 Adding blush pink to a predominantly green room is an excellent way to add a feminine touch and burst of color. After all, green pairs with most, if not all, shades of pink.
In addition, adding blush pink helps to lighten a room with dark green elements. Because of its blue undertones, blush pink also elevates light green or a shade of olive green and is extremely helpful in creating a well-rounded aesthetic.
This color combination is best for homeowners who love a twist on femininity and natural design or favor pops of color.
The blush pink and green color combination is suitable for any room in your homes, such as a bedroom, living room, or dining room. Blush pink and green work well in a wide variety of rooms with a lot of sunlight or low light.
5. Coral
Green pairs well with coral and creates a fresh and classic combo.
This eye-pleasing and highly aesthetic color combination is perfect for those who don't necessarily want to welcome pink into their interior design but want the freshness of these summer colors together.
For example, paint a wall green sage and place a beautiful coral couch in front of it. It will stand out and draw eyes to that area of your living space.
6. Lavender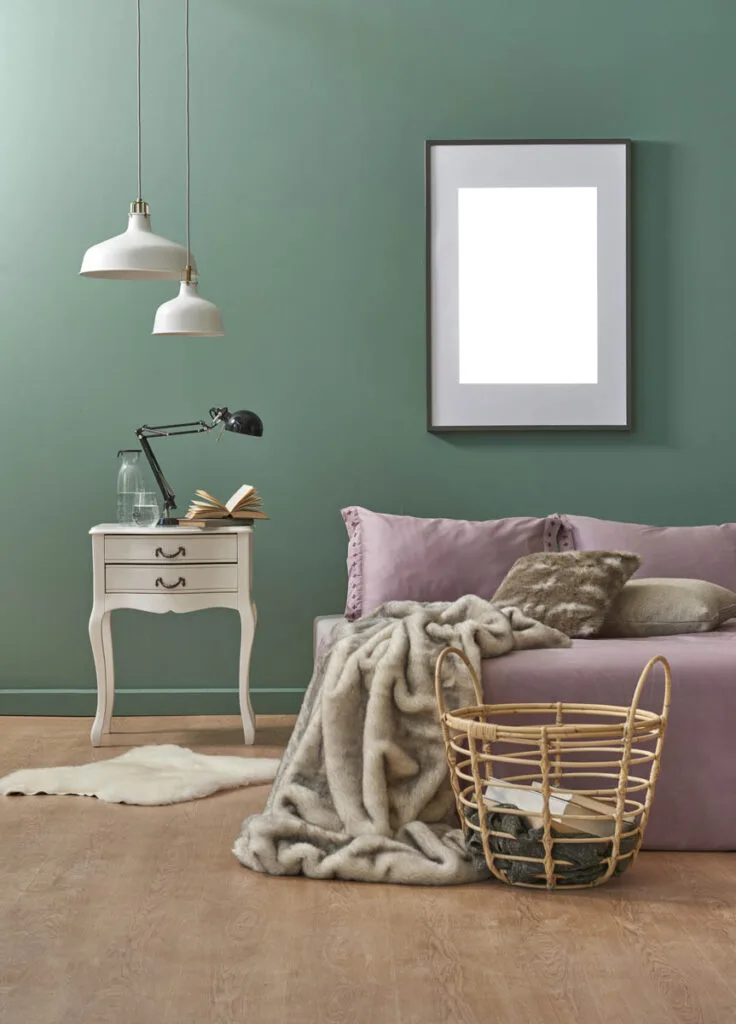 Light shades of purple are relaxing colors that go with green creating a soothing environment, especially when used with grayish or muted greens.
The cool undertones of lavender, together with muted tones of green, like muted mint green, instantly transform the room into a relaxing place, making it ideal for bedrooms and nurseries.
However, if you have a bold personality, go for darker shades of purple with forest green. This color combination creates a mysterious modern space.
7. White
Green and white are a tried and trusted color combination. Adding white elements to green creates a calm and clean aesthetic.
You can use shades of white and various textured fabrics to add depth to the room and make it more interesting.
Alternatively, you can place dark green accents and furniture, like a couch, in front of a white wall (it also works with an off-white paint color) for a welcoming and clean space. Because white is a cooler shade, this color scheme also has lovely freshness.
But if you have green walls and white furniture, the combination will look more vintage but equally beautiful.
Green and white work in any room but are especially calming in a bedroom, bathroom, or study. This is the perfect color combination for any area with enough natural light.
8. Blue
Green and blue are on the same side of the color spectrum. That's why green goes well with blue, creating a soothing space.
Color experts say you should stick to a similar shade of green and blue throughout the room and add variation in the form of designs and patterns. A green and blue color combination makes for a beautiful kitchen or living room.
You can also use deep blue and green shades, which will look gracefully together. Thankfully, blue is a primary color that is easy to use in design.
You can create a stunning space with lighter tones of green and blue that feels calming. Or, dark green and blue can be combined to create a moody room.
9. Gray
Gray is one of the easiest colors that go with green. As a cool shade, gray adds a sophisticated tone to a room, and the green helps to liven the room and make it warmer.
A dark shade of gray works well with emerald or sage green accents, and light gray is the perfect pairing for lime green or mint green.
The gray and green color combination is perfect for a bedroom, living room, or study. You can play around with various shades of gray and different textures to add depth to the design.
For example, light gray walls and white trim with a green velvet couch is a classic and clean interior decor.
Alternatively, you could paint a prominent wall green and place gray furniture with green pillows in your living room—a stunning combination.
10. Black
Black adds a contemporary atmosphere to a green room. Adding black elements to a room with many plants or green art pieces helps to create a modern and chick twist to an otherwise monotone room.
Black and green elements work great in a room with a lot of glass and mirror elements, such as a living room or dining room.
As a darker shade, black goes well with bold emerald green accents. However, you can also pair it with a lighter green to add more contrast. A black and green color combination is also perfect in a modern bathroom.
If you don't want black to be the dominant color, use it in a few elements throughout the room, like vases, picture frames, and other black accessories.
11. Copper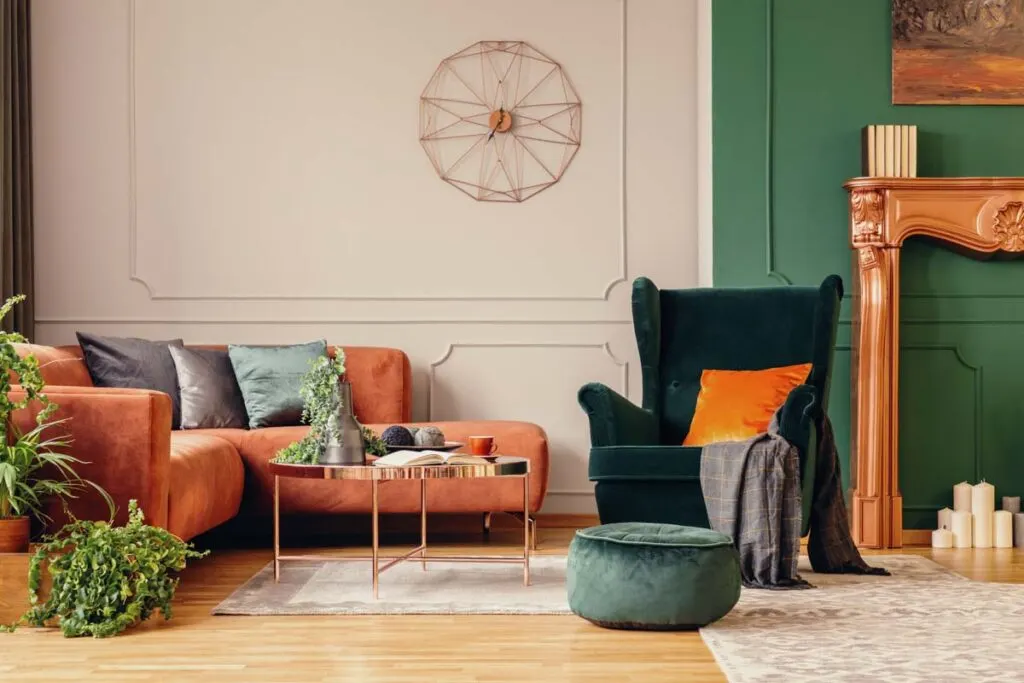 Copper is the perfect metal color that goes with green. Dark green and copper complement each other exceptionally well and add a warm and sophisticated tone to a room.
Copper and green transport you to another time, and these colors are perfect for highlighting antique furniture.
Copper and dark green work great in a bedroom, bathroom, living room, or kitchen. These colors create a unique look in any room and are excellent in lowlight areas or areas with warm artificial lights.
12. Red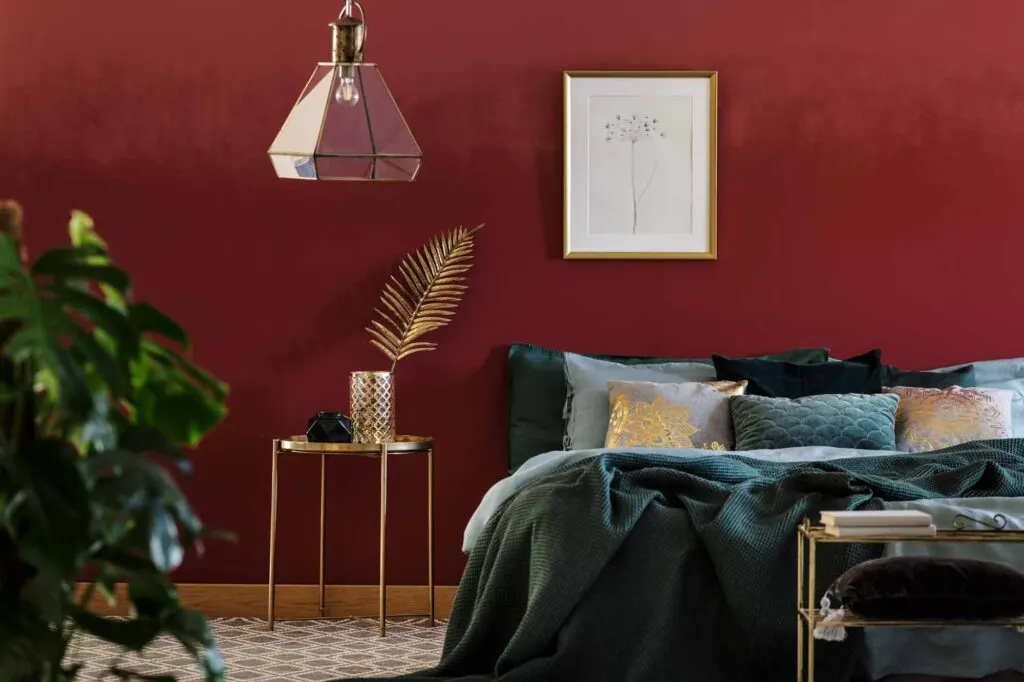 Red is a vibrant shade that helps to bring out the neutral colors in green. Red is the complementary color of green, meaning they are across each other on the color wheel.
Although this combination might remind you of the Christmas colors, know that a well-chosen color palette won't evoke holiday vibes, on the contrary, green goes well with red.
Adding red notes to green adds a splash of color and vibrancy to a room. Bright red is a bold color that makes you feel excited and pairs well with soft shades of green, while wine red or burgundy are warmer shades emphasizing green's natural tones.
You can combine muted colors of both shades to create a sophisticated look. Red and green are a great color combination for a bathroom or hallway and can even work out well in your bedroom.
Muted shades of red, say, on a wall with a dark green bed cover and throw pillows, transforms any room.
13. Neutrals
Neutral shades like beige, tan, and cream are versatile colors that go well with green. You can use light green or dark green and pair it with a neutral color to create a calm and inviting space.
Using unbleached linen, wool, and cotton in light colors in a room with green elements makes you feel calm and balanced.
Pieces of furniture in shades of taupe or any other shade in this color family in front of a green wall will evoke a biophilic design that's hard to resist.
Green and neutrals are a great option for almost any room in your house, and you can experiment with different neutral tones, textures, and patterns to create a unique aesthetic.
Final Thoughts On What Colors Go With Green
Whether you go for darker greens and saturated accent pieces, green is a calming color in general. It has become a verb in recent years, and it is true to the overall vibe it evokes: the future is green.
We hope this guide on colors that go with green will inspire you and help you achieve the interior design that makes your family happy!
Did you enjoy reading about the colors that match green? Then share this article with your dear friends!