Decorating with black? Here are some of the colors that go with black!
Black is versatile and complements many other colors, tints, shades, and tones.
Black is the absence of all light and, therefore, of color. You might have noticed it is not in the color wheel.
Through the ages, black has been seen as a color of passing and mourning but has since changed to a color representing sophistication and elegance.
There are many different pigments of black that are used differently depending on the wanted effect.
Bone black gives a warm brownish black, while lamp black and vine black give cooler shades.
Biddeford black is often used as a very pure black. With its silky texture and near-blue tint, it creates a rich, elegant hue often seen with the more vivid cold colors such as violet, eggplant, and plum, as well as many shades of blue and green.
In fashion, black and black is a great pairing; however, in design, pairing colors with black can give the pop of color your room needs that will help it not to be so serious and gloomy.
Any color can go well with black; your choice of pairing depends on the feeling you want to achieve.
You can make any color work with black regardless of your design style if you keep your space's purpose in mind.
13 Colors That Go With Black
Here are our favorite colors that go with black.
1. Pink
The black and pink color combination can be a tricky but funny one.
Black is an intense color and evokes feelings of sophistication, seriousness, and even sadness, while pink balances this out and create a calm and easygoing environment.
If you're using a vibrant shade of pink, make sure it isn't the dominating color in the room, meaning try and use it as an accent color to avoid feeling overwhelmed.
Black and pink are best used in a living room but can also be used in a bedroom.
2. White
Opposites in the color spectrum, black and white as a pairing, are timeless, elegant, and always in style, no matter the period or needed use.
Their contrast has a long tradition of metaphorically representing the constant fight between good and evil, yin and yang.
Black and white, without a doubt, is a classic combination; you think immediately of sophisticated used subway tiles or the fun checkered floors in a clean kitchen.
You get a picture of the possibilities of using these classic colors together.
3. Turquoise
Black and turquoise are versatile colors that can be soft and welcoming or modern, slick, and contemporary.
Turquoise is said to be able to warn of danger and is associated with serenity, wisdom, friendship, and joy.
Black and turquoise are hands-down a unique color combo.
4. Red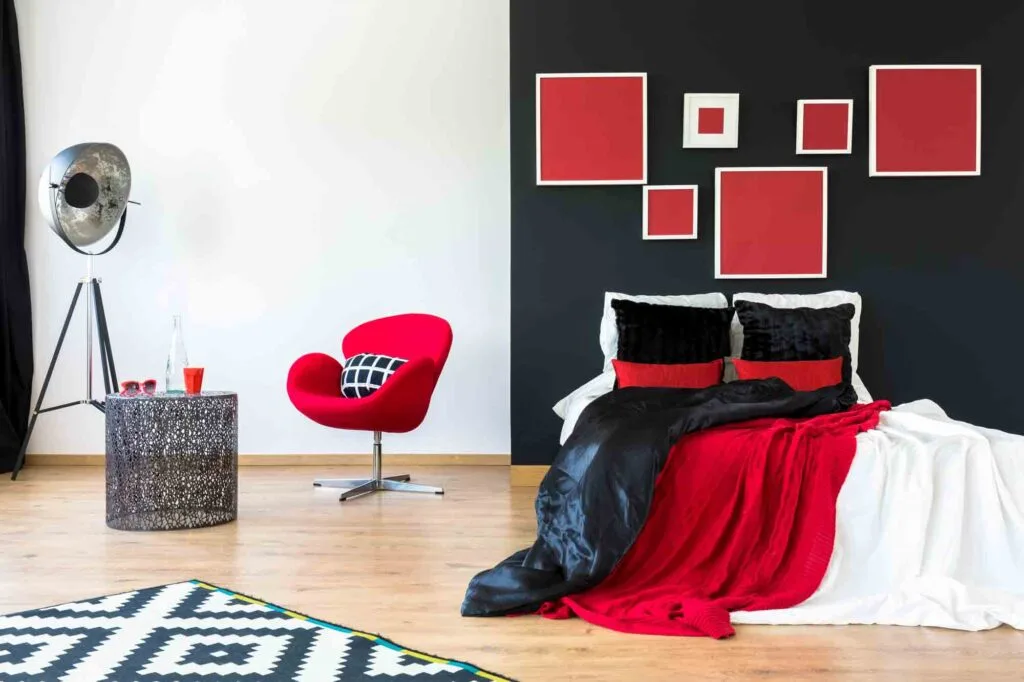 Black and red is a tricky color pairing. Still, it will always reign as one of the best color combinations, full of energy and drama.
Red is a bold color that can add a retro vibe or make a room feel romantic. Black and red are said to improve mental efficiency in a home office.
Being drawn to red indicates passion, energy, extraversion, and a personality type inclined to live fully.
Read next: Colors That Pair With Red
5. Yellow
Black and yellow are a unique and youthful combo full of life and edginess.
Yellow, especially dandelion yellow, represents hope, love, and happiness, like the sun shining down on all your good deeds, and links to feelings of excitement, bravery, and strength.
Bright colors like yellow are excellent to add a pop of color to a primarily black room. On top of that, yellow brings cheerfulness to a somewhat sad color.
Read next: Colors That Pair With Yellow
6. Light Gray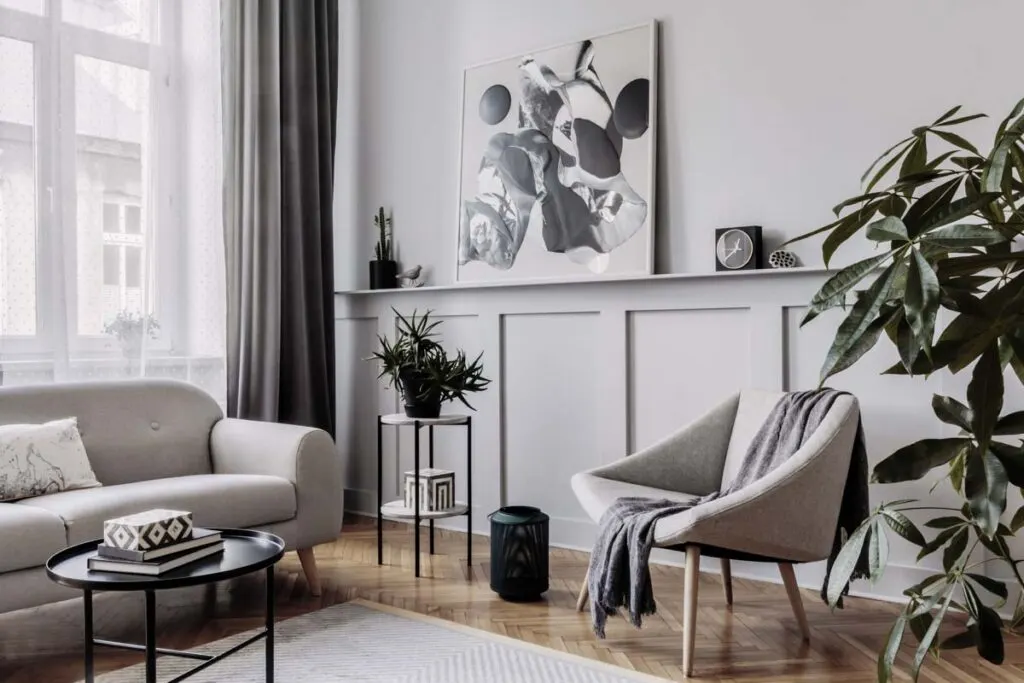 Black and light gray together work well in casual settings and can make a room into something beautiful, futuristic, modern, and chic.
The color black evokes power and authority, while gray balances this out with responsibility and self-control, making it a power combo for the makings of a good leader.
An interesting idea of using these colors together would be placing a gray couch near a black wall.
If that sounds a bit too dramatic for you, use black and silver accents in a white room for a clean and sophisticated look.
7. Gold
When done correctly in space, black and gold create a magical feeling, almost regal. Accents of gold on a harder black background will look excellent in a gothic-style room.
Gold can indicate an aloof manner and superior mind. People preferring gold are probably well-liked and make friends easily.
Black and gold together are the most versatile and timeless fashion; you can't go wrong.
When wearing this combo, the most important rule is not to add a third color, as it causes chaos and a cluster of colors.
If you don't like lots of bling, then wearing an outfit of mostly black with gold embellishments and accessories would be the best choice.
8. Royal Blue
Black and royal blue make a lovely and timeless style pairing that brings life and a sophisticated flair to a room.
Royal blue adds tranquility anywhere it goes being said to remind people of the ocean.
Black is a secretive color of the unknown, and when added to blue, a color of trust and peace, it makes a loyal and mysterious combination.
Read next: Colors That Go With Royal Blue
9. Green
If you choose to go with a pop of green, particularly an intense shade like emerald green, you will create a clean and crisp look.
It may be a great idea to make your pop of color just an accent wall or some statement piece that breaks the solid feeling of a black design.
You can also use a darker shade of green or a muted shade to make statements of calm and clean feelings.
This combination of darker colors and black can bring an air of elegance to the space.
10. Brown
It is a great idea to have a sense of balance in your spaces.
Where you have a lot of black elements, you can create a sophisticated design with brown, which will add balance to the room.
An example could be a wooden or brown ceiling contrasting with a rich color pop of color, like a black wall. The black and brown color combination is perfect for modern rooms.
11. Beige
Beige and black create a contemporary look that works well in a modern space.
Adding white as an accent color to a predominantly black and beige room will add a splash of color and make the space more attractive.
Beige is one of the colors that is easiest to combine and the most eye-pleasing neutral color, and it creates a balanced backdrop when paired with black.
So you can expect a modern room with definite lines and contrasts when pairing these colors together.
Black and beige work well in a modern office space or living room.
12. Orange
Orange is another great color to pair with black. Adding orange to a room with black accents creates a modern look.
Also, orange will stand out more because of the high contrast between it and black.
Orange and black ensure a warm yet practical atmosphere and are excellent colors for the living room, bathroom, or entryway.
Try adding orange accents and black art pieces to a room and see how the orange pops. You can add gray and white notes to the black and orange for a well-rounded look.
13. Purple
Purple is hands-down one of the prettiest colors that go with black.
This royal color is often combined with black to create a chic, modern space in a contemporary living or dining room.
Deeper shades of purple look particularly mysterious and elegant when paired with black. But if you want to soothe black's dramatic look, go for lilac, a much lighter color.
Be warned: depending on how much of each color you use, it might evoke a witch color palette since purple and black are prominent Halloween colors.
Wrapping Up On What Colors Go With Black
We hope this guide will help your color choices and inspire your journey while decorating your home.
Although decorating with black might seem overwhelming because it is such a dark color, this dark shade can create stunning and modern designs in a dramatic or neutral space.
Did you enjoy reading about the colors that match black? Then share this post with your dear friends!