Decorating with pink? Then you will want to check out this list of colors that go with pink.
In color psychology, pink is a color with an uplifting and comforting effect. This playful color captivates with its femininity and power. Yes, power.
Society is increasingly moving away from the idea of pink as a childish, over-sexualized hue. There's a shared recognition that pink can be pretty and powerful, feminine and feminist.
Decorating with pink might be overwhelming when trying to avoid overly feminine decor, but this bold color choice can deliver incredible results, as we will show below, whether your favorite color is pink or not.
Wondering what colors go well with pink? Read on!
12 Colors That Go With Pink
Here are our favorite colors that go with pink. These suggestions below create wonderful color combinations with pink. Don't be afraid to play with pink tones!
1. White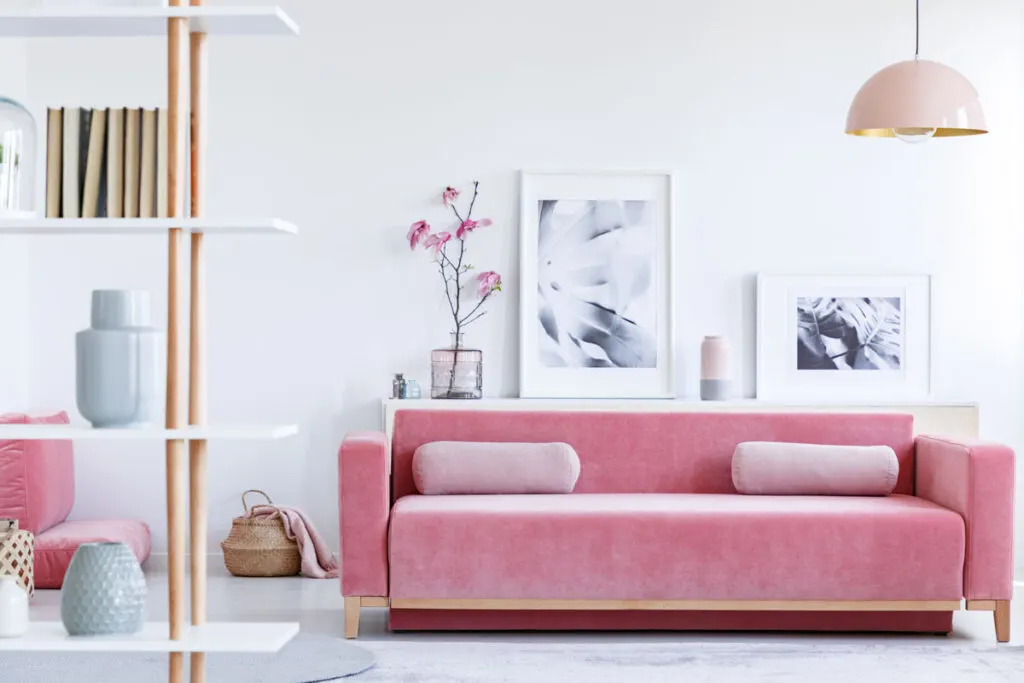 White is one of the classic colors that go with pink. Using white with pink shades creates an idyllic color combination.
These two colors create a playful but timeless feel that inspires feelings of upliftment, happiness, and lightheartedness.
Pink and white can be used in a children's room, bedroom, home office, or playroom.
In addition, you could use white furniture with pink faux fur carpets and a few bright pink pillows to help bring a pop of color into a mostly white room.
2. Blue
Pink and blue can be used in an office space, bedroom, lounge, and nursery—literally everywhere since blue is one of the most relaxing colors that go with pink.
Baby pink and a muted shade of blue is a color combination that creates a sweet and soothing feel and is very calming, while pale pink and navy blue create a dramatic but feminine room.
In formal spaces like a home office, blue and pink should be used as accent pieces and not the primary color to give it the seriousness the room deserves.
When you pair pink and blue in a bedroom, you can go for bold shades but don't make them the room's primary color.
3. Yellow
Pink and yellow are a vibrant combination of cheerful colors. Yellow represents joy and happiness, while pink is soothing.
These two colors together make a room lively, happy, and a place you want to feel joyful in.
Pink and yellow work well in a nursery, bedroom, and even the living room but are unsuitable for an office space.
A light pink couch can be enhanced even more with a yellow armchair and soft pink accents. Just make sure to start slow because pink is one of the colors that pair well with yellow, but that can look childish when both colors are used in excess.
4. Black
The combination of pink and black can be a tricky one. Black is an intense color and evokes feelings of sophistication, seriousness, and even sadness, while pink balances this out and create a calm and easygoing environment.
If black is used with vibrant pink, pink should only be used as an accent color, otherwise, it might become overwhelming.
Black and pink are best used in a living room but can also be used in a bedroom.
5. Purple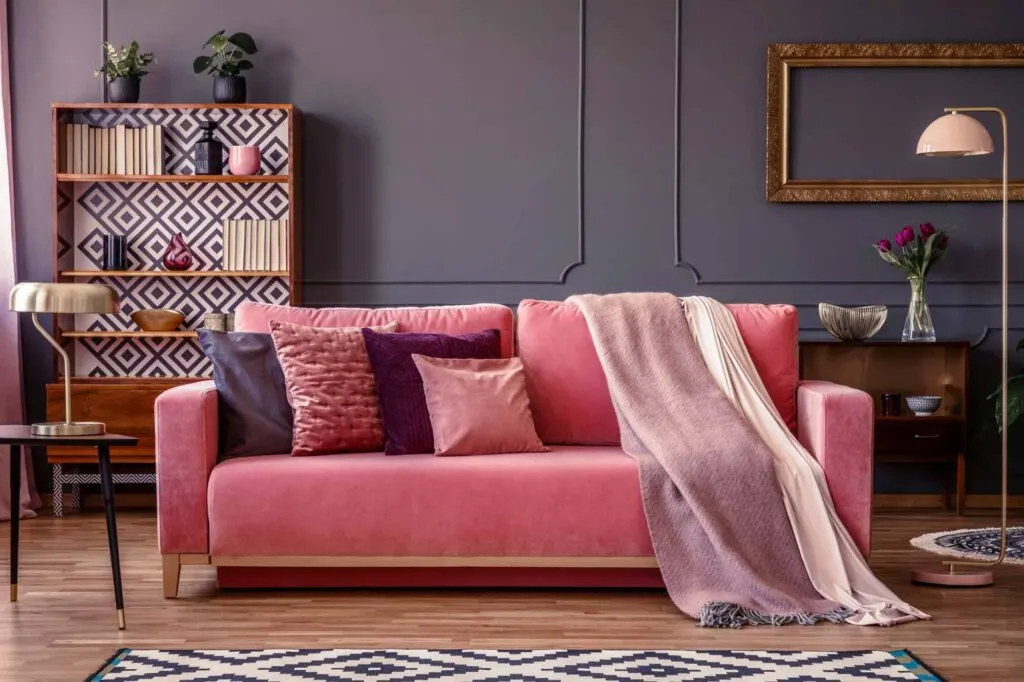 Pink and purple are feminine colors that create a playful and youthful feel to a space. Almost any shade of purple will pair well with pink.
Further out, pink and purple work well in a bedroom but aren't the best for a kitchen or dining area. Still, pink will pair well with purple in most rooms.
When using pink and purple together, you'll want to keep it to only 50% of the room and make the rest of the room a neutral color to create balance.
6. Orange
As analogous colors, pink and orange is an eye-catching combination that exudes happiness and positivity.
Pink and orange are perfect for a child's bedroom. This playful color combination creates an easy-going and fun look to any room in the house but is best when used in a bedroom.
For example, you could use baby pink for the bedroom walls, orange bedding, and dark orange throws.
Keeping a few elements of white in the bedroom keeps some neutrality and balance in the room.
7. Brown
Pink and brown add a feminine and sophisticated feel to a space.
Brown is a versatile shade that evokes a sense of earthiness and nature; pink compliments this and adds a soothing feel to the space.
Pink and brown work well in a living room. Brown furniture can be complemented with bright colors like pink pillows and a pink and earthy shaggy brown rug.
8. Green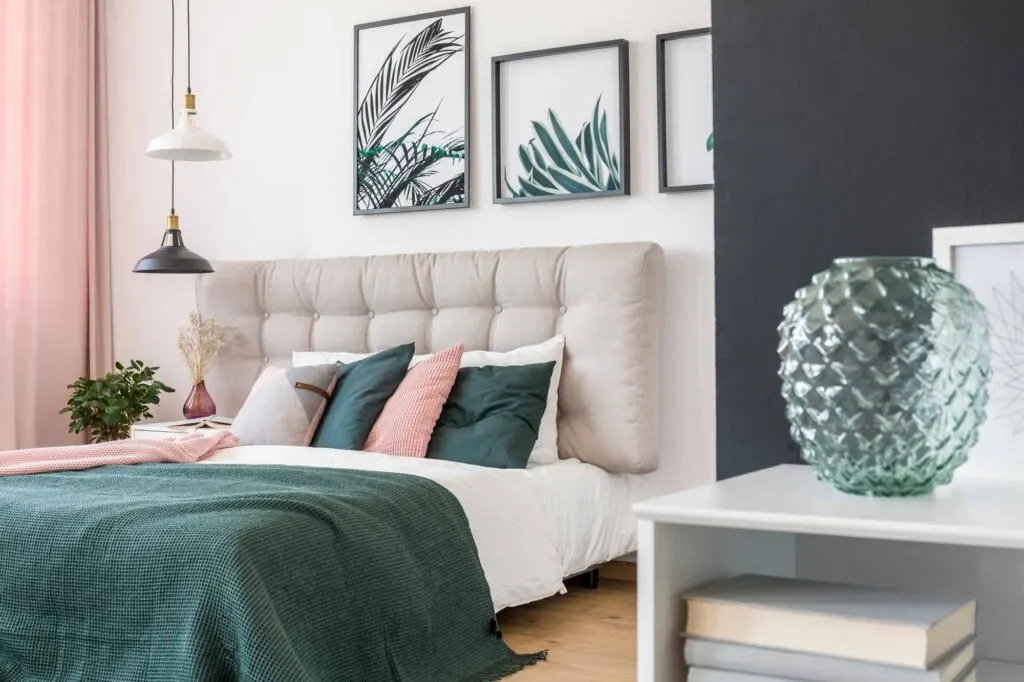 Considering color theory, green is one of the best colors that go with pink because they are opposite from each other on the color wheel, meaning they are complementary colors.
Many colors pair well with green, but pink is by far one of the most eye-pleasing ones.
This color pairing makes you feel playful and lively and is excellent for any room in the house because green is considered a natural color, and it balances pink, which is considered a synthetic color by many.
For example, you can use olive green and blush pink accents with cream in a kitchen to create a sophisticated and soothing earthy aesthetic.
In the living room, complement mostly cream furniture with hints of emerald green in throw pillows and one or two pieces of vintage-styled pink chairs.
9. Red
Red is one of the best colors that go with pink because they are close to each other on the color wheel. After all, pink is a shade of red.
Red and pink are a passionate and striking combination of colors. Red represents energy, desire, and lust and is a bold color.
Red can make you hungry and is a conversation starter. Still, red also raises blood pressure, so when used with pink, it should be used in minimal amounts. Usually, when red is paired with another color, it is used in the accents.
Pink evokes tranquility and should be more dominant when pairing the two.
These colors are best used in bedrooms, bathrooms, kitchens, and dining areas. In a dining room, pair bright red high stools with white furniture and blush pink curtains.
10. Gray
Gray evokes neutrality and balance, and pink is playful and soothing and adds a gentle feel when used in a room.
That's why pink and gray in the room complement one another. While pink can uplift your mood, gray has the opposite effect.
Pink and gray work well in most rooms, especially in a bedroom. Pale and soft shades of pink with bold to lighter grays work beautifully when decorating any room in the house.
11. Gold
For a lavishly decorated space, pink and gold are the perfect combination.
Gold is associated with luxury and royalty. On the other hand, pink brings a down-to-earth softness to a pink and gold-decorated space.
Pink and gold can be used anywhere in your home, and the amount of each color will depend on the theme you're looking to execute.
For example, in a home office, light pink walls with small accents of gold, like gold pots for plants or gold framed art pieces.
12. Black And White
Pink, black and white add a vintage, sophisticated look to your home. This versatile combination makes you feel calm and happy but also alert and mysterious, with slight hints of black.
This color combo can be applied to any room in the house. For example, pink and white walls can be complemented with black vanity and framed artwork for a bathroom.
For a nursery, pair black and white striped wallpaper on a feature wall, a black crib, and pink décor.
Final Thoughts On Colors That Go With Pink
From hot pink to baby pink, this hue is bound to make memorable color schemes for your home.
The color pink is lively and playful, even when used in lighter shades.
We hope this guide on colors that go with pink will inspire you and help you achieve the interior design that makes you pleased!
Did you enjoy reading about the colors that match pink? Share this post with your friends!