There is a wide range of colors that go well with blue, and we selected the top blue color combinations for you.
Blue is one of the most versatile colors for interior decor, and it is a safe hue for many people. Besides, blue is most people's favorite color for a reason.
Blue is calming and soothing but can also be mysterious and bring a vibrant and playful mood to any room in your home.
If you're looking for contrasting colors with blue or simply colors that match with blue in interior decor, keep reading.
12 Beautiful Colors That Go With Blue
1. Green
Green is one of the most soothing colors that go with blue.
Blue and green are both cooling colors that remind one of nature and peace. However, it can look chaotic if you don't treat them right.
For example, don't mix and match shades of blue and green. Instead, keep to one shade of blue and a matching shade of green. Adding green plants to a blue room is an excellent way to combine these colors since blue pairs beautifully with jewel tones.
Green accents, such as a green couch in a room with a blue carpet, walls, or curtains, are another way to mix these colors. When done in moderation, green matches blue surprisingly well.
If you want to create a statement room, go for deeper shades of both colors, but if you want to create a refreshing mood, go for mint green and pale blue.
2. Neutral Tones
Neutral colors go well with blue. That's a statement no one can deny.
These color combinations add a sense of calmness to your room. You can use the blue color with neutral colors in any room in your home regardless of size, natural light, and or style.
Blue and neutral colors give a room a coastal vibe and make one feel calm and warm.
A blue rug on neutral floors or beige-colored furniture makes the perfect tranquil space. You can mix shades of blues and neutrals for a more interesting design.
3. White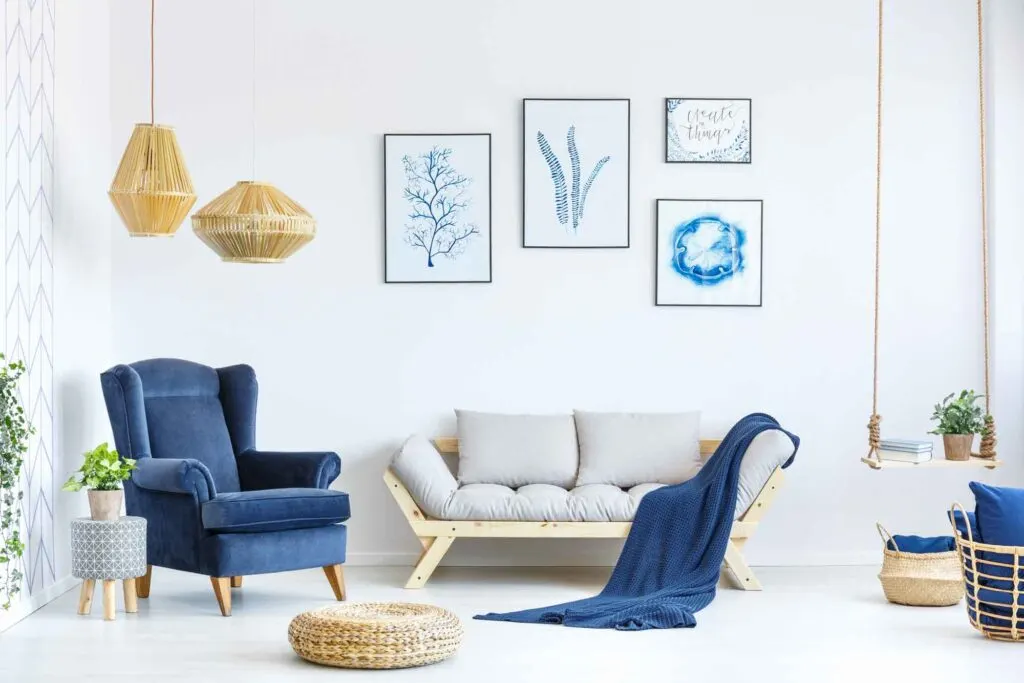 Blue and white is a timeless and popular color combination and makes one feel refreshed and vibrant. You can mix any shade of blue with white, and the result will be superb.
Light blue and white make the perfect bedroom setting, while white is one of the best colors that complement navy blue. In fact, a deep navy blue and white palette is an excellent kitchen color scheme.
Royal blue goes just as well with white, and this wonderful color scheme allows for gold trimmings. Blue and white can make you feel refreshed and inspired.
Read next: Colors That Go With White
4. Marigold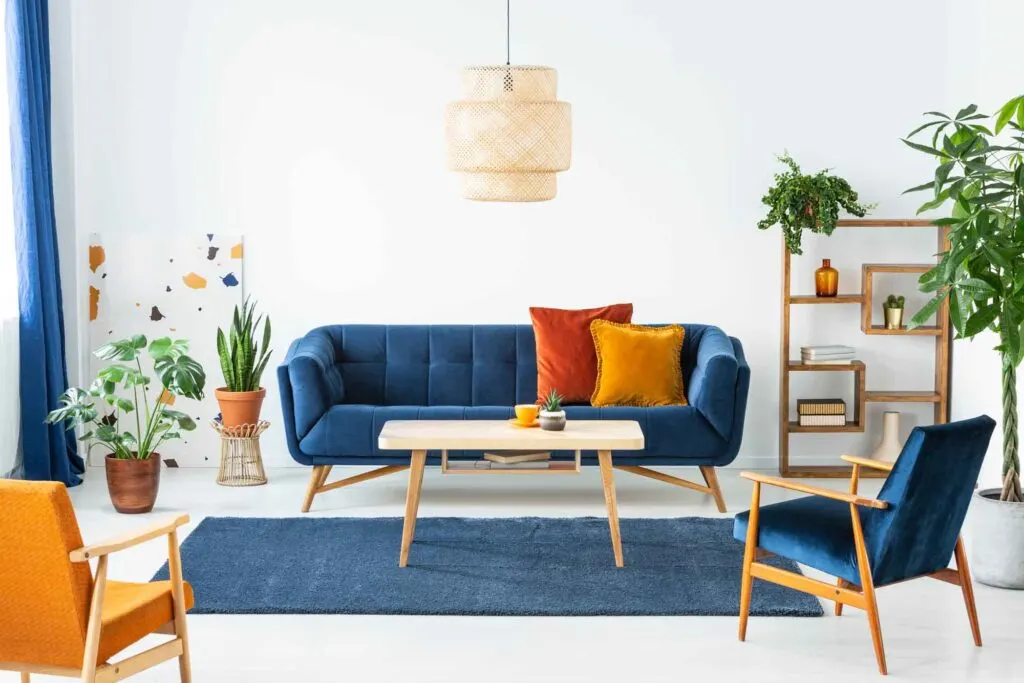 Blue and marigold are a highly-contrast pairing fit for kings.
Marigold is one of the prettiest colors that go with blue, creating a unique interior decor.
Also, royal blue goes incredibly well with golden tones like marigold and can transform a dark and gloomy living room into a warm and inviting place to relax.
Royal or navy-blue furniture complemented by marigold art and trimmings makes you feel relaxed and inspired.
Pairing these two colors with dark wood and warm lights completes a living or dining room and makes the room feel romantic and mysterious.
It is a well-loved pairing that adds a dash of fun to your blue color scheme!
5. Gray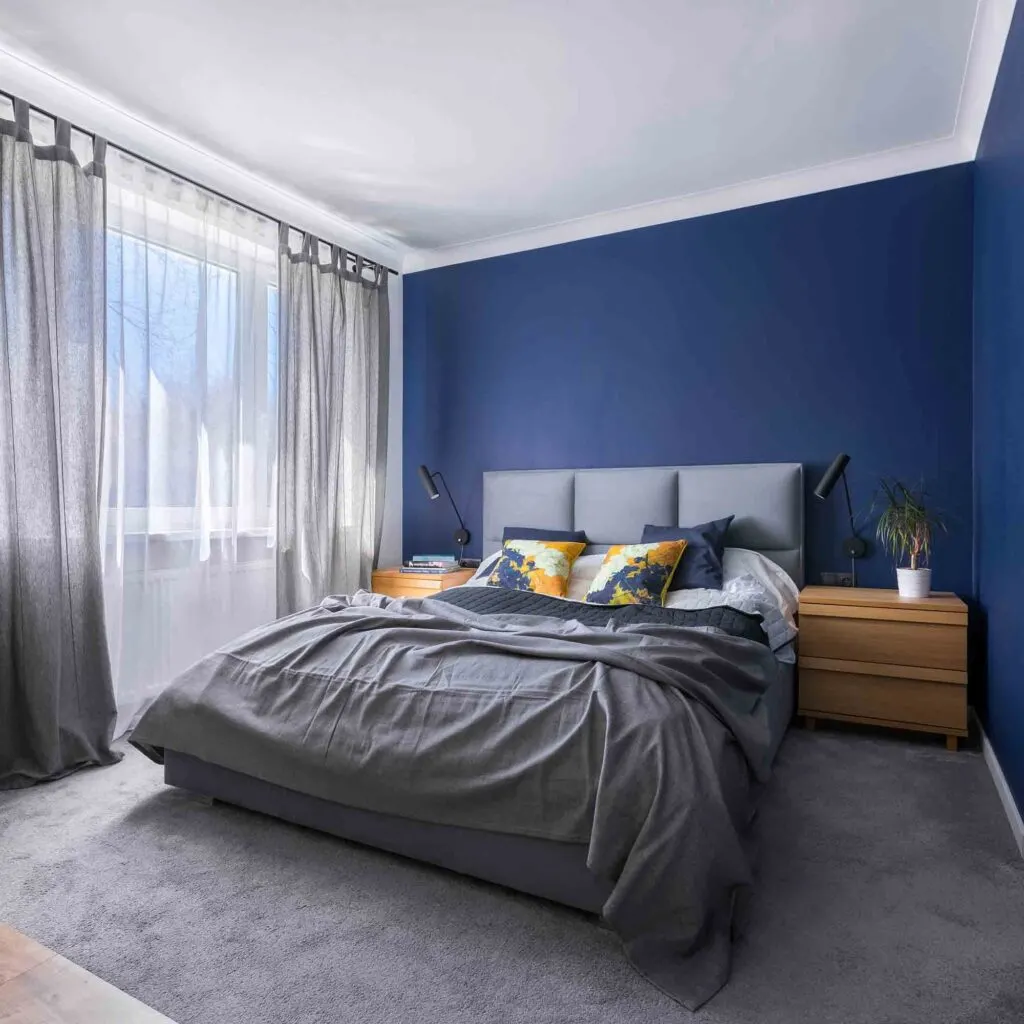 Blue and gray are another time-tested color combination. Blue adds a bright pop of color to a gray wall, and this color combination feels clean and sophisticated.
You can mix any shade of blue with any shade of gray. However, light gray and light blue work well in an office space that requires a light environment to focus.
Dark blue and gray colors are more suitable for dining or lounge rooms.
Still, you can't go wrong with gray because this is one of the easiest colors that go with blue.
6. Mauve
Mauve is a beautiful purple shade. Both mauve and blue are colors associated with royalty in olden times. This color combination is still often used at weddings and other celebrations.
You can use blue and purple in a bedroom, living room, or dining room. Dark blue and purple make you feel relaxed, while lighter colors give off a more energetic feeling.
If you prefer paler blue tones, go for saturated shades of purple to avoid a washed-out or childish look.
Blue and purple furniture and artwork work well in a room with white, gray, or other neutral colors.
7. Brown
Blue and brown are another excellent color combination. Brown compliments all shades of blue and reminds one of nature and tranquility.
Hardwood floors and leather furniture sets a great stage for blue walls, carpets, and art. Using light blue accents with light wooden floors and tan furniture makes you feel calm and refreshed.
On the contrary, dark wood and leather with navy blue set the stage for a midcentury modern living room.
Stick to lighter combinations in the bedroom and experiment with darker shades in your hallway or living room.
8. Orange
Orange is one of the colors that match with blue so well because they are complementary colors, so they sit across each other on the color wheel.
While your first reaction to blue and orange might be a screaming mess, subtle blue shades and burnt orange are the perfect color scheme for a kitchen or dining room.
You can create a bohemian aesthetic using blue and orange or opt for a Moroccan-themed living room.
Orange and blue make you think of faraway places and ignites your wanderlust and creativity. For the braver souls, bright blue pairs well with bold orange (after all, it is a bold color, isn't it?) and makes for a fun kitchen color palette.
9. Peach
Peach and blue take one back to the 70s and are the ideal color palette if you're looking for a retro touch in your home.
Lighter tones, like baby blue or powder blue, pair beautifully with peach since they complement each other. I mean, peach is one of the best colors that go with blue.
You can add these colors to any room for a fun and creative space. Adding patterns and various shades of blue and peach tones to your design will make it more interesting and creative.
Blue and peach colors will make you feel energized and positive.
10. Red
Blue and red is another interesting combination that can make or break a room. If your room mainly has sky blue and neutral accents, a pop of this warm color, red, can make all the world's difference.
Adding a carpet with red details or a red decorative pillow will make the room feel fresh and vibrant. We associate red with passion and danger. Therefore, red as the accent color in a blue room makes one feel energetic.
You can play around with the shades of blue and red. Also, add different textures of red and blue to draw one's attention and make the colors come to life. This is a fun color duo because red is a daring color that goes with blue!
11. Metal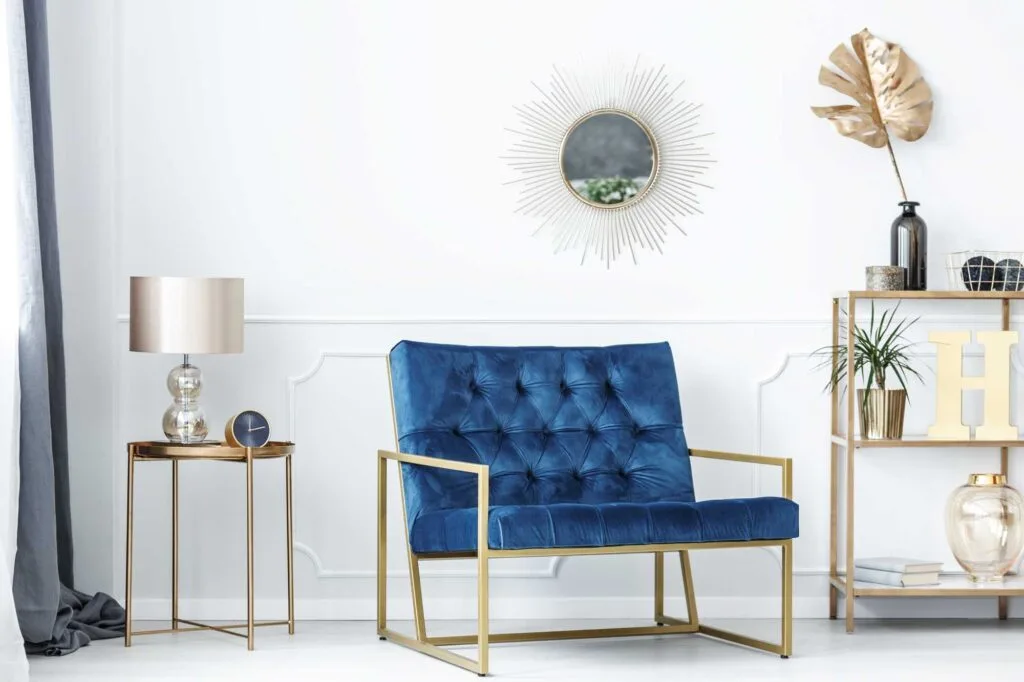 Blue is a color that goes with various metals, such as silver, gold, and copper. A blue and metal color theme will make for a stunning kitchen or bathroom.
For example, light blue works splendidly with silver, while dark blue goes with copper and gold.
In addition to your bathroom, you can bring this color scheme into your bedroom for an elegant and timeless appearance.
12. Pink
Blue and pink is a high-contrast pairing that creates rooms full of personality.
Lighter shades of pink, like millennial pink, pair beautifully with rich navy blue, making for a charming bedroom or living room. Add a dash of gray to balance these colors.
If pale pink is not your thing, go for hot pink instead. Hot pink with a bright blue creates an intense and eye-catching color palette, which is perfect for living rooms.
Did you enjoy learning about the colors that go with blue? Then share this article with your dear friends!