Decorating with purple? You're in the right place! Here's a list of colors that go with purple.
The color purple can be a visually tricky color to use in interior design. More often than not, a purple color scheme is used in children's rooms, but we are here to show you can use this luxurious color throughout your house.
After all, purple can be used with both cool tones but also with warm tones, making it a versatile color.
Read on to learn how to decorate with the color of royalty—purple!
Colors That Go With Purple
Whether your favorite color is purple or you're re-decorating your home with this calming hue, here are the best colors that go with purple. Enjoy!
1. Cream
Cream is one of the most popular colors that go with purple, which can create a fresh pallet that is simultaneously tranquil.
It creates a strong contrast that will help to balance out the rich tones of the purple.
By combining cream with a shade of purple, such as violet, there is potential to create a youthful color scheme for a bedroom.
2. Beige
Beige is an excellent color option to tone down shades of purple, create balance with its earthy tones, and evoke a cozy mood. After all, they are both healing colors.
Beige is simultaneously modern and meditative while remaining clean and sophisticated. It is a great color that goes with purple if you prefer a balanced aesthetic.
Use beige as the wall color and place a dark purple throughout the room. This purple color scheme works gracefully in a bedroom.
Likewise, you could use light purple walls, like soft lavender, and beige furniture for a classic and soothing atmosphere.
3. White
White is one of the colors that go with purple creating a classic combination.
By pairing a sharp, clean white with a purple shade such as lilac, you can create a subtle color combination that is both elegant and modern.
When combined with a darker purple, white creates a beautiful contrast and airy atmosphere.
You can also benefit from purple accents in a room with white walls.
4. Mint
Mint is one of the colors that go with purple. Its subtle tones allow this color to complement the purple hues perfectly.
Mint helps to strike a balance between neutral colors and the brighter shades of purple in a space. If you have paired purple with neutral colors, mint will help to mediate between the two.
Read next: Colors That Go With Green
5. Sage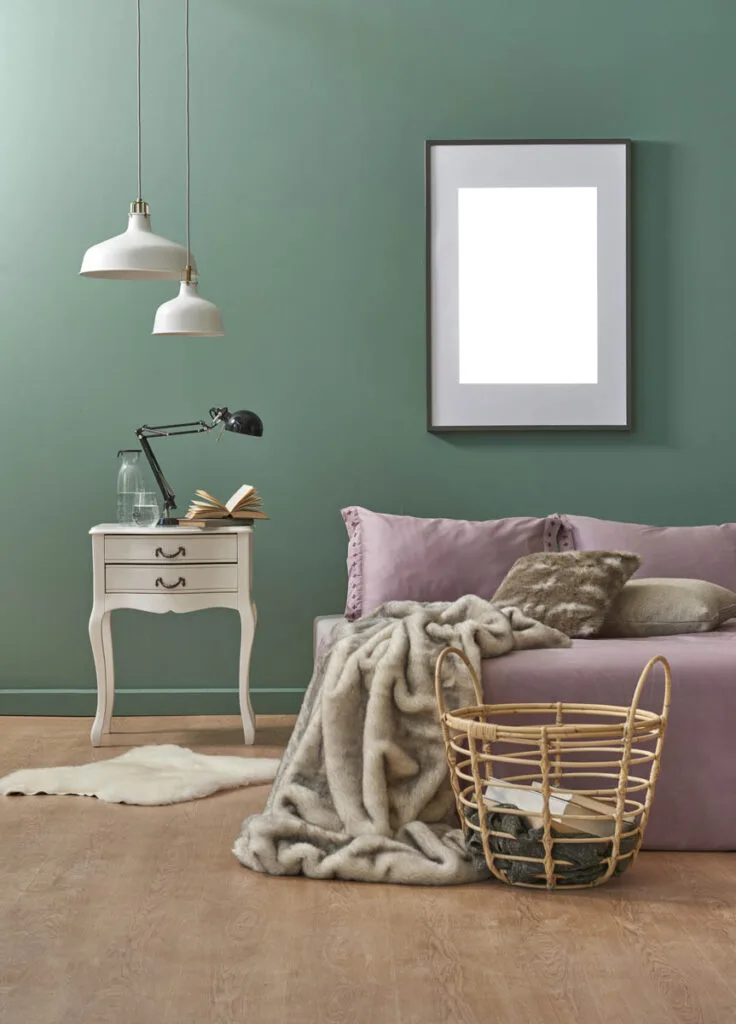 Sage is a quirky shade of green that will lend a fun edge to any space where purple is used. Sage works excellent in combination with a deep, rich shade of purple.
For a soothing look, scatter pastel purple accents throughout a room. In this case, sage can be used as a paint color.
6. Mauve
Mauve is an excellent color to combine with purple. Mauve can invoke a feeling of moodiness while remaining energizing.
Mauve works best with a deep shade of purple, such as aubergine. Very dark purple hues that border on black are also excellent when paired with mauve.
This color combination works equally well in a bedroom, kitchen, or bathroom.
7. Red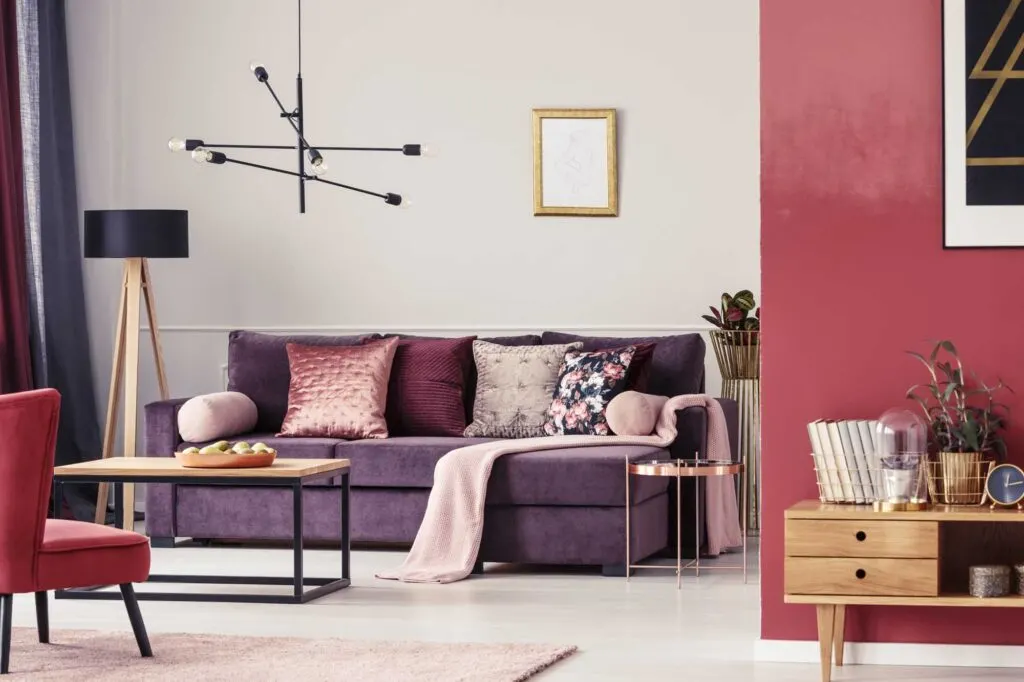 Invoking a sense of royalty, the combination of red and purple is always successful. This bold color combination can be achieved by using any shade of either color.
Since purple goes well with red, any combination of either red or purple will create a bold aesthetic that invokes a sense of audacity.
Purple is made by combining blue and red, two primary colors. So red is definitely one of the colors that go with purple.
Red and purple, in combination, create a high-energy and warm color palette that is extremely vibrant. This color combination will work well in the living room.
8. Pink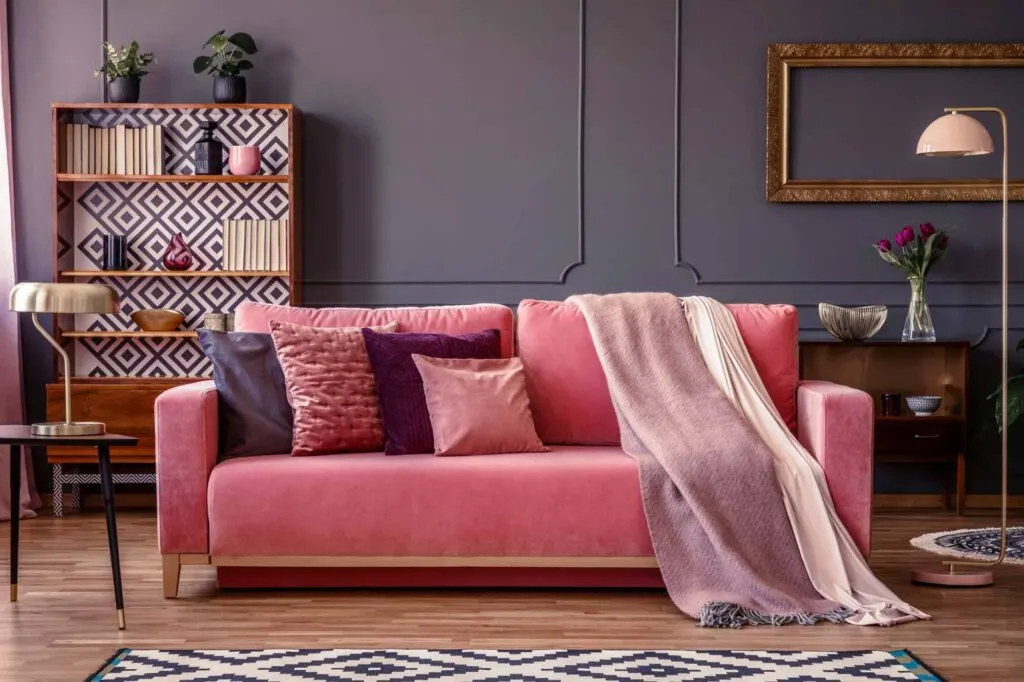 Pink is a warm and exciting color that complements purple for a luxurious feel. Opt for muted shades of pink and purple to avoid a child-like aesthetic.
This combination can create a sophisticated, moody, warm, and excellent aesthetic in any social space.
By combining pastel shades of pink and purple, you can create a soothing and romantic space, perfect for a bedroom design. For this type of aesthetic, stick to blush pink and lavender to create a classic look.
Pink evokes a youthful sense but can easily be employed to create sophisticated adult spaces.
9. Rust
To create a moody purple palette, rust-colored elements can be incorporated into any space. This can come in accents like rugs or other neutral, earthy textured elements. You can also use rust furniture against a purple wall.
Read next: How To Use Accent Colors
10. Brown/Chestnut
Brown or chestnut works well in combination with purple. While brown is considered an old-fashioned color, combining it with purple will lend a youthful edge.
The earthy tones of brown help offset purple's bright, vibrant nature.
11. Yellow/Gold/Citron
Yellow and purple are complementary colors, so there is no doubt purple is a color that goes with yellow. Combining them in different shades can evoke varying moods and atmospheres.
A vibrant shade of yellow, such as citron, can make a bold statement and add a pop of color to a space. It lends an air of sweetness and freshness to any room.
To prevent the yellow from being overwhelming, pair it with white.
Gold, however, can be successfully paired with purple to create a sense of drama, luxury, and sophistication.
12. Robin's Egg Blue
Robin's egg blue pairs well with purple to create a subtle, playful aesthetic ideal for a child's bedroom.
Although many colors that go with blue can create a lively color palette, purple balances blue's brightness and vividness, stopping it from becoming too much—an excellent combination.
13. Black & White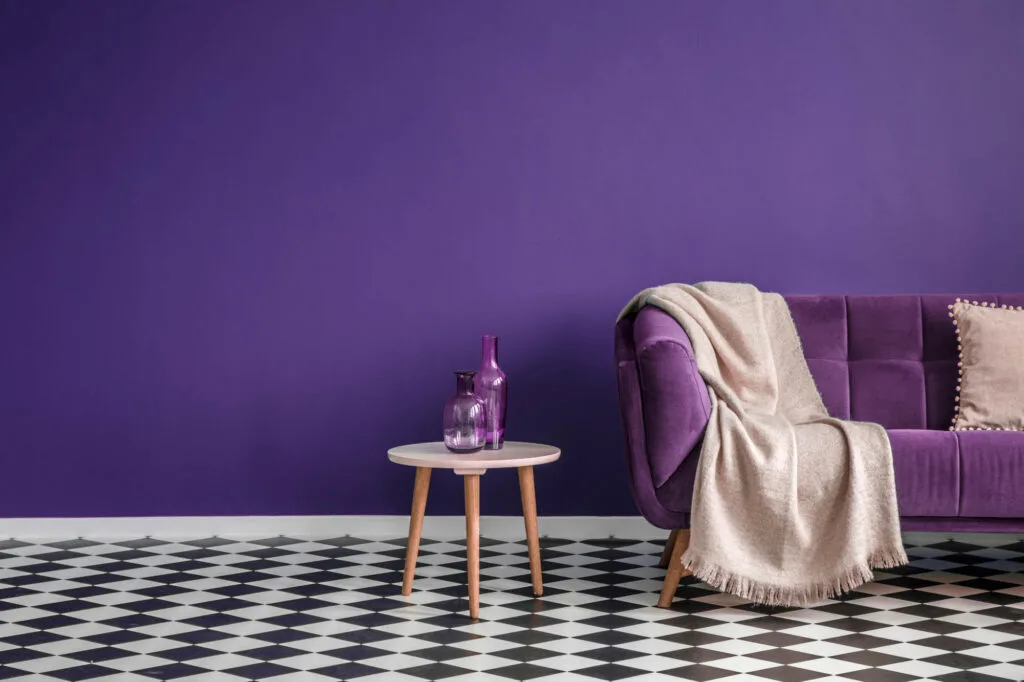 Black and white are hands-down some of the prettiest colors that go together with purple.
They are often combined with purple to create a chic, modern space in a contemporary living or dining room.
14. Emerald
Emerald can be successfully combined with purple to create a traditional space.
Combining a jeweled shade such as emerald and a rich shade of purple will create a sense of relaxed luxury in a bedroom or living room.
15. Silver
Silver is often used in combination with purple. This color combination creates a regal sense in any space.
If you aim to use this combo in a bedroom, you would best be served using a subtle purple that does not overwhelm the eyes.
16. Gray
Gray is a color that goes with purple exceptionally well. Gray can serve as an excellent complement to purple in any room.
While gray tones lend some contemporary flair to purple, purple can also help prevent the gray from being dreary and monotonous. Bold purple walls look balanced with gray furniture. Likewise, gray walls balance purple accents.
17. Forest Green
Forest green combined with purple will create a delightful aesthetic reminiscent of elements of nature.
Colors combined in nature will almost always go well together in a home. For a bold color choice, you can choose a dark purple couch with green accents. The other way around also works great.
18. French Blue
The creamy, muted French blue works beautifully with rich shades of purple, such as aubergine.
This combination can create a moody scene where the deep purple shades energize the softness of the light blue. At the same time, this combination creates a relaxing atmosphere.
French blue and purple combined create a youthful and mature atmosphere.
19. Navy Blue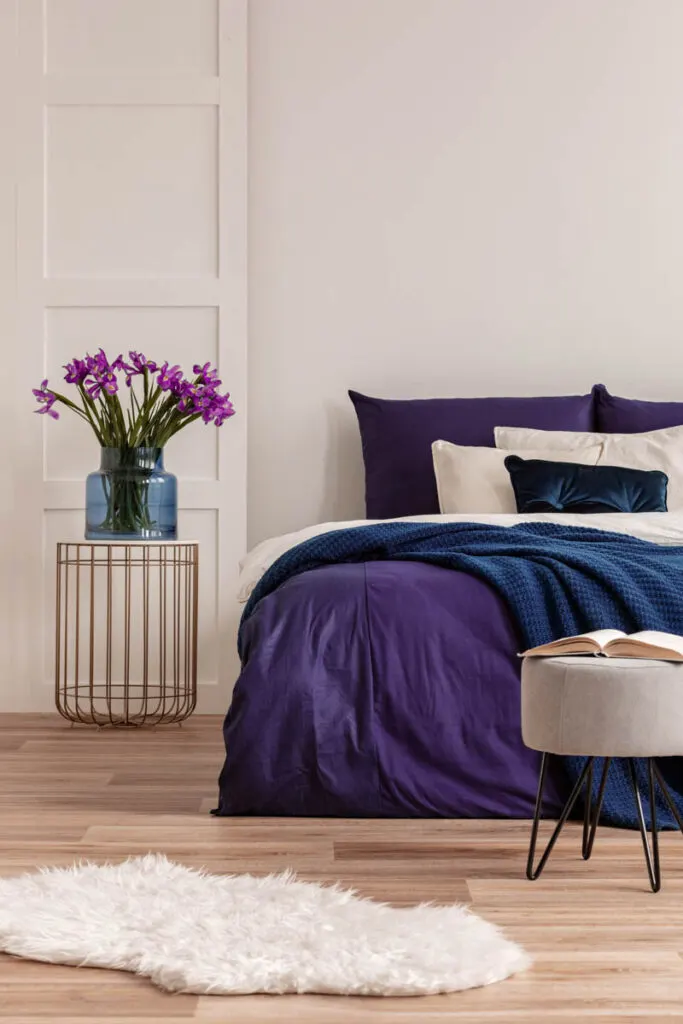 Navy blue is one of the colors that go with purple, vibrant shades combined with dark, rich wooden tones and touches of gold.
As analogous colors, blue and purple are next to each other in the color wheel, hence they create an eye-pleasing decor. Still, to balance out the dark, rich colors, incorporate lighter accents such as white.
Final Thoughts On What Colors Go With Purple
Purple is a regal color that works great for interior design, creating a moody room or soothing the vibes.
Whether you go for a complementary color scheme for more contrast or similar colors, remember that purple is a strong color that evokes many emotions. Balance is key.
We hope this guide on colors that go with purple will help you achieve the interior decor that makes your house feels like home!
Did you enjoy learning more about the colors that match purple? Then share this post with your dear friends!