Are you decorating with white and want more color inspiration? Here's a list of colors that go with white.
In color psychology, white is a color that represents peace, purity, and cleanliness. It brings clarity and calms down.
In decor, white can go with any color on the color wheel not only because it is considered a neutral color but because it reflects all wavelengths of light.
This makes white a versatile color that you can use with a wide range of colors (including your favorite ones) to achieve the right vibes in each room.
Wondering what colors go well with white? Let's find out!
13 Colors That Go With White
Here are our favorite colors that go with white.
1. Black
These opposite and gorgeous colors create unique designs when paired together. Black evokes sophistication and traps space, while the color white evokes innocence and open space.
This color combination is timeless and elegant yet clean, crisp, and contemporary. It delivers a powerful message.
You can use black and white in your living room to accentuate the contrast between the two colors, like pairing a beautiful white leather couch with black and white striped or floral curtains.
Or paint your door frames lighter shades of black, which will look amazing against the white walls.
2. Silver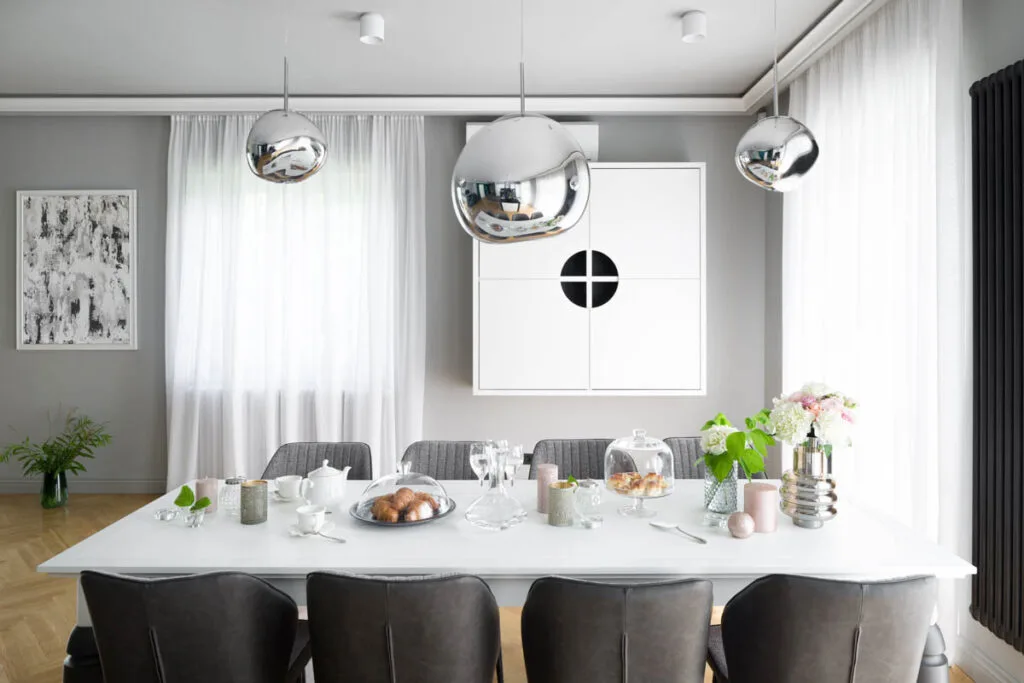 Silver brings glamour to a white bedroom and evokes the feeling of luxury, wealth, and success.
It creates a sense of relaxation and is easy on the eye. Add metallic silver cushions and a silver and white throw to white linen bedding.
Or cover the wall behind the bed with rich, ornate silver wallpaper. Add a magnificent chandelier for extra bling, and you have a beautiful regal bedroom.
Continue with this color palette in the ensuite bathroom. Beautiful silver mosaic tiles showcase a lovely white bath, basin, and toilet.
Lay a black shaggy rug on the white floor for a dramatic touch.
3. Light Blue
The color blue symbolizes peace, calm, serenity, and sensitivity.
The white and blue color combination creates a clean and relaxing feeling and is ideal for a bedroom. It is also a popular color choice for a bathroom.
White cabinets, tiles, flooring, bath, toilet, and basin will look lovely against soft, muted blue patterned wallpaper.
Add some blue towels and a rug in a darker shade of blue. Add some pretty yellow flowers or a yellow ornament for an extra splash of color and happy thoughts.
4. Red
Red represents energy and passion. It is the most dynamic and warmest color but is also associated with anger and danger.
Red increases your heart rate and makes you excited. Because red is such a bold color, it must be used with caution so as not to overwhelm the room.
You can use something other than the brightest red but rather paint an accent wall a more subtle and toned-down shade.
Keep the furniture mainly white but accessorize with red and white patterned fabric in cushions or drapes. Add touches of black or navy blue for extra depth and pops of color.
Read next: Colors That Go Well With Red
5. Green
Green is associated with nature, abundance, and refreshment, representing growth, harmony, and new beginnings.
White is the perfect color to match green, adding contrast and clean lines to the décor. This ideal combination is for a crisp, clean, and fresh kitchen.
You can paint the kitchen walls a gorgeous candy apple green. It will look delightful against white cupboards and a white floor.
Add splashes of different hues of green in ornaments and tea towels for more depth. Hang soft white sheer curtains for a smooth and pristine look.
6. Yellow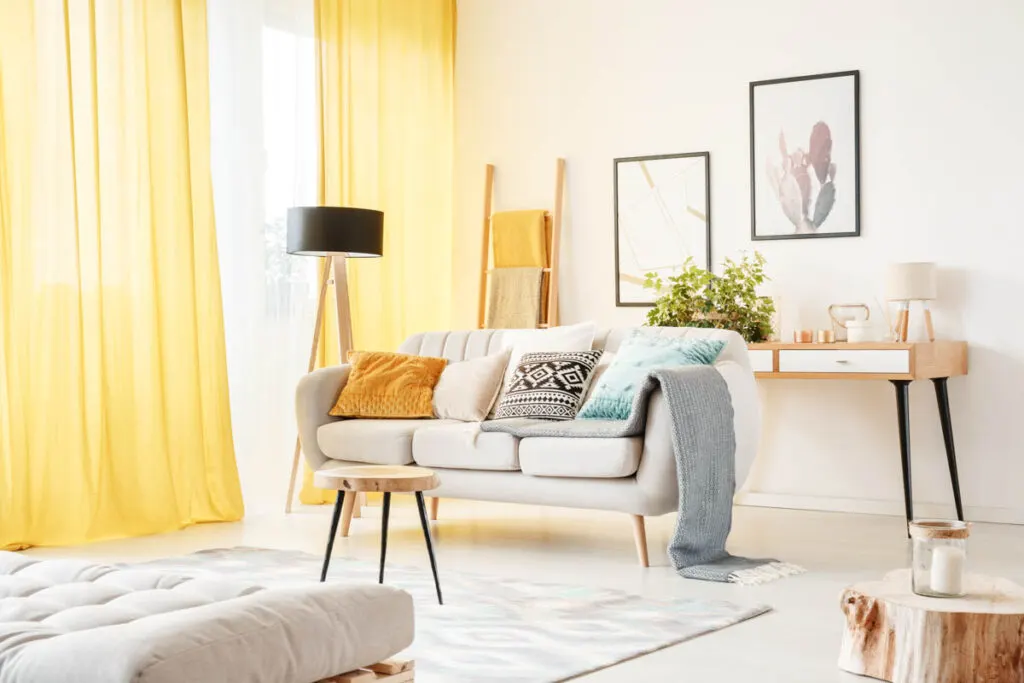 Both white and yellow are bright colors that can lighten a room's atmosphere and look cheerful in a space with a lot of natural light.
Yellow is a vibrant and warm color that makes you happy and content. It is associated with laughter, sunshine, and hope.
When paired with white, it gives a clean and fresh vibe and will never be dull or washed out. Wherever you use yellow and white, the mood will feel energized.
You can choose yellow and white for a bedroom, dining room, kitchen, and lounge area.
Add primarily white furniture and brighten it up with soft yellow walls and yellow accessories. Or vice versa, using yellow as the primary color and painting the walls white.
Read next: Colors That Go Well With Yellow
7. Pink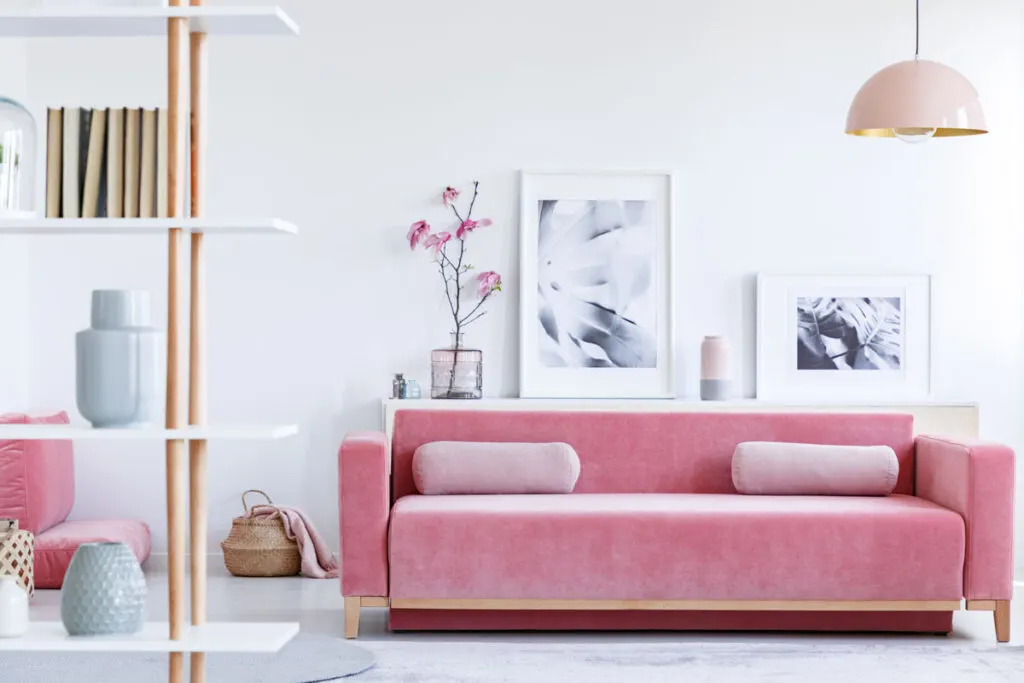 Pink is the color of femininity, love, and kindness. When paired with white in a room, pink creates a feeling of crisp freshness and is warm and inviting.
If you're looking for a sense of comfort and calm, go for a pink and white color scheme. Pink and white can be used in living rooms, kitchens, and bedrooms.
This pink combination can look chic when used in accessories or soft pink walls. Or, if you want bold, go with a pink sofa or pink floral wallpaper.
There are many shades of pink, from a barely there pink to dusky pink or a splash of bright pink. All these hues bring joy and warmth to the room.
8. Orange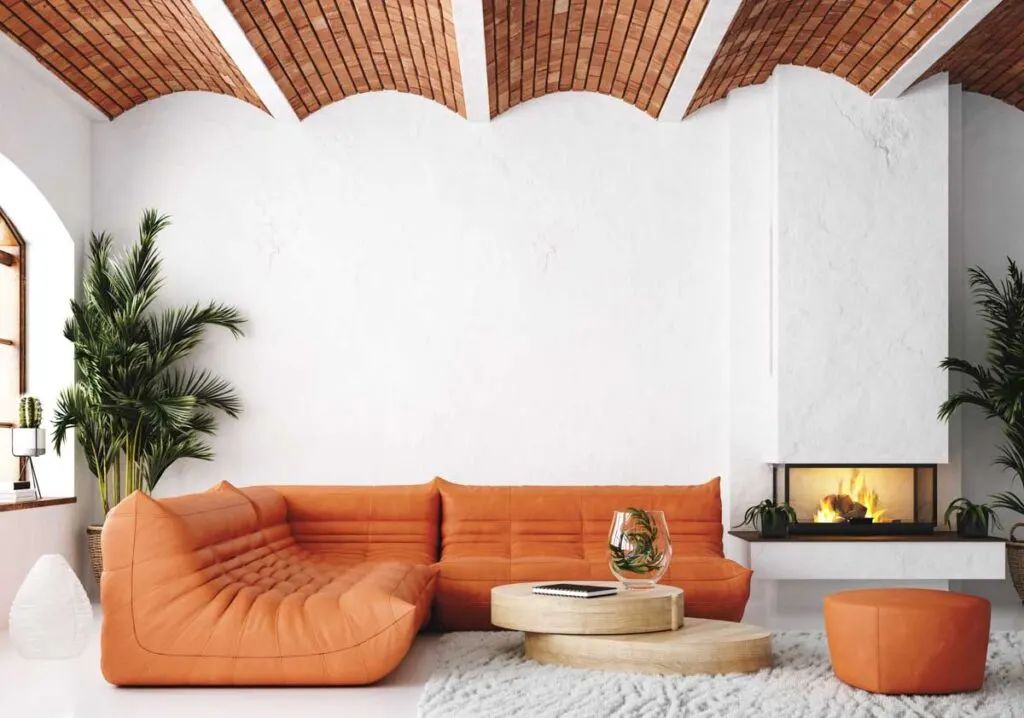 Orange is the color of joy, creativity, warmth, expression, and success. It is a perfect color for a space with social interaction, such as a kitchen.
It can also be used in an entertainment area such as a dining or living room.
The vibrancy of orange, when paired with the neutral color of white to calm it down, will create a happy and youthful ambiance.
The softer or paler colors of orange, such as salmon, peach, or apricot, can be used in a bedroom.
9. Purple
Purple, the color of luxury and royalty, awakens the senses creating a harmonious balance of awareness and peace.
Purple is an optimistic and deep color and will work well in a living room, bedroom, kitchen, and bathroom.
White always blends well with purple, and the mixture will bring serenity and calm, which is ideal for the bedroom.
You can choose beautiful white and purple wallpaper for the wall against the bed. Add white linen to the bed and accessorize with purple pillows and a throw.
10. Navy Blue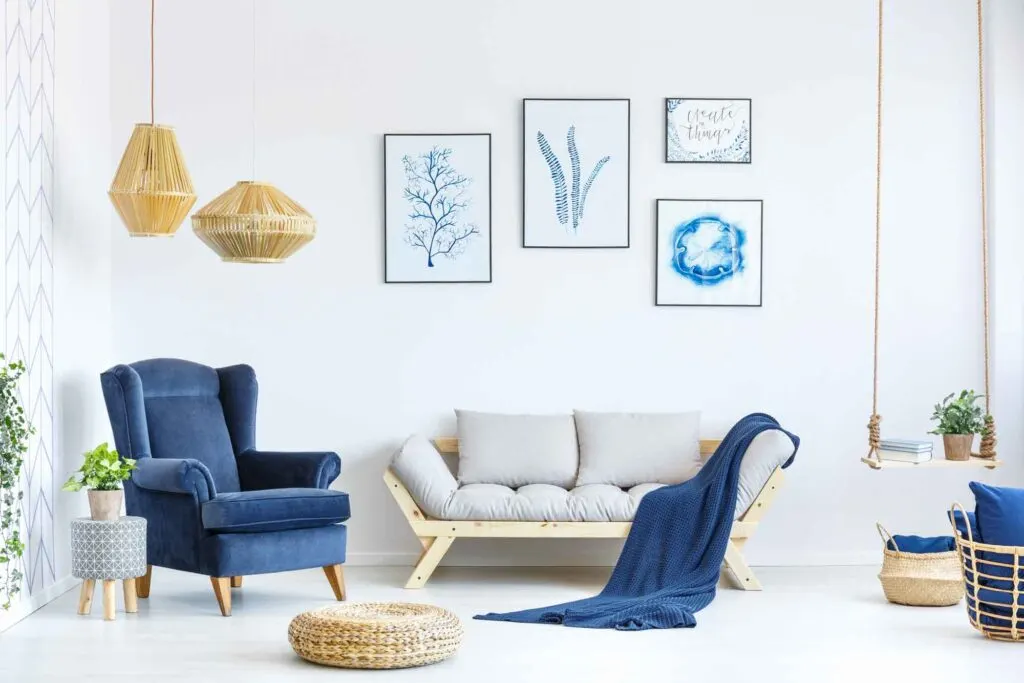 The beautiful navy blue is a bold choice that brings an ambiance of elegant sophistication.
When navy is paired with white, it brings a freshness to the room. You can use this combination in bedrooms, living rooms, and bathrooms.
For the living room, be bold and paint the walls navy, which will look amazing with a gorgeous white sectional.
Add patterned navy and shades of blue to pillows, throws, and carpets. Hang beautifully patterned or solid white drapes against the windows.
11. Brown
Brown is an earthy color that signifies maturity and stability. Furniture in all shades of brown pairs well with the crispness of white.
Brown and white give the room a clean contrast that will work well in a formal dining or living room. They are also favorite colors for bedrooms.
A deep brown wood dining room table and chairs will look lovely in a room with white walls.
Choose beautiful brocade fabric in white and brown for the chair upholstery. Lay a crisp white linen runner edged with lace on the table to enhance the beauty of the wood.
Read next: Colors That Match With Brown
12. Beige
Pairing white with beige is an excellent way to introduce soft, neutral colors into your home.
Both colors are popular choices for creating a tranquil living space. To create depth, scatter the accent color through the room, and use different shades of white.
White and beige work well in a living room, hallway, or bathroom to create a clean and minimalist look.
If you have beige walls, incorporate white artwork or decorative pieces, such as vases and frames—the stark contrast between them is stunning.
Adding fresh white flowers will also add a finishing touch to the beige and white color palette.
13. Royal Blue
White, as a neutral color, goes well with royal blue. The crisp, cool contrast between these two colors can lend to a modern look or a comfortable, coastal feeling.
For rooms to be light-filled and look more spacious, use white furniture and curtains in lighter shades. Introduce royal blue with cushions, standing light shades, and patterned fabrics.
To compensate for the cooler white and royal blue, you can use a warm white shade like off-white, cream, or ivory on the walls.
Final Thoughts On Colors That Go With White
Whether you have a white room and want to add a pop of color or understand the emotions white evokes with specific colors, this article has many excellent color suggestions to help you decorate your home.
Now, off to create your own white color palette!
Did you enjoy reading about the colors that match white? Then share this article on your social media!