Here are the best colors that go with brown.
The color brown is a natural shade that is very versatile and can help your home feels cozy and welcoming.
Here on the Colors Explained editor's team, we love decorating with brown because it is a color that feels homey.
To give you some inspiration, here are some colors that go with brown and what they evoke in a brown color palette.
Wondering what colors go well with brown? Read on!
12 Colors That Go With Brown
Here are the best colors that go with brown. Be creative, and you will be surprised by the beautiful color combinations with brown you can achieve.
1. White
Dark brown wood goes perfectly with crisp white walls. These colors ensure a clean and sophisticated look in any room.
Best used in a bathroom, bedroom, or living room for a peaceful atmosphere. Stick to one shade of brown while adding various shades of white and cream for more depth and dimension.
White also goes well with light brown and tan. When white is combined with light brown, it creates a welcoming and uplifting atmosphere.
This is also an ideal color combination for a bedroom or study.
2. Red
Adding red touches to a room with different brown tones, like wooden floors, dark wood furniture, or brown walls, ensures a pop of color and brightens the room.
Feel free to play around with shades of red. Bright red is a warm color that will add excitement to the room, while burgundy will enhance the earthy tones of the browns.
Use red sparingly to avoid the room becoming too loud. Red accents are perfect for dining or living rooms and work well with white, cream, or beige fabrics.
Read next: Colors That Go With Red
3. Orange
Orange appeals to the earthy tones of brown. The brown and orange color combination will remind you of fall and will make a room feel warm and welcoming.
Bright orange adds excitement to a space with lots of cool browns, while burnt orange or aged orange with deep browns makes the space feel more neutral.
As with red, add only a few orange elements to a room, or it might distract you from the overall look. Orange goes well with dark brown or tan.
4. Blue
Blue is an excellent color to pair with brown. Navy blue works well with dark brown leather and wood.
Cool colors go particularly well with cool shades of brown. They are excellent for balancing those rich shades.
This color combination makes a space feel warm and cozy and is the perfect choice for a darker living room or a moody bedroom.
Light blue or pale blue pairs well with light brown shades like beige and tan. This color combination ensures a calm atmosphere and will remind you of the ocean and the calm waves.
5. Beige
Beige is a great neutral color to combine with brown because it is a lighter shade of this color.
You can add beige elements to light or dark brown. For example, add wheat ears, woven baskets, or a beige rug to a room with dark wood floors or ceilings.
In this case, this natural color can help to lighten the room.
Beige will make the room feel clean and tranquil, where light shades of brown are present.
Adding beige artwork to the walls with brown accents. It is an excellent way to complete your brown color palette with neutral shades.
6. Green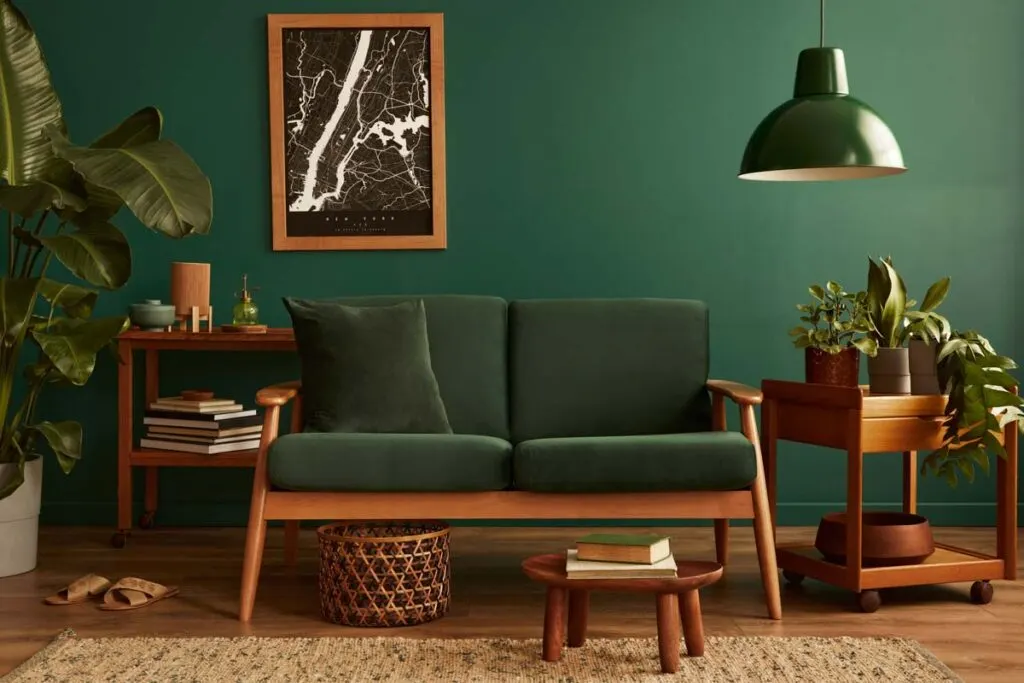 Another reference to nature is green. A brown and green color combination will remind you of grassy landscapes or a forest.
These colors also ensure a peaceful environment. Emerald green, sage green, and olive green shades all pair well with different shades of brown.
One of the reasons these colors go so well together is that they are complementary colors, meaning they are on the opposite side of the color wheel.
Warm browns will look particularly well with cool tones of green.
You can use this color combination in a kitchen, bedroom, or dining room. Adding green plants, such as ferns, is an excellent trick to complete the look and further enhance the room's peaceful atmosphere.
7. Fuchsia
If you are craving a striking contrast, try adding fuchsia accents to a room with brown wooden furniture.
Fuchsia is a bright color that instantly draws your attention and adds a fun and flirtatious element to an otherwise serene environment.
Brown and fuchsia may be too loud for a bedroom. However, this color combination is perfect for an entryway or dining room if you want to make a lasting impression.
8. Yellow
Yellow also appeals to the natural side of brown. It reminds you of fall leaves and creates a calm and ambient mood. Pale yellow works well with light or dark browns.
In addition, warm shades of yellow, like marigold, are perfect to combine with dark wood floors or brown furniture.
The brown and yellow color combination is perfect for a kitchen, bathroom, or living room.
You can add various shades of yellow to a room. Yellow is a happy color and will lighten the mood of a dark room.
9. Black
Try adding black elements to the room for a more contemporary take on brown. Black works exceptionally well with light brown, white, and other neutral colors.
This color combination ensures a highly modern-looking room. It will give the space an air of sophistication and elegance.
Black art or lines creates the perfect contrast to an otherwise neutral palette. It works well in a contemporary study, dining room, or living room.
10. Gold
Gold and brown is a color matches made in heaven. Gold works marvelously well with dark browns and highlights the undertones of the brown.
You can use gold as your accent color in a room with brown furniture or floors. Gold and brown create a sophisticated and elegant look.
These colors also warm a room, making it a perfect color combination for a bedroom, living room, or bathroom. Add white or navy blue for a tranquil and complete look.
11. Copper
Another metal that pairs exceptionally well with brown is copper. Copper and brown are great for creating a midcentury modern living room or dining room.
Adding copper vases or plates to the décor helps to elevate the wood and creates a polished look.
We recommend opting for a darker look when adding copper to wood. Emerald green or navy blue also accompanies the brown and copper color combination.
12. Pink
Pink may seem odd, but it is the perfect way to soften dark browns and make them more elegant and modern.
Adding a lighter color, like dusty pink or even light pink, to dark brown can brighten a room and make it feel more welcoming and alive.
These colors work well in a kitchen, breakfast nook, or bedroom. The brown and pink color combination is perfect if you wish to combine old, heavy furniture with light and modern colors.
Wrapping Up On What Colors Go With Brown
We hope this guide on colors that go with brown will inspire you and help you achieve the interior design that makes your home feels homey!
Did you enjoy reading about the colors that match brown? Then share this post with your dear friends!