The holiday season is around the corner, and it's time to spruce up your space with the festive Christmas colors and get that holiday spirit going.
Red and green. The classic color combo for the festive season. They are the traditional Christmas colors from Asia to North America. But, do you know all the Christmas colors that you can use in your decor or designs?
It's undeniable that the traditional Christmas colors are a blend of legend, history, religion, pop culture, and, of course, a whole lot of marketing.
If you want to create your own Christmas color palettes and learn more about the meaning of your favorite color, keep reading!
Christmas Colors
Red
Red is one of the most prominent Christmas colors, especially because red holly berries symbolize the blood that Jesus Christ shed on the cross, while it represents love, romance, and courage for the remainder of the year.
During the Middle Ages, Christmas plays were performed with red apples tied to a Paradise Tree to represent the fall of Adam when he ate the forbidden fruit.
Red also became one of the most symbolic Christmas colors as it is the color of a Catholic Bishop's robes and would have been worn by the 3rd Century bishop Saint Nicholas who was famous for his charitable work amongst the poor.
During the Civil War period, cartoonists depicted Saint Nicholas as a jolly, smiling man who wore a red-hued suit that was lined with white fur.
By the 1930s, Coca-Cola launched an ad campaign in magazines depicting the now iconic image of Santa with his red Santa Claus coat happily drinking a bottle of Coke; it further entrenched red as one of the most significant Christmas colors.
Green
This list of Christmas colors would not be complete without mentioning green as a top holiday color!
In fact, evergreen foliage like mistletoe and holly has played a pivotal role in traditional Christmas festivities as it symbolizes the life and eternal nature of Jesus Christ.
During pagan times green foliage was symbolic of nature's resilience, even amid icy winters. Moreover, green represents good luck, money, and good health through the Christmas period into the new year.
Our forebearers have also used evergreen plants like Ivy, Holly, and Mistletoe during the long dark winters to decorate their homes at Christmas time, and it was a reminder that spring was imminent and that winter would end.
Moreover, ancient Romans used to exchange evergreen branches in the dead of winter as a good luck charm, and Egyptians used palm branches in their homes during winter festivities.
During medieval European Paradise plays, mostly on Christmas Eve, the previously mentioned Paradise Tree that represented the Garden of Eden consisted of a green pine tree adorned with red apples.
It helped to solidify the idea of red Santa's robes with the green of fir trees.
And let's not forget our beloved green Christmas trees, without which the winter holidays would just not be the same!
White
White is one of the most iconic holiday colors, as let's face it – nothing is more Christmassy than seeing your world transformed into a winter wonderland with magical sprinkles of white snow (at least in the northern hemisphere)!
The color white is as old as time due to pagans' winter solstice celebrations, and the color denoted purity and the triumph of good over the forces of evil, which is symbolic of Christmas festivities.
The previously mentioned medieval Paradise Tree was also decorated with white-hued paper wafers
to represent the body of Christ that died for us and the pieces of bread that were reverently consumed during Mass, or Holy Communion.
A white cloth is also used in most Christian churches to cover the altar during Christmas services, except for the Russian Orthodox Church, which uses gold-hued altar coverings.
In the 19th century, artists like Ives and Currier glamorized white as a cozy color during Christmas, when the world was transformed with dustings of snow.
And who can forget Bing Crosby's iconic "White Christmas" holiday song, composed by Irving Berlin, which soon became a bestselling single after Crosby's performance in 1941?
Blue
Blue is one of the most significant Christmas colors as it represents Mary, the mother of Jesus Christ, in Catholic Christmas services and is in line with the meaning of the bible colors.
In medieval times blue hued dyes were incredibly precious and more costly than gold, and only the wealthy and royalty could afford to wear expensive blue garments.
So, the fact that Mary was depicted in blue clothing demonstrated her profound importance as the mother of Jesus Christ. Furthermore, blue hues also symbolize the color of heaven and a clear sky.
While blue was a costly and difficult color to reproduce centuries ago and was not widely used to adorn homes at Christmas, it has since grown to prominence.
Although the color blue is commonly associated with ice or being cold and was seen in a negative light, icicle Christmas tree decorations have since become commonplace. Moreover, blue is one of the five predominant holiday colors in most Christmas tree lights.
Purple
Although this luxurious shade, traditionally associated with wealth and royalty, is not commonly viewed as one of the traditional Christmas colors, it is firmly entrenched in Christianity.
Purple is associated with the deeply spiritual period before Christmas, and it's the official color of Advent when the faithful fast and acknowledge their sins in anticipation of the birth of Jesus Christ.
It's also when purple or blue hued cloths and candles are used to adorn the church alters.
Gold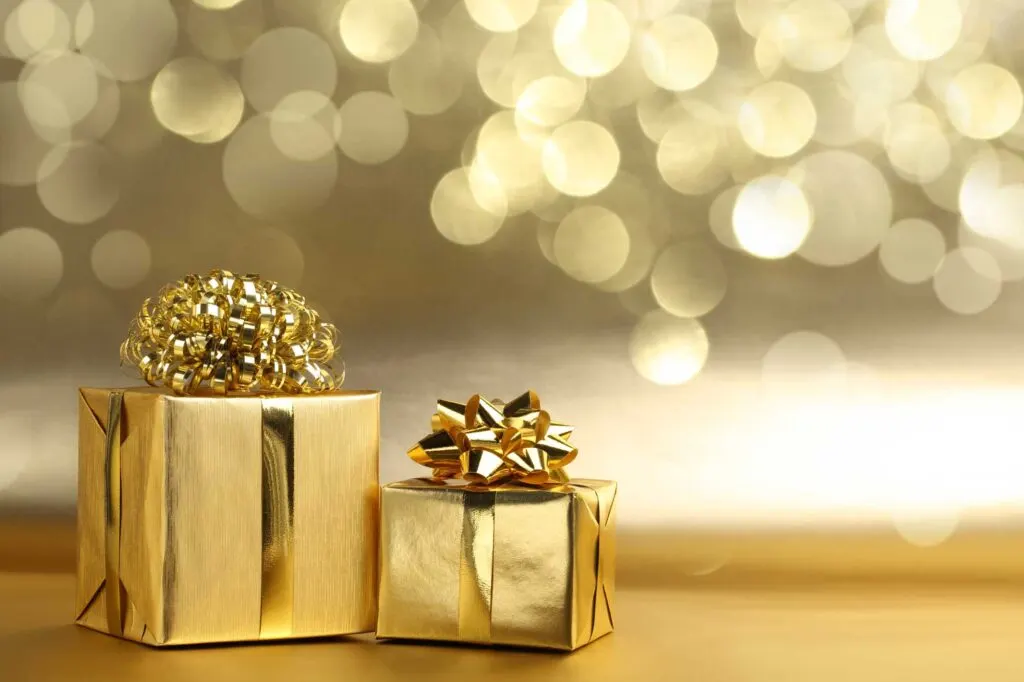 Sparkling gold is one of the most iconic Christmas colors as it symbolizes the illuminating Son of God and brings light where there was once darkness.
And let's not forget that one of the Magi, or Three Wise Men gifted the Baby Jesus with gold, which was and still is a precious metal.
In biblical times gifts consisting of frankincense, myrrh, and gold were only given to kings. Therefore, scholars believe these valuable gifts reinforced the prophecy that Jesus Christ is a King.
Gold decorations and gold-colored gifts are still customary during the holidays as they represent prosperity, luxury, wealth, and royalty.
However, less wealthy people who could not afford gold-hued Christmas decorations would use yellow decorations as a substitute.
The color gold is also the color of sunlight which is imperative during the middle of winter –those cold months – as it also represents the colors of a roaring fire that provides much-needed warmth.
Silver
Silver has been a valuable commodity since the dawn of time, and there is evidence that it has been traded and mined in Turkey dating back as far as 3000 B.C.
Today, silver is one of the most significant Christmas colors as it symbolizes the birth and divinity of Jesus Christ.
Families also use their finest silverware during the holidays or other special occasions.
Therefore, sparkling polished silver has a unique seasonal charm that denotes cheerfulness and a feeling of contentment with friends and family in festive times like Christmas.
Creative Christmas Colors Palette
Neutral with a traditional color in the accents: Christmas calls for rich shades, but using neutrals with a well-chosen accent color goes a long way. Think of light beige with red accents.
Blue, white, and silver: you can use the less-obvious colors of Christmas for a clean and minimalistic design.
Earthy tones with green: in a time when green is more than a color, but a verb, you can take advantage of the feeling and apply it to your design as well. Use a cardboard color with green details. Want to make it a bit more classy? Add some gold!
Pastel tones with red or green: using pastels in your Christmas cards and designs, you add lightness and freshness to your message.
Pink, green, and gold: pink is not your usual Christmas color, but it can add a welcome playfulness to your design.
Did you enjoy learning more about the Christmas colors? Then share this post with your dear friends!