Wondering what the Halloween colors are? Here're some traditional and not-so-obvious colors for Halloween!
When picking your Halloween decoration, your first thought will be to go for the most traditional colors, like black and orange — the so-called scary colors of this mystical holiday.
However, we're here today to help you expand your Halloween color palette and show you some colors you might not have considered yet. Ready for the scariest holiday in the year?
6 Halloween Colors Explained
Here're the six scary colors for Halloween:
Orange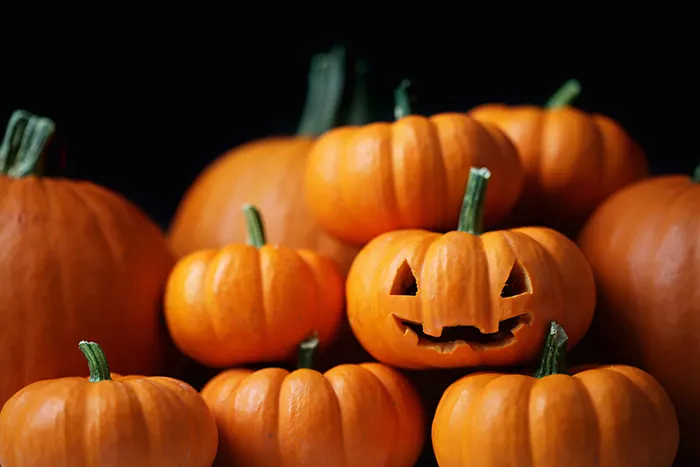 Of all Halloween colors, orange is the most obvious one. This uplifting and warm fall color represents the season, the autumn.
It's the color of pumpkins, harvest festivals, vegetables, fall foliage, and candle flames. Most importantly, orange represents fire, which is a meaning that goes back to the origins of this holiday.
Irish immigrants brought Halloween to America, which originated from the Celtic festival of Samhain when people would light bonfires and wear costumes to ward off ghosts.
And that's the main meaning of orange in Halloween: the light in the darkness.
Halloween orange hex code: #F58025
Halloween orange:
The most common pumpkin color
Jack-o-lanterns
Bonfires and candles
Repel ghosts
Bounty of the fall season
Fall foliage
Black
Together with orange, black is one of the most powerful colors of Halloween.
While orange stands for the warmth and light in the darkness, black stands for the darkness itself.
The color of death, black, is associated with the dark of night and shadows where evil spirits reside and spooky things happen.
On top of that, black represents the cold of winter and the following season.
In other words, these Halloween colors together create the fall-winter connection this day embodies, making it almost forbidden to wear an orange and black outfit outside of October. (You might get away with it in November, though.)
Halloween black hex code: #000000
Halloween black:
Black cats
Spiders, bats
Grim Reaper
Dark night and shadows
Cold and winter
Witches and vampires
Evil
Purple
Although not so obvious like the previous colors, purple is often incorporated in most Halloween palettes.
It's not clear how the color purple became a Halloween color. However, many believe the reason is tied to its rarity in the natural world. There are relatively few purple things in nature.
Others believe the introduction of purple comes from its apparent association with the supernatural, witchcraft, intuition (crown chakra, anyone?), and magic. And others because it's a Halloween color that's less frightening to children.
As a matter of fact, you'll find many cartoon villains that are colored purple (and green) to tone down their scary elements for the little ones.
Halloween purple hex code: #BF00FF
Halloween purple:
Magic and witchcraft
Witches and wizards
Monsters and fairies
Supernatural
Green
Even though many shades of green are considered healing colors, some hues symbolize sickness and are used in supernatural creatures, zombies, witches' skin, and evil monsters.
Green isn't a traditional Halloween color, though. Some believe it was introduced into this holiday filled with scary colors to tone down the fright and make it more approachable by children, just like purple. (Oh, they're complementary colors. Coincidence? We don't think so.)
Halloween green hex code: #00FF00
Halloween green:
Monsters and supernatural creatures
Allies and goblins
Slime and glow-in-the-dark objects
Witches' skin
Witches' potions
Frankenstein
Zombies
Red
Such a scary color, red represents blood and fear. It's the danger brought by evil monsters and ghosts. Also, it's the Devil's favorite color. After all, the hell itself is bright red.
Beyond that, red stands together with orange when it comes to warmth and fire. It's a color used to give energy and represent any seasonal fall and Halloween color palette.
Halloween red hex code: #D92121
Halloween red:
Blood
Danger and aggressiveness
Passion and anger
Devil and demons
Hellfire
Fall foliage
White
A not-so-obvious Halloween color, white symbolizes the undead and all spirits that linger in this world.
For instance, white is the color of ghosts, mummies' bandages, and an eerie fog where you can't see who is coming in your direction.
Also, white is the color of corpses and skeletons that arise from their grave in the dark night.
Not only that but white represents scary clowns, as well as werewolf's and vampire's teeth. Boo!
Halloween white hex code: #F8F8FF
Halloween white:
Ghosts and mummies
Fog
Gravestones
The skin of a corpse
Clowns
The cold moon on a dark night
Bones and skeletons
Werewolf's and vampire' teeth
Wrapping Up on the Halloween Colors
We can imagine not all of these colors for Halloween are so obvious. Still, their goal is to remind us of this fun holiday's eerie and scary side and tone it down a bit for children.
You might want to stick to the hues above for your Halloween color scheme so that you can evoke the spirit of this season.
After all, you can't use all rainbow colors for Halloween, can you?
Did you enjoy reading about the colors of Halloween? Then share it on your social media!