Your Libra color can be a lucky charm that protects and guides you if you channel it the right way.
While your favorite color can say a lot about your personality, your zodiac color helps you live your true essence.
And since all zodiac signs have different ruling planets, symbols, personalities, and interests, they also have unique power colors.
In astrology, these power colors can help you channel your distinctive traits, influence your mood, and energize your spirit.
Meanwhile, zodiac colors differ from sign to sign, and a particular shade can positively affect a specific zodiac sign while doing the opposite for another sign.
This article focuses on Libra color, pink, and the characteristics that make it the best fit for your sign.
At the same time, just as every astrological sign has lucky colors, they also have unfavorable colors. We will also talk about the antagonistic colors to your star sign and the psychology behind it, based on the meanings of the colors.
Keep reading to learn how to surround yourself with your power color to channel the good energies.
Pssst: If your favorite color is pink, you might want to learn how that can influence your personality.
Libra zodiac sign
Born between September 23 and October 22, Libra is the charmer of the zodiac.
Your sign belongs to the air element and rules the endocrine system, the kidneys, and skin. Like other air signs, you have a mind full of ideas, have an active imagination, and are extroverted.
You are always active, fun, and possess excellent social skills, making it easy to mingle with different kinds of people.
Your ruling planet is Venus which makes you all about balance and harmony. That explains why you love to create peace and make things orderly.
Read next: September Birthstone Color and Meaning
Beyond that, you love perfection, and because of your need to please everyone, you tend to be non-confrontational and indecisive.
Sometimes, you compromise your own happiness just to keep others happy. Nevertheless, you are a great problem solver and can navigate any social situation.
As a Libra, you love being the center of attention, trying to be likable, and being an expert at being diplomatic. You also care about physical appearance and can be self-indulgent and vain.
Your peaceful natural vibes go well with light colors, and it turns out pink is the Libra lucky color.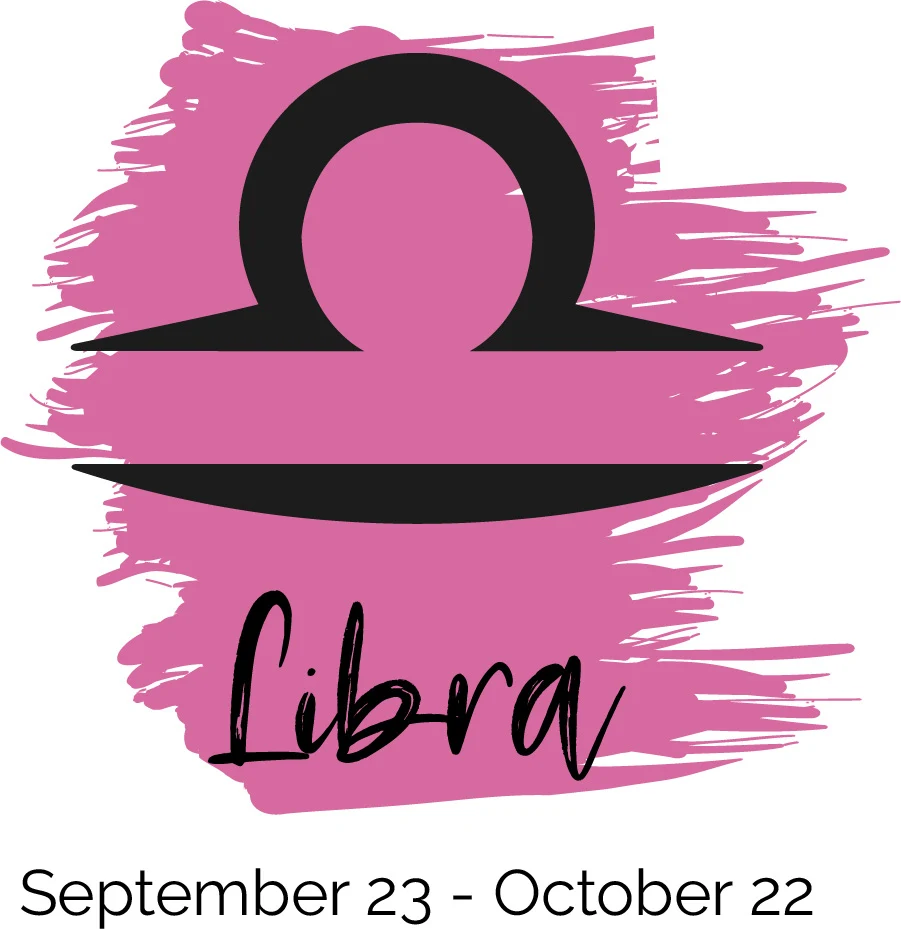 Libra color
As said, pink is the color of Libra. Serene, pale shades of pink add just the right amount of beauty, softness, and femininity to your star sign.
As one of the prettiest feminine colors, the pale hue of pink invokes your sweet and charming nature, which softens your presence. Also, you are a pleasant creature, and pink aids the flow of positive energies.
When you are closing a sale, asking for a promotion, or applying for a job, wear light pink to help you stay on the bright side.
Read next: October Birthstone Color and Meaning
Also, try using pink in your interior color scheme as a primary or accent color for your home decor.
You could decorate it with beautiful pink things like a pink backsplash, flowers, sofas, home furnishings, bedsheets, rugs, floorings, or artworks.
Your zodiac color palette is also made up of neutral colors such as beige, cream, and the color white—these are suitable hues for Libra.
Colors you should avoid
As a Libra, you should better stay away from bold colors like red, brown, and black because they are antagonistic to your nature.
You have a calm nature that strives for balance; red is aggressive, signifies danger, and will create an imbalance in your energies.
Once you go out of balance, it is always so difficult to find order again. So avoid red, especially during special occasions.
The color brown brings up feelings of loneliness and isolation, which is antagonistic to a sign that thrives off social connections.
You love clarity as a Libra, and black is mysterious. The color black also evokes sadness and pessimism, which is a contrast to your peace-loving nature. It interferes with your optimistic outlook on life.
You could wear it to keep it classic and classy like your personality, just be sure not to make it the dominant color in your outfit.
Other zodiac colors
Planning on buying a friend a gift, say clothing, accessories, or gemstones, but have no idea what color to choose? Well, if you know their zodiac sign, you might want to check their power color below.
Did you enjoy this article about Libra colors? Then save it to your Pinterest board or send it to a friend who might enjoy it too!