Your Virgo color can act as a sort of guardian angel that guides your decision and surrounds you with a positive spirit.
While your favorite color can say a lot about your personality, your zodiac color helps you live your true essence.
Surrounding yourself with your Virgo color lets you have a positive energy that gives you the shine you need as a Virgo.
This article focuses not only on the primary Virgo Lucky Color, brown, but also why it's the best fit for you and what colors you should better steer away from.
You will learn how your lucky color complements your characteristics as a Virgo and how to use your zodiac colors to empower your spirit.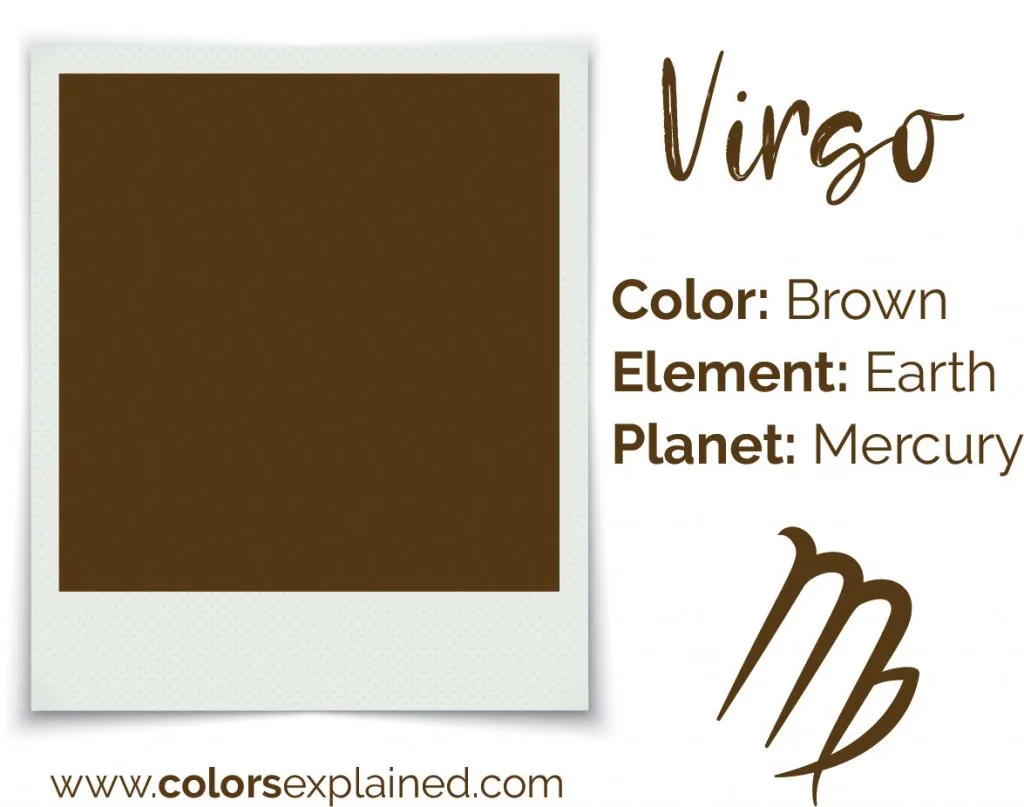 Virgo zodiac sign
You would be Virgo if you were born between August 23 and September 22. Virgo is the sixth astrological sign, and it's a dual nature sign of the earth element.
Because Virgo is a mutable sign, you tend to be adaptable and flexible. Your ability to change makes it easy to deal with all seasons and situations of life. Like Gemini, Virgo is also ruled by the planet Mercury.
Demeter, the goddess of agriculture, symbolizes your zodiac sign. You, like many other Virgos, are usually in tune with nature and enjoy activities like gardening.
Read next: August Birthstone Color and Meaning
Virgos don't like taking risks. You are a cautious sign, a perfectionist who sometimes gets stuck in details.
Also, you stick to practical and workable solutions for yourself and others. Sometimes, you come off as reserved, uptight, sarcastic, and overly critical because of your sharp mind.
At the same time, you are sensitive and tend to feel what others feel. You always want to help, which makes you loyal, supportive, and dependable.
The color of Virgo is brown, especially earthy brown. Your sign rules the digestive system, stomach, and intestine, which explains why many are foodies.
Virgo color
If there is any zodiac sign that matches brown, then it's Virgo. Brown is the primary Virgo color because it is sophisticated, grounded, and wise according to the meanings of the colors.
You should dress in brown to exert your strength and sense of class.
Brown, your color of luck, represents honesty and reliability. This color allows you to tap into your earthy side and supports your deep sense of humanity.
At the same time, since brown is the shade of the earth, it keeps you grounded, stable and complements your dependable Virgo soul.
Read next: September Birthstone Color and Meaning
In your daily life, you can easily incorporate this color by creating a fashionable wardrobe and picking up outfits and accessories in different earthy tones of brown.
Brown together with neutral colors will look great to highlight your home décor. Beige walls, taupe vases, and chocolate rugs are some shades of brown you can incorporate into your interior décor.
You can also go with rustic or wood accents for a welcoming space in style.
Create your zodiac color palette with earthy shades like tans, ocher (an earthy shade of yellow), and olive green, making an excellent accent color in any room.
Colors you should avoid
Bright yellow and red don't support your reserved and grounded nature as a Virgo.
You are practical, an observer, and have an incredible ability to take in a lot of information and bright yellow is spontaneous and mentally stimulating. Its fickleness doesn't support your nature.
Because of your reservedness and grounded nature, an energetic and aggressive color like red will not work for you.
Also, red is dominating, controlling and may attract negative energies. Your spirit works best with a color scheme made up of reserved and earthy colors that let you stay focused on growth and new projects.
If you have a special occasion, it's best to avoid these two colors. Both colors will not reflect your true Virgo nature.
Other zodiac colors
Planning on buying a friend a gift, say clothing, gemstones, or accessories, but have no idea what color to choose? Well, if you know their zodiac sign, you might want to check their power color below.
Did you enjoy this article about Virgo colors? Then save it to your Pinterest board or send it to a friend who might enjoy it too!