Serene and soothing, these quotes about white will make you feel the lightness of being.
From foods, animals, and flowers, there are many white things in nature. Not only that but white surrounds us, from the office wall to the white-colored paper of a notebook.
For that reason, we decided to share our favorite quotes about white so you can add its lightness and purity to your day.
Let's get to them!
Quotes About White
"Black and white are the colors of photography. To me, they symbolize the alternatives of hope and despair to which mankind is forever subjected." Robert Frank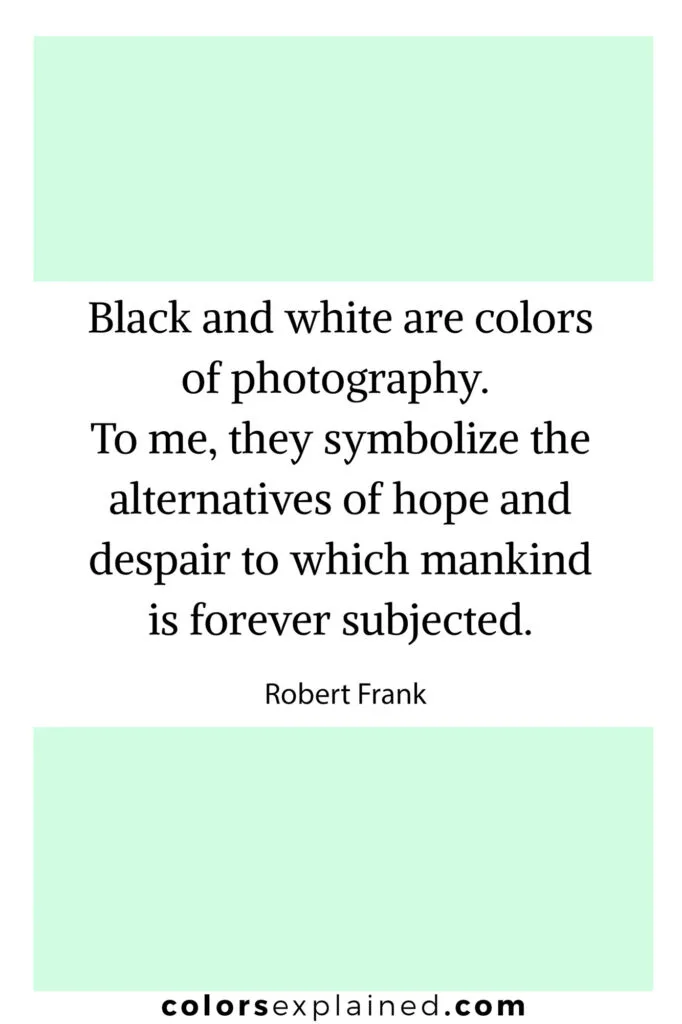 "The white light streams down to be broken up by those human prisms into all the colors of the rainbow. Take your own color in the pattern and be just that." Charles R Bown
"White is actually one of my favorite colors. I have a white car. I love white." Kim Kardashian
"Mortals. Everything is so black and white to you." Kami Garcia
"Black and white is salt ad pepper of colors, for life tastes bland without them." Vikrmn
"White is associated with purity because the entire spectrum is functioning in unity. White is a healing color." Tae Yun Kim
"Such a magnificent sky, and it's nothing but white paper!" Pierre-Auguste Renoir
"I would wear pink because I hated gray, I didn't deserve white, and I was sick of black." Karen Marie Moning
"White must be the lightest color in a picture." Ludwig Wittgenstein
"She knew then that white was more than a color: It was a cold, pale shade of understanding that seems to take all of your hope away." Vannetta Chapman
"The color white is the absence of memory." Stephen King
"Life starts from a white hole and ends in a black hole." Santosh Kalwar
"The color white is a blank canvas, just waiting to be written on. Compared to other more stimulating colors it is a refreshing change, a soothing and calm visual experience for the mind, which allows for imagination growth and creativity." Chantal Larocque
"Black is the absence of all color. White is the presence of all colors. I suppose life must be one or the other." Mary Balogh
"Life is in color, but black and white is more realistic." Samuel Fuller
"A white Christmas is many a child's dream." Anthony T. Hincks
"I would that we were, my beloved, white birds on the foam of the sea!" William Butler Yeats
"To any white body receiving the light from the sun, or the air, the shadows will be of a bluish cast." Leonardo da Vinci
"What had that flower to do with being white. The blue prunella every child's delight." Robert Frost
"White covers a multitude of sins." Jonathan Milne
Pssst: Is your favorite color white? You might want to learn more about it!
White Quotes
"I never see that prettiest thing. A cherry bough gone white with Spring. But what I think, "How gay 'twould be. To hang me from a flowering tree." Dorothy Parker
"Never use pure white; it doesn't exist in nature." Aldro T. Hibbard
"Boldly dare to be a pop of color in a black and white world." Unknown
"There's a reason we don't see the world in black and white." Celerie Kemble
"Put variety in white." Charles Webster Hawthorne
"White does not exist in nature." Pierre-Auguste Renoir
"Black, like white, is the best color!" Karl Lagerfeld
"White. A blank page or canvas. So many possibilities." Stephen Sondheim.
"I am black or white, I'll never be grey in my life." Diego Maradona
"White is the most wonderful color because within it you can see all the colors of the rainbow. For me, in fact, it is the color which in natural light, reflects and intensifies the perception of all of the shades of the rainbow, the colors which are constantly changing in nature, for the whiteness of white is never just white; it is almost always transformed by light and that which is changing; the sky, the clouds, the sun, and the moon.' Richard Meier
"White is appropriate for weddings because the unity of male and female symbolizes the unity of allness." Tae Yun Kim
"It is wonderful how much depends upon the relations of black and white… A black and white, if properly balanced, suggests color." Winslow Homer
"When you photograph people in color, you photograph their clothes. But when you photograph people in black and white, you photograph their souls!" Ted Grant
"White is not a mere absence of color; it is a shining and affirmative thing, as fierce as red, as definite as black. God paints in many colors; but He never paints so gorgeously, I had almost said so gaudily, as when He paints in white." G.Keith
Color White Quotes
"Black and white always look modern, whatever that word means." Karl Lagerfeld
"Renoir said once that nothing was so difficult, and at the same time, so exciting to paint like white on white." Ambroise Vollard
"Things are not quite so simple always as black and white." Doris Lessing
"When you photograph people in color, you photograph their clothes. But when you photograph people in black and white, you photograph their souls!" Ted Grant
"In the beginning, it was all black and white." Maureen O'Hara
"No color will ever be brighter for me than black and white." Alessandro del Piero
"When you glaze on a bright white ground it is like looking through color rather than at it – like looking through stained glass." Fred Machetanz
"Nothing is black or white." Nelson Mandela
"Women think of all colors except the absence of color. I have said that black has it all. White too. Their beauty is absolute. It is a perfect harmony." Coco Chanel.
"Two colors are enough, just blue and white – more might be a nightmare." Jennifer Kostuik
"I call white the most powerful non-color; it's clean, optimistic, powerful."
"Working in white makes people look into it. White is ethereal. There's a purity to it, it makes things look elevated in a way. There's a whole palette of white…" Jonathan Milne
"Black and white is a color palette. Don't let anyone tell you otherwise."
"If time were a color, I bet it would be a tasteful off-white." Greg Parrish
More Colorful Quotes
Seeking more encouraging quotes for a colorful life? Take a look at our selection of quotes about color:
Did you enjoy browsing these quotes about white? Then share them with a friend or save them to your Pinterest board. Thank you!