Powerful and stylish, these quotes about black will make you want to wear this color today!
A highly praised color in fashion, black is filled with glamour and mystery. Few hues are so strong as color, no matter in what shade.
While there aren't many black things in nature, this color is queen in the fashion realm and inspired by its glam, we decided to share a list of powerful quotes about black.
Let's get to them!
Fashion Quotes About Black
"Black is modest and arrogant at the same time. Black is lazy and easy – but mysterious. But above all, black says this: I don't bother you – you don't bother me." Yohji Yamamoto
"One is never over-or underdressed with a little black dress." Karl Lagerfeld
"The best thing about wearing black is that you can hide pretty easily unless you're in Hawaii, then you can't hide." Gerard Way
"I've been 40 years discovering that the queen of all colors was black." Pierre-Auguste Renoir
"Women think of all colors except the absence of color. I have said that black has it all. White too. Their beauty is absolute. It is a perfect harmony." Coco Chanel.
"Black is always elegant. It is the most complete color in the whole world, made of all the colors in the palette." Ricardo Tisci
"I look most like myself… when I'm wearing my black, nerdy engineering glasses." Junot Diaz
"When I find a color darker than black, I'll wear it. But until then, I'm wearing black!" Coco Chanel
"If I could find anything blacker than black I'd use it." J. M. W. Turner
"A black dress is to fashion what red roses are to romance." Unknown
"Black is associated with elegance, style, wealth, and sophistication. Black almost always looks good and sleek." Unknown
"A black dress is the oxygen of fashion." Unknown
"I love black because it affirms, designs, and styles. A woman in a black dress is a pencil stroke." Yves Saint Laurent
"An infinity of fashion can be contained in one color—black." Unknown
"Black is a color that makes me look slim, makes me feel mysterious, and doesn't need a wash every time? What's not to love!" Unknown
"Any color, so long as it's black." Henry Ford
"Black is infinitely chic, undeniably mysterious, and deeply misunderstood."
"A dress as black as my heart." Unknown
"Black is a universal taste but an acquired obsession." Unknown
"There's something about black. You feel hidden away in it." Georgia O'Keeffe
"Black is the new black."
"Black is both minimal and complicated. It's both sexy and simple."
"Black is out of fashion.. said nobody ever."
"I'll stop wearing black when they invent a darker color." Wednesday Addams
Pssst: Is your favorite color black? You might want to learn more about it!
Black Quotes
"I work in three shades of black." Rei Kawakubo
"Black is the color of darkness. But it also shows that there is some light of hope nearby." Unknown
"Black is like a broken vessel, which is deprived of the capacity to contain anything." Leonardo da Vinci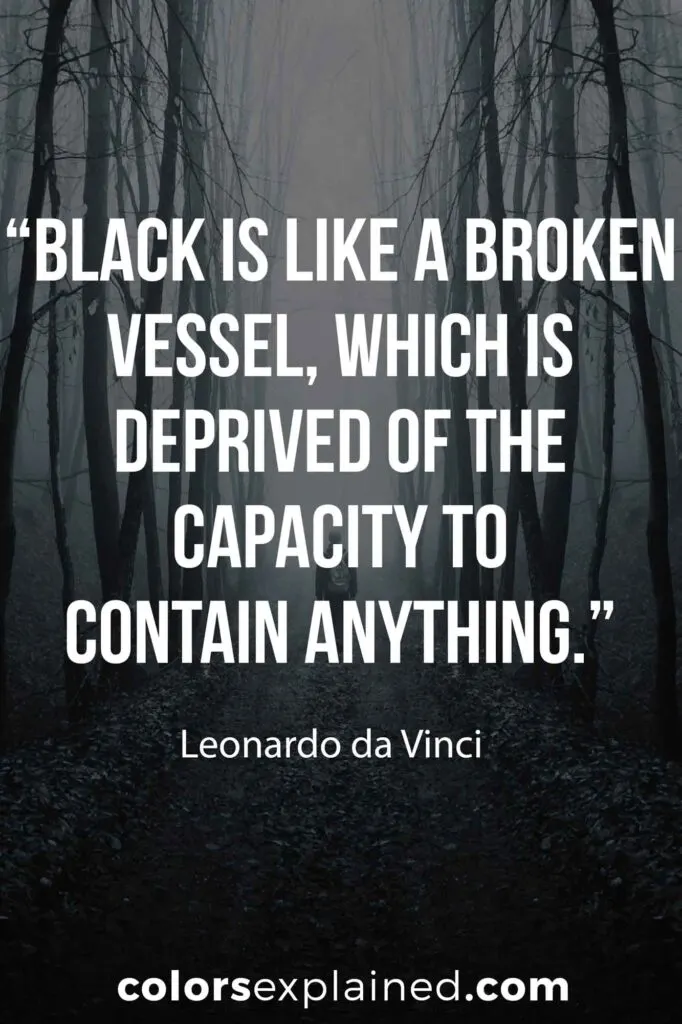 "Black is the only color that's enough to make up a whole wardrobe."
"Color should be two things – dark and powerful. Black is both." Unknown
"Black is the only color that can make you look classy and simple, charming yet effortless, sexy yet elegant – all at the same time."
"Women who wear black live colorful lives." Neiman Marcus
"Shopping rule: If it's not black… put it back."
"Even God wears black when He goes to a party."
"I like my dresses just as I like my coffee. Black."
"But when I fell in love with black, it contained all color. It wasn't a negation of color. It was an acceptance. Black is the most aristocratic color of all. You can be quiet, and it contains the whole thing." Louise Nevelson
"Why wear any other color when you can wear black?"
"Why do I always wear black? It matches my soul."
"I could wear other colors, but what's the fun in that?!"
"It is wonderful how much depends upon the relations of black and white… A black and white, if properly balanced, suggests color." Winslow Homer
"The magic and mystique of black never fail to amaze me."
"Black is a very strong powerful color that demands seriousness and respect. It can be an intimidating color which also suggests discipline." Unknown
"Whoever said any other color is the new black seriously needs some help."
"Black is not sad. Bright colors are what depresses me. They're so…empty. Black is poetic. How do you imagine a poet? In a bright yellow jacket? Probably not." Ann Demeulemeester
"The man in black travels with your soul in his pocket." Stephen King
"I think in black." Gareth Pugh
"Black can be a depressing color, and it has obvious connections with death, or the end of things, the end of a situation, or the end of an era." Unknow
"Black is a real sensation, even if it is produced by the entire absence of light. The sensation of black is distinctly different from the lack of all sensation." Hermann von Helmholtz
"Black is the hardest color in the world to get right—except for gray…" Diana Vreeland
"Black and white always look modern, whatever that word means." Karl Lagerfeld
"I wore black because I liked it. I still do and wearing it still means something to me. It's still my symbol of rebellion—against a stagnant status quo, against our hypocritical houses of God, against people whose minds are closed to others' ideas." Johnny Cash
"Without black, no color has any depth. But if you mix black with everything, suddenly there's shadow – no, not just shadow, but fullness. You've got to be willing to mix black into your palette if you want to create something that's real." Amy Grant
Color Black Quotes
"Things are not quite so simple always as black and white." Doris Lessing
"It's always darkest before it becomes totally black." Mao Zedong
"In the beginning, it was all black and white." Maureen O'Hara
"When you photograph people in color, you photograph their clothes. But when you photograph people in black and white, you photograph their souls!" Ted Grant
"Wearing black makes me smile from inside."
"I love all the colors mixed together. BLACK." Brian Elston
"Wearing black is a lifestyle."
"Black is such a happy color, darling." Morticia Addams
"The night sky doesn't always need shining stars to look beautiful, and a black dress any jewelry."
"Whoever said red is the color of romance didn't understand fashion's love for black. Fashion has been courting black for centuries…"
"I only wear two colors – black and noir."
"You can wear black at any time. You can wear it at any age. You may wear it for almost any occasion." Christian Dior
"Some say I'm bringing out my Goth side, some say I'm trying to look sexy. But hey, I'm just wearing a black dress because it's the only one that I can't wear twice before washing!"
"Easy to match when you're wearing black."
"Classy is the original black."
"Black is a color of power and strength, and to see all those players, with the captains linking their arms in front – it's a powerful picture." Hayden Fry
"BLACK… the only true color."
"What, you haven't any ivory-black on your palette? If you think you are going to make black with blue and red, I can't have you in my class. You might stir up trouble with such ideas." Fernand Cormon
"[Black]—nothing is black. Really nothing." Frida Kahlo
"There is an undeniable virtue to a true black; allowing the brain to be mesmerized and pulling the pupils deep into that unfound but sensed abyss." Jamie Lavin
More Colorful Quotes
Looking for more inspiring quotes for a colorful life? Check out our collection of quotes about color:
Did you enjoy reading these quotes about black? Then share them with a friend or save them to your Pinterest board. Thank you!