Here's our collection of inspirational, wise, and funny quotes about purple!
Many shades of purple carry a mysterious glow that words can barely make up to such beauty.
Together with blue, purple is one of the rarest colors in nature, so there are only a few naturally purple things in the world. Cool, right.
Still, to honor this beautiful hue, we're sharing today a list of our favorite quotes about purple.
Let's get to them!
Quotes About Purple
"Be eccentric now. Don't wait for old age to wear purple." Regina Brett
"When God made the color purple, God was just showing off." Mae Jemison
"When I'm with Purple, I'm totally with Purple; when I'm doing my thing, I'm totally doing my own thing." Tommy Bolin
"Yesterday and tomorrow cross and mix on the skyline. The two are lost in a purple haze. One forgets, one waits." Carl Sandburg
"I don't have a purple problem, I have a purple passion!" Jackie Harmon Sweeney
"Purple is the last of the rainbow colors, so it means I will love and trust you for a long time." Kim Tae Hyung
"I always wanted to get the Purple Heart." Donald Trump
"If you want to make a statement, wear purple." Baron Davis
"I think it pisses God off if you walk by the color purple in a field somewhere and don't notice it." Alice Walker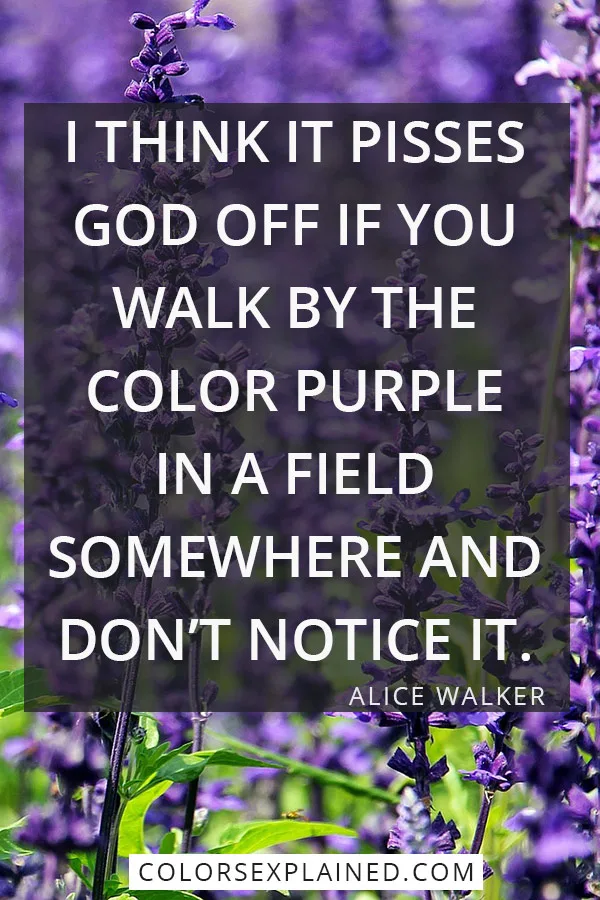 "Purple does something strange to me." Charles Bukowski
"I think 'The Color Purple' is so bursting with love, the need for connection, the showing of the need for connection around the globe." Alice Walker
"Black is not as good as purple." Ralph Lauren
"Keep calm and be purple." Unknown
"Twilight fell: The sky turned to a light, dusky purple littered with tiny silver stars." J. K. Rowling
"Purple is my favorite color. It makes me think of spring and summer. A purple dress, eating grapes, lilacs – I love purple." Angela Yee
"The sky is already purple; the first few stars have appeared, suddenly, as if someone had thrown a handful of silver across the edge of the world." Alice Hoffman
"Violet has the shortest wavelength of the spectrum. Behind it, the invisible ultraviolet. Roses are red, Violets are blue. Poor violet violated for a rhyme." Derek Jarmen
"Everything changes when a man becomes purple." Charlie McDonnell
"Flower of this purple dye. Hit with Cupid's archery. Sink in apple of his eye." William Shakespeare
"Poetry is a mystic, sensuous mathematics of fire, smoke-stacks, waffles, pansies, people, and purple sunsets." Carl Sandburg
"The colors of my life. Are bountiful and bold, the purple glow of indigo, the gleam of green and gold. The splendor of the sunrise, the dazzle of a flame, the glory of a rainbow, I'd put 'em all to shame." Cy Coleman
Pssst: Is your favorite color purple? You might want to learn more about it!
Purple Quotes
"The bougainvillea hung about it, purple and magenta, in livid balloons." Anita Desai
"Violet is the most soothing, tranquilizing, and cooling color vibration. It encourages the healing of unbalanced mental conditions in people who are overly nervous or high-strung. Foods of the violet vibration are purple broccoli, beetroot, and purple grapes." Tae Yun Kim
"A garden of purple is always in bloom!" Unknown
"Far clouds of feathery gold. Shaded with deepest purple, gleam. Like islands on a dark blue sea." Percy Bysshe Shelley
"I feel like you have to tell people who you are, but you don't have to be disrespectful about it. But you also don't have to be a shrinking violet." Keke Palmer
"The themes in 'Violet' are universal: accepting yourself with all of your flaws, moving on, and the forgiveness and freedom that comes along with that." Joshua Henry
"When in doubt, wear purple." Unknown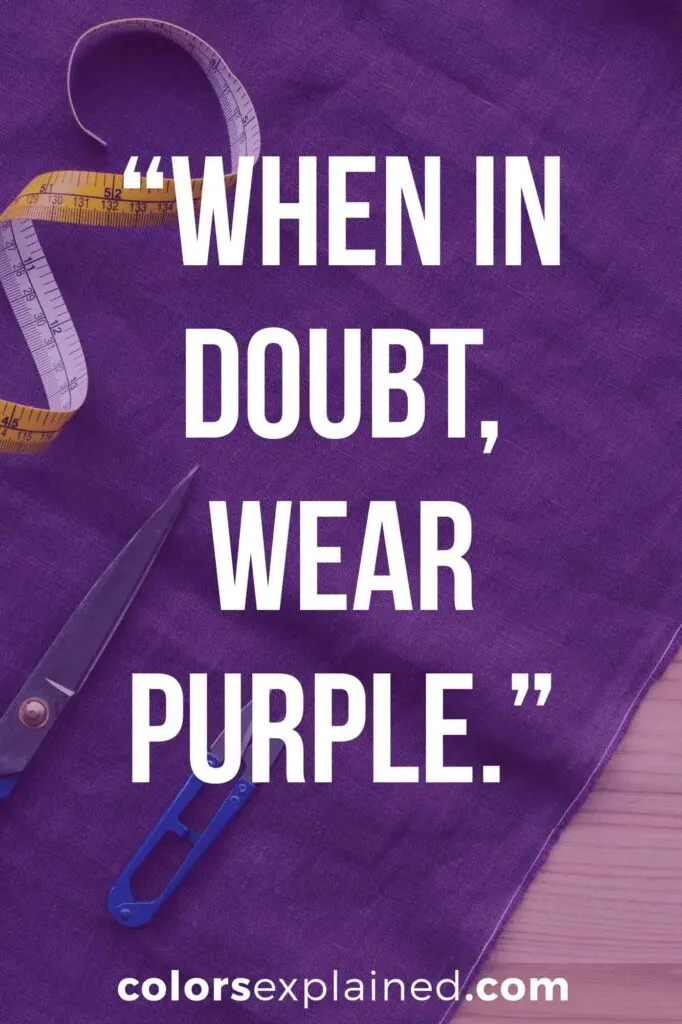 "When the time is ripe for certain things, these things appear in different places in the manner of violets coming to light in the early spring." Farkas Bolyai
"Stars will blossom in the darkness, Violets bloom beneath the snow." Julia Caroline Dorr
"The violets in the mountains have broken the rocks." Tennessee Williams
"Tastes like Liquorice – but purple." Cass van Krah
"The themes in 'Violet' are universal: accepting yourself with all of your flaws, moving on, and the forgiveness and freedom that comes along with that." Joshua Henry
"I see music in colors. I love music that's black, pink, purple, or red – but I hate music that's green, yellow, or brown." Charli XCX
"Purple can be both luxurious and modest." Shilpa Ahuja
"The range in brightness from the purple glow [of the sunset] to the dark sky above is too great for most films, and naturally, it is beyond the range of printed pictures." James Elkins
"When I am old, I shall wear purple." Jenny Joseph
"Better keep the young on lemons and lavender until they've reached the age of discretion." Henry Miller
"Everything is better in purple." Unknown
"Purple is the new black." Unknown
"Time is purple just before night." Mary O'Neill
"Be different. Be original. Nobody will remember a specific flower in a garden filled with thousands of the same yellow flower, But they will remember the one that managed to change its color to purple." Suzy Kassem
"Seek to be the purple thread in the long white gown." Epictetus
"I like to write with a lot of emotion and a lot of power. Sometimes I overdo it; sometimes my prose is a little bit too purple, and I know that." H. G. Bissinger
Color Purple Quotes
"As an actress who has performed in theater for over 17 years, my experience performing in 'The Color Purple' has been a truly life-changing journey." LaChanze
"My character was obnoxious, had stinky feet, and wore things like purple tights and a yellow top. I hated the clothes." Andrea Barber
"Purple allows you to be elegant and appear strong." Shilpa Ahuja
"I still have a lot of the stories I wrote in high school. Hand wrote… a number of them are in purple ink, rendering them illegible, a fact we should probably be forever thankful for." Shiloh Walker
"Any color can make you look fashionable. But purple also shows you're exquisite." Shilpa Ahuja
"It's all or nothing with my makeup. If I get dressed up, I'll get to an extreme, I'll wear foundation, bright blue or bright red lipstick with one of my weird purple wigs." Angelina Jolie
"I was a loudmouth rock star when I was still in college. Purple hair this week, green hair next week, blonde hair the week after. I was doing that fashion before it was really cool." Pepa
"We run on purple time." Unknown
"Many gorgeous women have their go-to color, but no one can deny the power of purple." Shilpa Ahuja
"I was very against pink and purple when I was young because they were girls' colors. But that was only because I didn't want people to write me off for what I can do. When I got into my 20s, I decided that was stupid." Danica Patrick
"I went through this phase where I thought pink and purple matched. To dance class, I'd wear purple tights and pink leg warmers and paint my shoes purple. It was really odd." Carrie Ann Inaba
"Purple puts us in touch with the part of ourselves that is regal. Purple is the queen in all women; it helps us keep our backs straight and heads held high." Byllye Avery
"Her love was like lavender, delicate and melancholy." Laura Chouette
"Purple has always been my favorite color… but purple, when I was a little kid, was a color that boys weren't really allowed to wear. That's what all the kids at school told me. I filled my wardrobe with as much purple as I could possibly find, because who cares? Life's too short to dress by other people's rules." Sasha Velour
"Shine bright like an amethyst." Unknown
"Womanist is to feminist as purple is to lavender." Alice Walker
"Deep Purple is a….good band and we've made a niche in rock 'n' roll history. Maybe not a huge one but enough to be very proud of." Jon Lord
"Purple is the color of royalties. It stands for luxury, wealth, and sophistication. It is also the color of passion, romance, and sensitivity." Amira
"An enchanting harmony of fuchsia, purple and pink undertones, Radiant Orchid inspires confidence and emanates great joy, love, and health. It is a captivating purple, one that draws you in with its beguiling charm." Leatrive Eiseman
"All the other colors are just colors, but purple seems to have a soul – when you look at it, it's looking back at you." Uniek Swain
More Colorful Quotes
Looking for more inspiring quotes for a colorful life? Check out our collection of quotes about color:
Did you enjoy reading these quotes about purple? Then share them with a friend or save them to your Pinterest board. Thank you!