Just as perfect as the color itself, these quotes about pink will make you happy when you're feeling blue.
Blooming flowers, cute animals, and delicious foods, pink things are everywhere to be found–probably in your bedroom too!
Beyond that, the color has a lasting and complex history that started when pink and blue were first considered gender colors.
In today's article, we put together an incredible list with our favorite quotes about pink so you can add some sass to your day.
Let's get to them!
Quotes About Pink
"You can never wrong with a little pink; a lot works too." Dana Dalgetty
"Pink isn't just a color. It's an attitude too." Miley Cyrus
" Always have a pink Oxford shirt ready for days when you're feeling run down." Michael Bastian
"Hot pink with a star done in rainbow rhinestones on the front. It was god-awful. I bought it." Richelle Mead
"I gave to pink, the nerve of the red, a neon pink, an unreal pink." Elsa Schiaparelli
"I don't think I will ever get tired of wearing pink." Emma Bunton
"I like pink. Lucius sniffed. It's just red's sorry, weak cousin." Beth Fantaskey
"Whoever said orange was the new pink was seriously disturbed." Elle Woods
"Pretty in pink, isn't she?" The Psychedelic Furs
"Be a flamingo in a flock of pigeons."
"I could smell the peppery-sweet perfume of pinks." Kate Atkinson
"Pink is the color of strength, a color of conviction, a color of decision making." Angad Bedi
"Pink is the navy blue of India." Diana Vreeland
"Pink is not a color – it's a culture to me." DeAngelo Williams
"Why would anyone pick blue over pink? Pink is obviously a better color." Kanye West
"I would wear pink because I knew my future was anything but rosy." Karen Marie Moning
"Pink is supposed to weaken your enemies, make them go soft on you, which must be why it's used for baby girls. It's a wonder the military hasn't got on to this." Margaret Atwood
"Pink is my favorite color. I used to say my favorite color was black to be cool, but it is pink." Roxane Gay
"Get you under pink skies, I know exactly where we should go." Lany
"Man, I can't blink, cause God I love the color pink. God, I love the color pink." The Walker
"My parents told me I'd point to a bed of flowers and say 'Pink. Pretty,' before I knew any other words." Joni Mitchell
"Love just comes in one color. Pink!" Anthony T. Hincks
"Here and there are worms, evidence of the fertility of the soil, caught by the sun, half dead; flexible and pink, like lips." Margaret Atwood
"I believe in pink. I believe that laughing is the best calorie burner. I believe in kissing, kissing a lot. I believe in being strong when everything seems to be going wrong. I believe that happy girls are the prettiest girls. I believe that tomorrow is another day and I believe in miracles." Audrey Hepburn
"Pale pink salmon is the only color I cannot abide – although, naturally, I adore pink." Diana Vreeland
Pssst: Is your favorite color pink? You might want to learn more about it!
Pink Quotes
"Mauve? Mauve is just pink trying to be purple!" James Whistler
"Pink is a beautiful color because it is one of the colors that the sun makes at twilight and in the dawn." C. Joybell C.
"A profusion of pink roses bending ragged in the rain speaks to me of all gentleness and its enduring." William Carlos Williams
"Sunrise paints the sky with pinks and the sunset with peaches. Cool to warm. So is the progression from childhood to old age." Vera Nazarian
"Pink is my signature color. Pink power!"
"Beyond are greens where pink chestnuts, may tree and copper beeches flaunt themselves gaily." Arthur Mee
"I wear a lot of pink cos' seeing pink activates endorphins and energizes my creativity. It is a color of femininity and fierceness." Janna Cachola
"I have as much pink as you can have. I love to see other women in pink. It's good for every shade of skin and hair." Evelyn Lauder
"Pink is my comfort color."
"Talkin' under pink skies, I think our hearts are starting to show, That it's better, you and I, under pink skies." Lany
"I love a nice hot pink. I like thick lipstick; otherwise, it doesn't look like you're wearing any." Iris Apfel
"I've also seen it in pictures of the sky surrounding the most magnificent Aurora Borealis! So pink is strong and wonderful." C. JoyBell C
"Despair is a black leather jacket that everyone looks good in. Hope is a frilly, pink dress that exposes the knees." Rebecca Solnit
"You could be my flamingo 'Cause pink is the new kinda lingo. Pink, like a deco umbrella." Aerosmith
"I have never admitted that I am more than twenty-nine, or thirty at the most. Twenty-nine when there are pink shades, thirty when there are not." Oscar Wilde
"I was very girly growing up; I loved pink and doing my makeup and doing my hair and painting my nails." Mia Goth
"Anything is possible with sunshine and a little pink." Lilly Pulitzer
"Pink is the new black." Diana Vreeland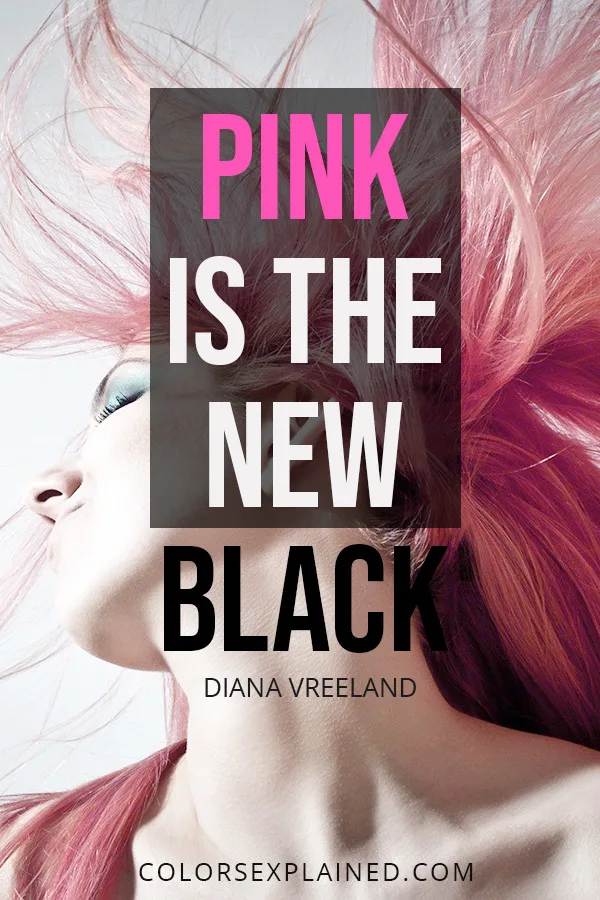 "I wanted to stand out and look different. It wasn't nothing that was done purposely, or I was going to be the guy who wears pink forever. It was something for me to stand out." Cam'ron
"I used to be obsessed with Pearl Jam, but I love having pink hair and kind of looking like a Barbie." Ellie Goulding
"Pink reminds me of my love for dance. My youth. The innocence of being young. Tutus. Strawberry frosting on a vanilla cake (my favorite)." R.B. O'Brien
"I fell off my pink cloud with a thud." Elizabeth Taylor
"Picasso had his pink period and his blue period. I am in my blonde period right now." Hugh Hefner
"Almost all words do have color and nothing is more pleasant than to utter a pink word and see someone's eyes light up and know it is a pink word for him or her too." Gladys Taber
Color Pink Quotes
"Life, when it was good, was indeed pink. La vie en rose." Lydia Michaels
"I gave to pink, the nerve of the red, a neon pink, an unreal pink." Elsa Schiaparelli
"I adore pink; it's very powerful." Alessandro Michele
"Pink is my favorite color. I used to say my favorite color was black to be cool, but it is pink – all shades of pink. If I have an accessory, it is probably pink." Roxane Gay
"I saw a sunset in Queretaro that seemed to reflect the color of a rose in Bengal." Jorge Luis Borges
"The first stab of love is like a sunset, a blaze of color — oranges, pearly pinks, vibrant purples…" Anna Godbersen
"Think pink. But don't wear it." Karl Lagerfeld
"The redness was going out of the light now; the remains of the day were a fading pink, the color of wild roses." Stephen King
"There is absolutely nothing feminine about the color pink, or, anything bad-luck'ish about the color black in itself." Mokokoma Mokhonoana
"Pink is what I do. Alecia is who I am. The world has taken Pink and turned it into this thing, a brand – a snarl." Pink
"Though there were no strong conventions until the nineteenth-century, pink was certainly a very suitable color for boys." Grayson Perry
"The color pink makes everything look pretty."
"Sometimes I feel like the world is closing down on me, so I put on my pink dress." Somegirl
"It was like she was made of cake, light and pretty and decorated on the outside with her sweet laugh and pink streak to her hair-but it was anyone's guess what was on the inside." Sarah Addison Allen
"My formula for a great night – a pink dress and a vodka-cranberry."
"As for me, I will follow the path of the pink bunnies." Magenta Periwinkle
"There is no energy greater than the power of love. Once I finally embraced this concept, I realized that the path to ascension always begins with the heart and the color pink." Eleyne-Mari Sharp
"I would wear pink because I hated gray, I didn't deserve white, and I was sick of black." Karen Marie Moning
"Now I really feel the landscape, I can be bold and include every tone of blue and pink: it's enchanting, it's delicious." Claude Monet
"Anything is possible with sunshine and a little pink." Lilly Pulitzer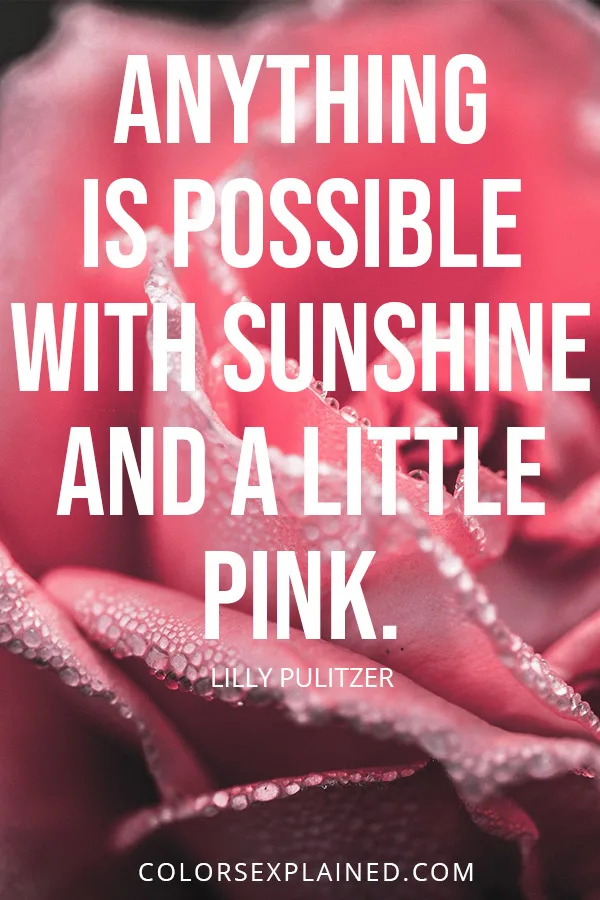 "My music is like a baby pink-frosted cake with sprinkles, but when you cut into it, there's a gooey, dark chocolate center." Melanie Martinez
"Pink, it was love at first sight, Pink, when I turn out the light." Aerosmith
"I believe in manicures. I believe in overdressing. I believe in primping at leisure and wearing lipstick. I believe in pink. I believe happy girls are the prettiest girls. I believe that tomorrow is another day, and I believe in miracles." Audrey Hepburn
More Colorful Quotes
Seeking more encouraging quotes for a colorful life? Take a look at our collection of colorful quotes:
Did you enjoy browsing these quotes about pink? Then share them with a friend or save them to your Pinterest board. Thank you!