Whether you're looking for different pumpkin colors for cooking or fall decorating, you'll love these fruit varieties!
As the autumn gets closer, many people set out on a quest to find differently colored pumpkins for a number of reasons.
From eerie colors for Halloween crafts to trendy colors for fall decoration to appetizing colors for your favorite dishes, you can find the full rainbow of colors available.
In today's article, we list 11 quite unusual (and some pretty standard) pumpkin colors with their respective meanings, ranging from raising awareness to keeping children safe. Ready to experience a different autumn season?
11 Curious Pumpkin Colors for Cooking and Fall Decorating
Here're some interesting pumpkin colors you can find in the grocers.
1. Orange Pumpkins
The traditional orange pumpkins are a must in the autumn, aren't they? They're not only the conventional Halloween decoration but also a delicious fruit (yes, they're fruits) for a wide variety of dishes, home decor, and crafts.
From pies to spice lattes to jack-o'-lanterns, this classic pumpkin can be used in the most creative ways. And yes, they have the most common pumpkin color, obviously.
Pssst: Galeux d'Eysines is an elegant salmon-peach heirloom pumpkin from France that is really eye-catching!
2. Tan Pumpkins
Smooth in texture, the Long Island Cheese is a gracious colored pumpkin.
Beyond that, this variety is one of the oldest cultivated in the United States and was one of the first winter squashes to be domesticated for food and animal feed.
It's a creamy and tender fruit with an earthy, sweet flavor that's perfect for Thanksgiving and Christmas dishes. Did anyone say pumpkin pie?
3. Blue Pumpkins
While many colors of pumpkins are quite normal in kitchens around the world, these blue pumpkin colors are pretty unique.
With grayish-blue skin, Jarrahdale pumpkins are native to Australia. They have a golden-orange flesh that is fine-textured and sweet.
However, many people in America might see children trick-or-treating with a blue pumpkin (or bucket) in their hands — and that might not just be their favorite color.
In fact, many parents have joined the movement to signal to homeowners their child might have autism spectrum disorder. Therefore, speaking and communicating might be challenging for them.
However well-intended, it's a controversial matter as many parents don't like the idea of having to disclose their child's diagnosis publicly.
4. Purple Pumpkins
Although purple is a typical Halloween color, you don't usually see a purple pumpkin at pumpkin patches.
But, chances are you might see them in porches around America as a way to raise awareness and funds for epilepsy research.
The project started with a father who was brainstorming an idea to draw attention to the subject and had his idea of painting pumpkins purple picked up by the Epilepsy Foundation. It's an annual project!
However, purple pumpkins have acquired an additional meaning in recent years. Homeowners use them to message they're following health official safety guidelines, such as wearing masks and handing out individually wrapped candies.
5. Teal Pumpkins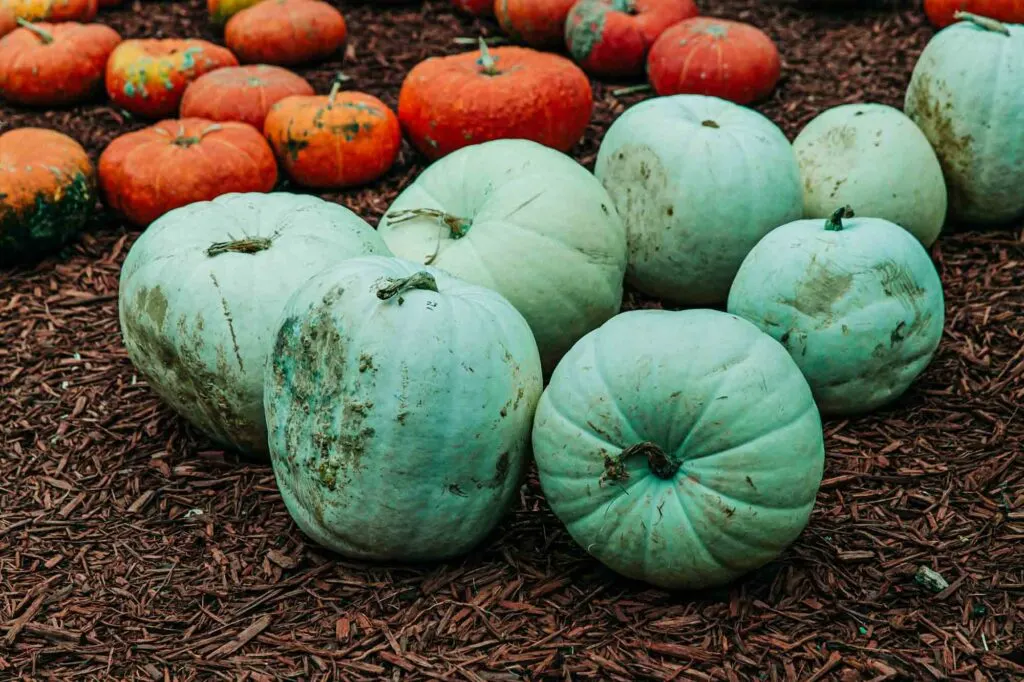 Of all non-traditional colors for pumpkins, teal is one of the most beautiful ones.
As food allergy occurrence increases, the need to ensure trick-or-treaters' safety led to these beautifully colored pumpkins.
That's because teal pumpkins are used to signal homeowners have non-food items for children who might have food allergies, diabetes, obesity, or any special diet.
This project is inclusive and allows children to enjoy the Halloween season without any risks.
So if you're planning on handing out non-food items, you might want these eye-catching fruits on your doorstep. Parents (and the little ones) say thank you!
6. Pink Pumpkins
As one of the prettiest pumpkin colors, the Porcelain Doll are hybrid fruits bred for a special cause.
With every pink pumpkin sold, farmers donate to the nonprofit Pink Pumpkin Patch Foundation (PPPF) for breast cancer research. They also donate money from pink pumpkin seeds sales.
Nowadays, you can even find two varieties: the Pink Doll is a bit bigger, perfect for your front porch. The Porcelain Princess is smaller and perfect for your table.
Needless to say, by buying the pink pumpkins, you not only help to find a cure but also have a unique Halloween decoration for your home!
7. Red Pumpkins
Perhaps one of the most popular red pumpkins is the Rouge Vif D'Etampes. Rouge vif means vivid red in French, so the name says it all.
First introduced into the US in the late 1800s, the Rouge Vif D'Etampes is a French heirloom with bright red to orange skin.
It's perfect for pies as well as for fall displays because of its vibrant color and flattened shape. (Stack some colorful pumpkins on top of them!)
Not only that, but this pumpkin color and shape is so uniquely gorgeous that many people call it Cinderella pumpkin — it's straight out of a fairy tale.
8. Green Pumpkins
These green-colored fruits are one of the most mistaken pumpkin colors as many people believe green pumpkins are unripe.
In truth, there are way over 30 varieties of these green fruits out there.
From dark forest to grayish-green, you can find pumpkin colors in an array of green shades.
Just like their orange counterparts, they're edible and packed with vitamins!
9. Yellow Pumpkins
While these differently colored pumpkins are hybrid, they're gorgeous and are sure to brighten up your fall decor!
Of all varieties, Sunlight and Mellow Yellow are the most popular yellow pumpkins. Both are incredibly beautiful, and in case you were wondering, yes, they're edible!
In fact, when cooked, they develop a tender consistency and have a mild, earthy, and slightly sweet flavor. What's not to love?
10. Black Pumpkins
Of all pumpkin colors, black is the most striking one! After all, natural black food isn't something you usually see in the grocery shop.
Still, the black futsu squash is the most common variety of its color. It's a Japanese pumpkin with an unforgettable visual appearance and irresistibly sweet flesh.
Its skin is bumpy and has a deep black-green to orange buff color. Its nutty-flavored flesh is delicious when roasted, pureed, or fried.
As you might have imagined, this pumpkin color is the rarest one on this list!
11. White Pumpkins
If you're looking for a pumpkin color to use in Halloween decoration, you might consider these fruits. A white pumpkin variety next to a blue Jarrahdale looks quite eerie, in our opinion.
Still, if you're looking for a differently colored pumpkin to include in your dishes, these fruits are absolutely edible, and you can substitute white pumpkin for the traditional orange fruit.
In fact, white pumpkins are soft and sweet, making them perfect for baking. These types of pumpkins come in all sizes too.
For reference, Cotton Candy is a medium-sized white pumpkin variety with ghostly white skin and a white, sometimes light-orange, flesh. On the other hand, Baby Boo is tiny, measuring no more than 3 inches — so cute!
Did you enjoy reading about these pumpkin colors? Then share it on your social media!