Cognac is the color of wealth, trustworthiness, and complexity
As part of the Color Meaning Series, we'll discuss the symbolism and meaning of the color cognac.
For many more colors, check out our guide on color meanings.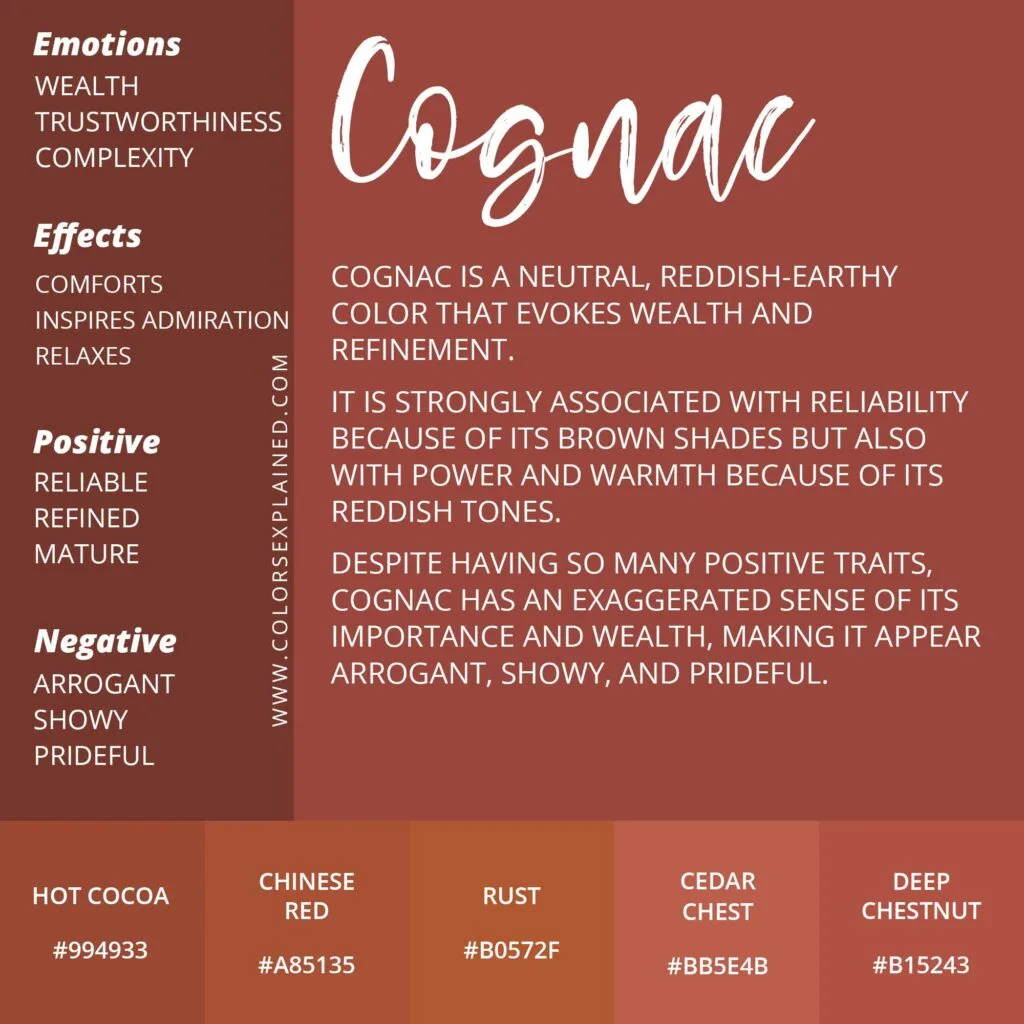 Where can we find the meaning of the color cognac?
Cognac is an intense and glamorous color that is often used in interior decor and web design, especially in more traditional settings.
From wooden furniture to logos, this autumnal color evokes a sense of richness and luxury.
Whether you're creating a classic design or want timeless decor for your home, the color cognac is hands-down one of the best options to achieve these goals.
Today, we'll talk about the symbolism and meaning of cognac and what beautiful color combinations it can create–all about the warm cognac color.
Cognac Color Codes
HEX #9A463D
RGB values 154, 70, 61
CMYK 0, 55, 60, 40
HSL 6, 43, 42
HSB 6, 60, 60
Pantone 18-1421 TCX
Brief History of the Color Cognac
There is nothing more prosperous and more luxurious than the color cognac, which derives from the prestigious French variety of brandy of the same name, just like burgundy.
This earthy neutral color with red hues is not only the color of the namesake fine brandy but also that of prestigious furniture, illustrations, drinks, and more.
The Symbolic Meaning Of Cognac
The meaning of cognac is universally symbolically associated with the prestigious alcoholic beverage drank by only the wealthiest of individuals.
You have class if you drink cognac or any drink sporting that rich color.
Cognac is a color symbolically associated with luxury and maturity and is seen in prestigious places like Buckingham Palace.
The meaning of color cognac is not just associated with European destinations that represent maturity and luxury, such as Buckingham Palace, but also other locations associated with power and royalty.
Famous interior designer, Michael S. Smith, chose cognac as the color for the furniture of the White House during the Obama Administration.
The cognac color meaning is symbolically associated with prestigious and wealth.
It, too, is associated with royalty-like prestige, hence why Buckingham Palace sports this color around its halls and furniture.
Psychological Meaning Of Cognac
Cognac Color Meaning
Here's some insight into the meaning of cognac, according to color psychology.
Wealth and Refinement
The cognac color meaning is closely associated with wealth. Imagine a regal home or luxurious library. What color is these places' furniture?
Also, this color's clear association with elevated cognac brands gives more weight to this meaning.
Cognac is a color that evokes stateliness, whether it is used as an accent or dominant color.
Reliability
Cognac is an earthy color with reddish-brown tones that represents reliability and practicality.
These meanings are the result of the shades of brown in cognac because this is a grounding and dependable color. It's solid like the Earth and the strong trees.
It's reliable, courageous, and trustworthy when you need it most.
It's known for imparting a sense of resilience, dependability, security, and safety. Think of a robust and tall oak tree.
Power
On the other hand, because of its red undertones, the cognac color meaning is associated with a rich hue and allows its connection with the drink, giving this color a feeling of prestige and power.
Red is also the color of ambition, ferocity, and authority, so it lends some of its traits to cognac.
Warmth
Red lends much more than power to cognac. It also lends some of its warmth too.
The aggressiveness of red is softened by brown, conveying feelings of rich warmth and relaxation.
Complexity
The cognac color meaning is related to complexity and sophistication, which adds refinement to designs and interior decor.
Red and brown are conflicting colors in many ways, and that adds complexity to the calming nature of cognac.
Arrogance
With so many positive traits, cognac is a victim of its own abilities.
Cognac has an exaggerated sense of its own importance, power, and wealth, making it come across as arrogant, showy, and prideful.
Colors That Go With Cognac
Cognac is a neutral, reddish earthy color that goes along with many other colors to create incredible color pallets that make different looks and feels.
The neutral aspect of the cognac color allows for a few wonderful color combinations that will elicit feelings of harmony, thoughtfulness, and liveliness.
Cognac and Royal Purple – Cognac and royal purple, complementary colors on the color wheel, can make a profound, lively color palette, especially suited for clothing for a formal yet fun night out.
If you want to have a night out in fancy formal wear, think of maybe adding some cognac dressing shoes and chinos along with a royal purple blazer.
Cognac and Deep Indigo – The combination of cognac and deep indigo creates great contrast with two timeless colors.
It is a harmonious color palette for casual wear, interior decor, and even web design.
Cognac and White – The colors white and cognac make for a clean and elegant combination that you can use in a variety of situations.
More colors that accent cognac are dark greens, raw umber, beige, copper, taupe, amber, champagne, bronze, and muted pinks.
Read next: 12 Colors That Go With Brown
Common Uses of Cognac
Furniture
Shoes
Belts, wallets, and purses
Clothing
Dignified designs
Cognac means: wealth, trustworthiness, and complexity
Effects of cognac: comforts, relaxes, and inspires admiration
Positive traits: reliable, refined, and mature
Negative traits: arrogant, showy, and prideful
Did you enjoy learning about the cognac color meanings? Then share this article on your social media!